10 Best Silver Hair Accessories to Create A Statement Instantly
Believe it or not, the modern-day fashion industry is all about fashion statements. If you are considered fashionable these days, then congratulations because that means you have cracked the enigma of rocking a fashion statement.
And if you struggle to appear fashionable, you probably do not have a unique statement. One of the easiest ways of creating a statement is wearing unique hair accessories like silver hair accessories.
However, before we introduce you to some of the best silver hair accessories, it is important to understand what does a statement mean in the world of fashion.
What does fashion statement mean?
The fashion choices one makes every day are one's fashion statement. In other words, clothes, accessories, shoes, makeup etc. that you wear to grab the attention when you are out and about, in order to let people, know about your personality, together all these things make a statement about your fashion liking and disliking. And that is exactly what we refer to as a fashion statement.  
Therefore, fashion statement plays an important role about your perception among people. Compromising on your statement means you are not serious about looking spectacular.
And that would not be good news and you would definitely want to avoid that.  
Therefore, silver hair accessories offer you an easy way to create a statement instantly. It is because all you have to do is attach these hair accessories in your hair and the magic will follow.
So, without wasting anymore time, let's get to the business.
10 Best Silver Hair Accessories to Create A Statement Instantly
The following hair accessories are handpicked by our experts on the basis of some great reasons.
Here is why you should get your hand on these silver hair accessories.
1.

    
All of these silver hair accessories are Skin-friendly
Experts suggest that the first thing you should be looking for in a hair accessory is that whether it is hypoallergenic or not. In the US, 20% women suffer from nickel allergy and one of the biggest reasons of that allergy is hair accessories that contain nickel. All these silver hair accessories are made with bio-plastic and are hypoallergenic. So, no worries at all.
2.

    
All of these silver hair accessories are lightweight
Since these silver hair accessories are made of bio-plastic which is very high quality but lightweight material, these hair accessories are also pretty lightweight. So much that you not even feel that there is something doing a job for you right on your head. Might come in handy for women who hate the feeling of something weighing their head.
3.

    
All of these silver hair accessories are affordable
Unlike those silver hair accessories that are actually made of silver and are hell expensive, these silver hair accessories belong the most affordable hair accessories ever. That means you get to wear silver, without actual silver and without breaking your bank. And their glossy finish is going to make sure that people take them as metallic silver hair accessories.
4.

    
All of these silver hair accessories are hair friendly
Metallic hair accessories can be very damaging for hair because they come with sharp edges that either break hair or end up weakening them. Whereas, these silver hair accessories are finely rounded and hold hair firmly without damaging them. Thus, in terms of hair care, these hair accessories have no match.
5.

    
All of these silver hair accessories grab attention quickly
Since all these hair accessories come with a glossy finish, they make sure your hairdo stands out instantly. And that is what statement is all about. Thus, even if you wish that your ordinary hairdo looks out of the world, you might want to make sure these silver hair accessories reach your wardrobe in time.
This is one of the best fancy hair clips that deserves to be there in every woman's closet. Its metallic part is made with bronze to keep nickel allergy at bay. It might particularly be great for women who want make their business dinner look a lot more charming. You can also use it for your party nights.
This hair jaw clip is made in France and is known as "Prosecco". When you want to go for an exclusive look, this one of the luxurious hair accessories can be your go-to hair jaw clip. It can serve the purpose for those women who love the combination of classy and modern look.  its teeth suggest that it belongs to the ideal hair accessories for thick hair. Make it count.
Alligator hair clips are great when it comes to creating a unique statement and when the alligator hair clip is in silver, the effect gets double. This is one of the best inexpensive yet incredible alligator hair clips that helps women living their dream look. so, if you also want to surprise your friends with your looks, this hair clip can be your best shot.
If you are a working woman and have to attend business meetings then you ought to have one of the best hair accessories for a successful business meeting, just like this hair barrette. This is an aesthetically beautiful hair barrette that is not only lightweight but also hypoallergenic. You may match or contrast this hair barrette with your outfit to get the best out of it.
For ladies having a knack for ponytails, a silver hair elastic is no less than a blessing. And when the silver hair elastic is as high quality and catchy as this one, you got to make it count. You can rock this hair elastic on a variety of occasions to decorate and secure your ponytail like never before. It is particularly one of the best hair accessories for thin hair.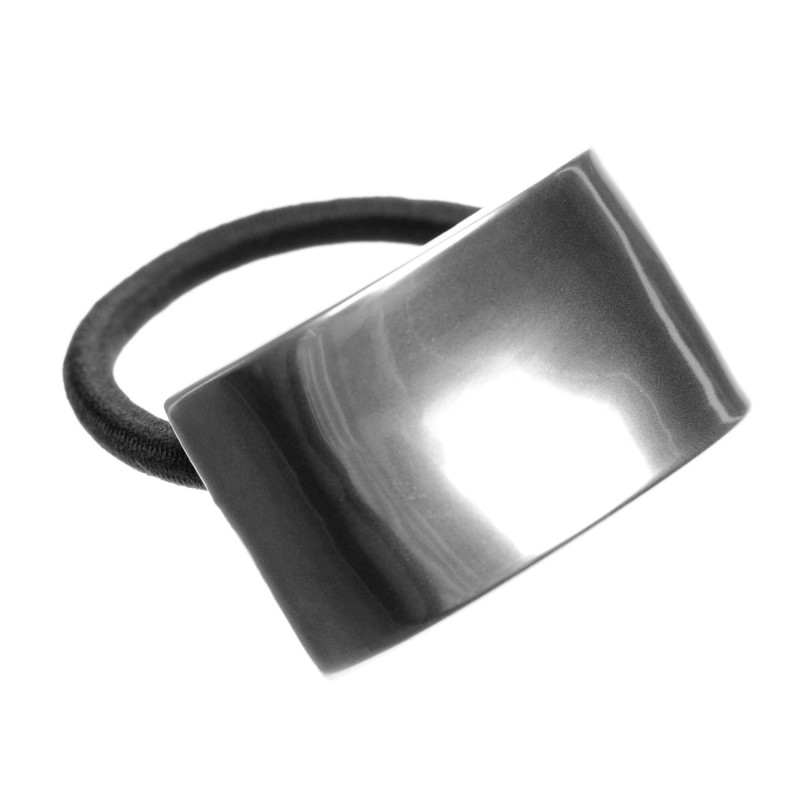 Those ladies who have used hair sticks know how versatile this simple looking hair accessory can be. But when you get a chance of wearing a sliver hair stick, you better do not miss out. It is because this hair stick offers you the easiest and the safest way to decorate your hairdo especially updos and buns. If you are interested in reading more about hair sticks and pins, you can do it by clicking this comprehensive guide.
To get an idea of how attractive silver headbands can be, you only need to cast a glance at this one. Although it belongs to the best budget hair accessories under $5, yet it comes with all the qualities of a premium headband. The unique design that involves spikes means this headband can secure hair to near perfection. Therefore, if you are a lady who loves creating cute hairstyles with headbands, try this headband and you won't be disappointed.
Having short and falling short of hair accessories for short hair, if this sentence describes your situation, here is a perfect hair accessory for you. Made with skin friendly materials and giving off luxurious vibes, this one of the best small hair accessories to create a big impact can turn the tables for you. A perfect addition to your collection of hair accessories.
When you want to add a small detail to your hairdo that helps you create a big statement, this silver jaw clip comes into play. You can either use it as a primary hair accessory but also as a secondary hair clip to complement the primary one. This way, you get two tastes in one flavor. Its affordable price and qualities make it an ideal mid-priced hair accessory for middle class women.
Finally, this silver jaw clip is just like the previous one but with a nit light in color. You can use both these jaw clips together to be creative with your hairdo. Also, you can use this hair jaw clip on all the informal and casual occasions. A perfect hair accessory for party loving girls.
Conclusion
It is safe to conclude that in these times of complex beauty standards, silver hair accessories offer a simple and instant way to decorate hair and create a statement on the go. All the silver hair accessories mentioned in this article are sure to bless you with a fancy look without damaging your hair and skin.
What are you waiting for?