8 Cute Hairstyles with Headbands Exclusively For You
Hairstyles and headbands go hand in hand. In fact, headbands have been catering to the hairstyles from a long time and women love them because of their ability to turn ordinary hairstyles into extraordinary. Therefore, cute hairstyles with headbands is a must-know topic for the ladies.
If you are already a fond of headbands or want to give cute hairstyles with headbands a try, this article is for you. Read on to find out 10 of the cutest hairstyles that you can make with 20 of the cutest headbands.
Related: Your Ultimate Guide to Headbands
Why should I wear cute hairstyles with headbands
?
It is pretty natural to ask one's self the above-mentioned question. The reason being that many women are afraid of trying out a new look thinking about the reaction of people. Less do they know that only they are responsible for their happiness and not the people.
Thus, not living your dream looks because of others is sheer nonsense. Let's get back to the topic.
Cute hairstyles with headbands come in handy when it is about making a major fashion statement. No matter you are planning on wearing your hair up or rocking a bob, opting a headband would make things easier for you.
Thus, you must go for cute hairstyles for headbands to jazz up your same old boring look and showcase your unique sense of style. Below we have picked and enlisted 10 cute hairstyles that you can make with 20 cute headbands.
Make them count.  
Cute Hairstyles with Headbands #1:
Sleek Bun with Embellished Headband
If you have always been fan of Disney and loved ultimate princess style then wearing a sleek bun with an embellished headband might be your best bet. This hairstyle is particularly great for a girls' night out. It is also an ideal hair accessory for a romantic date. To get the best out of this, all you need to do is pull off a Sasha Luss kind of hairstyle with natural makeup.
Ø

 
Headbands to use for this hairstyle
Here are two of the best embellished headbands that can help you in your bid to rock this hairstyle.
This headband that is also one of the best flower hair accessories is in another leagues. It comes embellished with original Swarovski crystals to make sure your sleek bun finds the best voice. Not only this but also it is hypoallergenic which means no skin allergies. It goes well with all hair types and sizes bit is particularly great for long and fine hair. Get your hands on this headband if you want to bring a positive change to your looks, and inspiring too.
This headband is the perfect example of luxury and elegance in one place.  The elegant embellishment this headband comes with is perfectly in line with sleek bun as it will help you create a statement. It is particularly ideal for young ladies who love showcasing the bold side of their personality. Thus, do not miss out on this embellished headband if you want to decorate your sleek bun like never before. 
Cute Hairstyles with Headbands #2:
Ponytail with Headband
If you ever skipped your brunch because of a bad hair day, we feel you. And that is exactly the reason why we would like that it never happens again. This easy but effective trick will help you a great deal. All you need to do I grab your hair at the back, convert them into a low ponytail and add a decent headband.  That's it! Isn't that amazing? And the best part is that this cute hairstyle with headbands wont only make you appear adorable but is also a great fashion choice. You can always make this look more and more trendier by rocking a messy and loose hairstyle with headband just like Johanna Klum.
Ø

 
Headbands to use with a ponytail
To create a harmonious effect of a ponytail with headbands, following two headbands will do the trick for you.
This vibrant headband that comes delicately decorated with Swarovski crystals is perfect to cater to your ponytail hairstyle on weekends as well as party nights. It is a perfect way to put on display the colorful side of your personality. That means mature women can bring their youth back and young girls can refresh their looks using this headband. And do not worry about nickel allergy because you can rest assured that this headband is hypoallergenic.
If you are a business woman or have a knack for a more for a more put-together or formal look, you might want to give this headband a try. Its glossy surface and decoration with hand encrusted Swarovski crystals make it one of the ideal butterfly hair accessories that you can get your hands on. Add to that its ability to match with any outfit and you have an amazing headband at your disposal.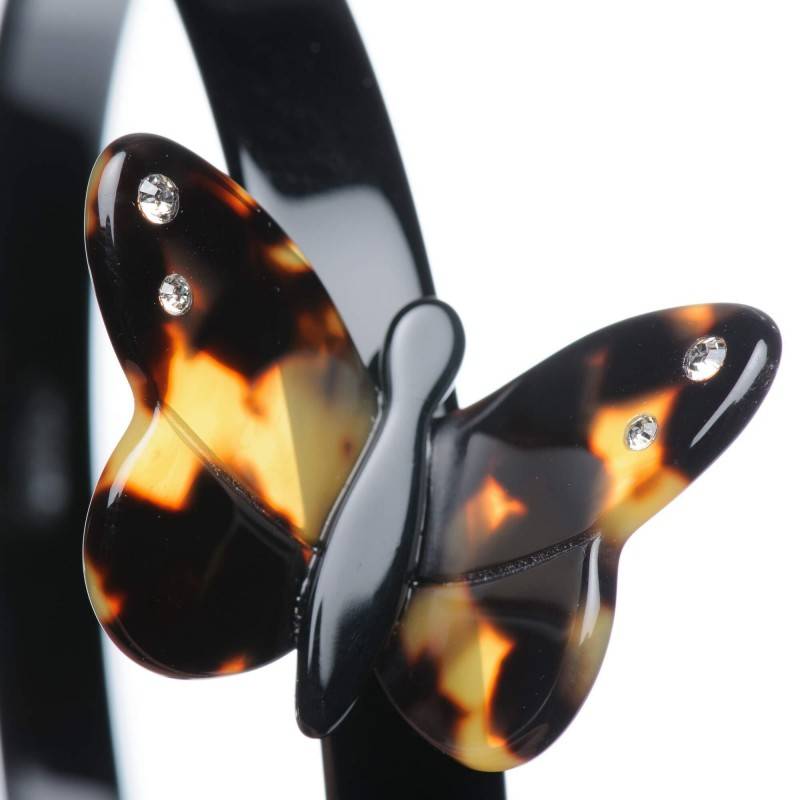 Cute Hairstyles with Headbands #3: Full Fringe Bun with Intricate Headbands
The best part about hair accessories is that they can cater to all hair types. That means if you have fringes, you should still be happy because there are headbands made especially for you.  This sophisticated look is ideal for enjoying a festival or any evening event that is packed with fun.  You can keep your bijoux to a minimum level and your bun undone or messy. You could also sweep aside your bangs. And to rock a romantic look to create an additional impact, you can try positioning the headband right behind your fringe.
Ø

 
Headbands to rock with Full Fringe Bun
In order to make sure that your full fringe bun looks at its best, use any or both of the following two headbands.
This hypoallergenic, lightweight, hair friendly, hand encrusted with Swarovski crystals, handmade headband is one of the best headbands to elevate your full fringe bun. You can either use it as a primary hair accessory or as a secondary hair accessory to complement the main hair accessory. Moreover, it belongs the ideal hair accessories for thick hair. Thus, if you have thick hair and love unique hair accessories to create unique hairstyles, this one is a must have headpiece for you.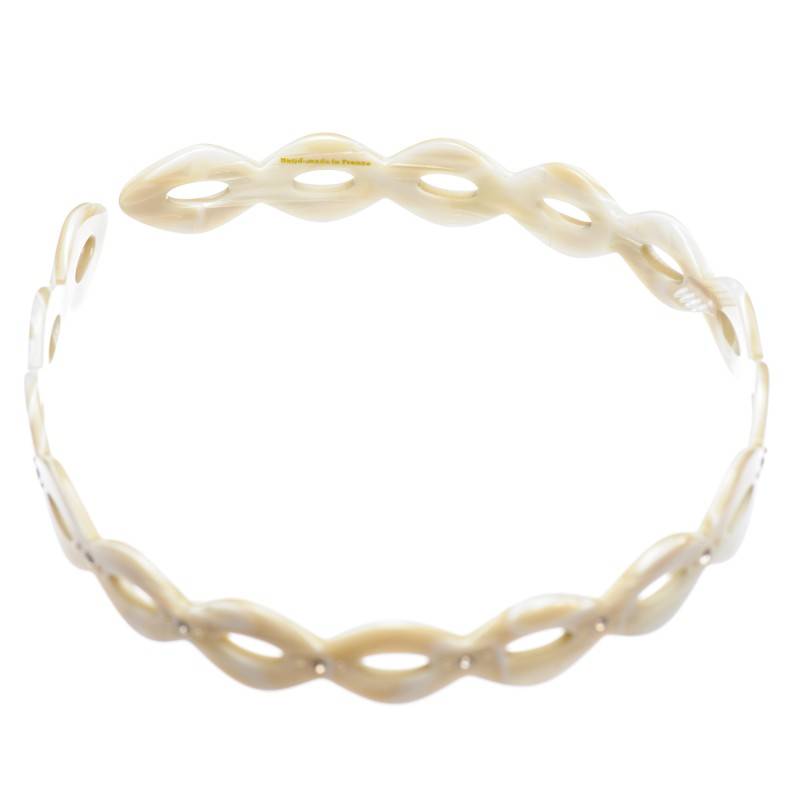 And to enter the world of hue and vibrancy with your full fringe bun without compromising on your style, make use of this headband. It belongs to the list of fancy hair accessories that are ideal for ladies with an interest in fun and adventure. Thus, if you want to secure and decorate your full fringe bun for a cocktail party, you know exactly what you need to wear, don't you?
Cute Hairstyles with Headbands #4:
Long Bob with Gold Headband
Wanna go all chic and glamorous while rocking an edgy look? No worries because a long bob coupled with a gold headband offers you exactly that. You can add fuel to the fire by wearing a floral dress with this magical combo. The best part is that you do not have to go overboard with rest of your look. That necessarily means you can avoid that overly caked-on makeup, dangly accessories and flashy clothes altogether. Therefore, the pair of gold headband and long bob will let you live a look you always dreamed of.
Ø

 
Gold Headbands to rock with
Long Bob
Here are two gold headbands to ensure a glamorous look with the long bob.
To get a fancier and more luxurious look with your long bob, take advantage of this one of the most luxurious hair accessories. It is an all-rounder headband that you can rock on multiple occasions including formal and informal. Along with a firm but healthy grip, this headband is also skin friendly because metal is not used in its construction. The decoration with original Swarovski crystals puts the cherry on the top. It is one of the best gold hair accessories makes it easy to conclude that this gold headband and long bob are made for each other.
This headband doesn't only secure and decorate long bobs unprecedentedly but is also one of the most affordable hair accessories. Therefore, doesn't matter if you are on a budget or not, you can always get your hands on this hypoallergenic healthy hair accessory. Its unique spiked design means that it can cater to a large surface area on your head ensuring that not even a single hair escapes to ruin your hairdo. Women having long bobs love this headband for all the features it comes with, why won't you?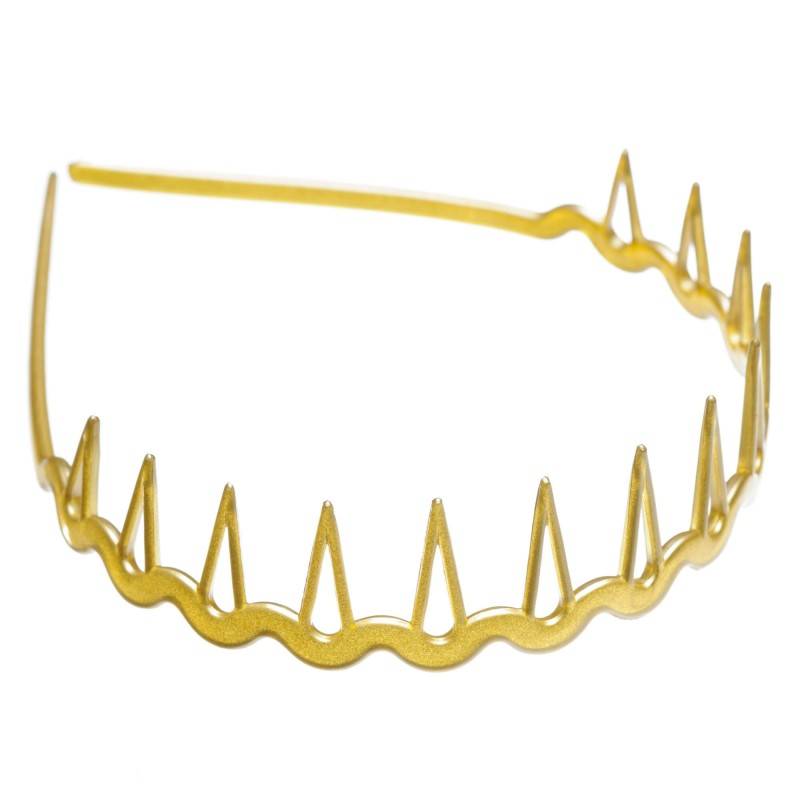 Cute Hairstyles with Headbands #5:
Long Hair with Floral Headband
Finding ideal hair accessories for long hair can be an uphill task, especially when it comes to headbands. It because using an ordinary headband with long hair can be a no-brainer in most of the cases. Flower headbands suit the best with long hair. Therefore, if you also have long hair you might want to give a try to a floral headband to make things much more interesting. However, you gotta make sure that the color of headband matches or complements the color of your outfit for the best effect. If you can't do that, then contrasting the headband with your hair will do the trick. We call it a simple formula for long haired women to stand out instantly.
Ø

 
Flower Headbands to rock with Long Hair
The following two floral headbands will come in handy in your pursuit of securing and decorating your long hair.
This floral headband comes directly form the collection of best hair accessories that are made in France. Despite its high quality, glossy finish, hypoallergenic qualities, it is still one of the budget hair accessories under $5. In order to decorate your long hair, it is only rational to use this headband as your best buddy. Do not miss out on this easiest way of bringing romance to your long hair, and that too without breaking the bank.
When it comes to floral headbands, there are not many that can compete with this one. Thanks to its formal look, it is an ideal headband for business women who have long hair. And that is exactly what makes this headband one of the best hair accessories for a successful business meeting. Thus, if you ever felt that long hair aren't in line with workplace decorum, not anymore. All you need to do is add elegance to your long hair using this headband and you are good to go.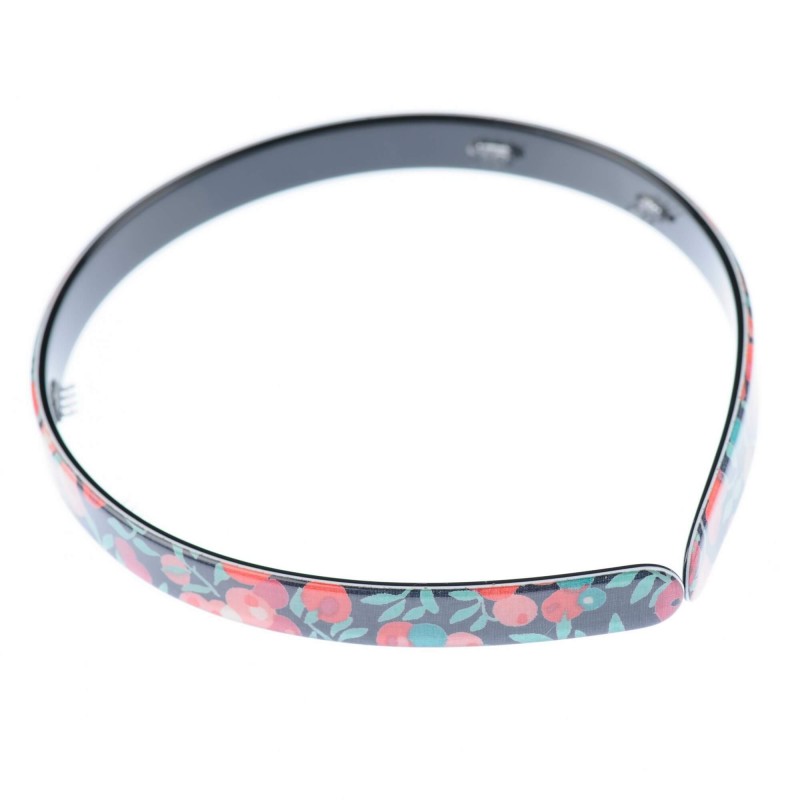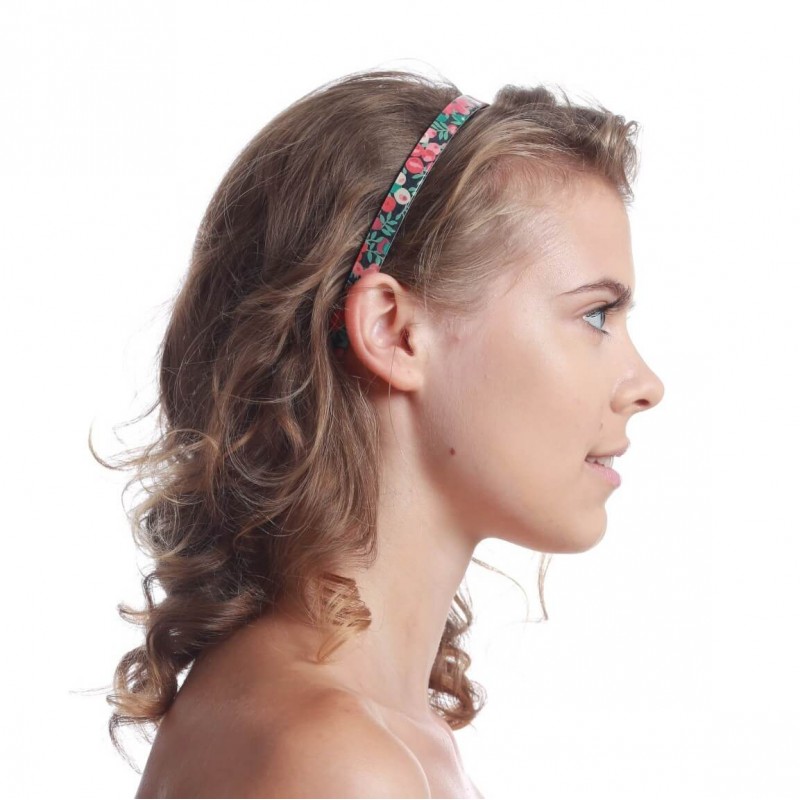 Cute Hairstyles with Headbands #6:
Wavy Hair with Skinny Headbands
If you want to prove that you can be hotter than your usual self, you must pair your wavy hair with skinny headbands. It might seem pretty simple but its impact is huge. You can also try bohemian chains as well. The best part about this cute hairstyle with headband is that it is ideal for any kind of occasion doesn't matter formal, informal or casual. Pro Tip: Go for a contrasting headband with your hair to create the maximum effect of this magical look. what are you waiting for? Skinny headbands? Here they are:
Ø

 
Headbands to rock with wavy hair
The following two headbands are there to help you elevate your wavy hair in a seamless way.
This one is one of the best skinny headbands for you to decorate your wavy hairdo with. Since wavy hair have unique pattern, decorating them with a high-quality headband like this one can be pretty much on dot. The cute decoration on this skinny headband and the color pattern can cater to many outfits of different colors. And since it is a metal free headband, there is zero chance of you catching the notorious nickel allergy. So, do net let your next party, office meeting or business dinner to be the same again.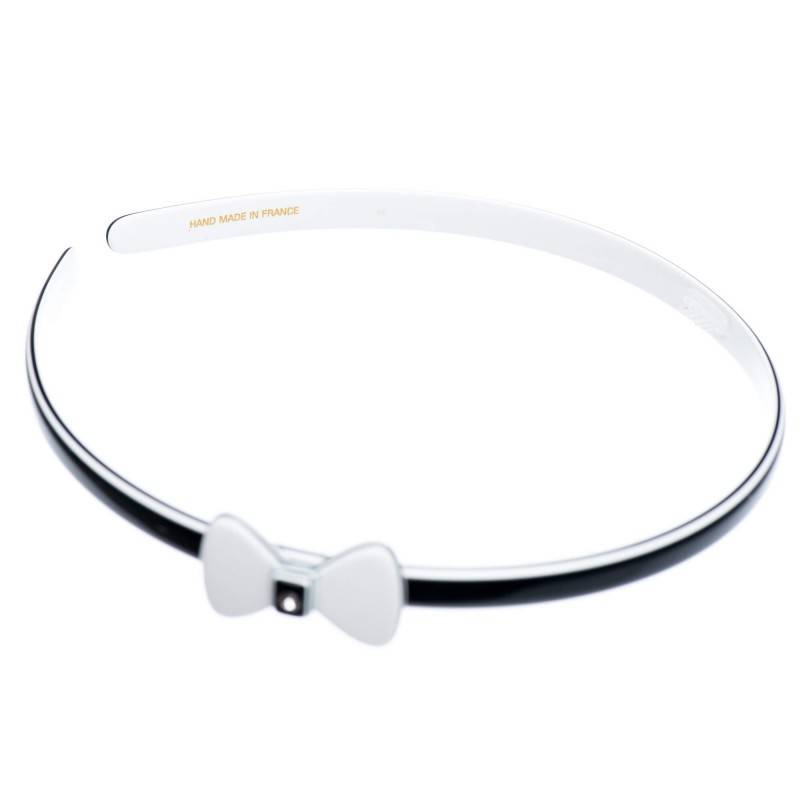 Contrasting your wavy hair with this vibrant headband can make things easier for you when you are confused about which look you should be wearing. Being one of the best hair accessories for everyday wear, this headband is all about keeping even your messy wavy hair in order and presentable. Its grip is firm but does not harm the skin or hair thanks to well-polished and round edged spikes. So, get your hands on this headband if you do don't want to compromise even your everyday look.
Cute Hairstyles with Headbands #7:
Braided Bun with wavy headbands
The previous heading covered wavy hair, but here we are going to talk about the relationship between braided buns and wavy headbands. When you pair these two things together, the first word that a looker would utter are going to be "Ah-mazing". And why not people be amazed when you will be rocking a braided bun and complementing it with impeccable makeup, shimmery lips, subtle eyes and a gorgeous wavy headband. It is going to be all glam so you should be ready to receive a lot of attention. Spotlights will agree, you'll be a show and everyone has got to see. No kidding.
Ø

 
Wavy Headbands to decorate braided bun
Use the following headbands to decorate your braided bun in a perfect way.
The selection of these two headbands is made on absolute merit because the only difference between the two is color. This wavy headband for braided bun in blue color is one of the best refreshing hair accessories for mature women. If you are a working woman and are remote working then you have two reasons to be happy because it is also ideal hair accessories for women working from home. That means there is absolutely no reason for you to be panicking before a zoom call because with a well-constructed braided bun and this wavy headband on your head, you are going to feel highly confident. The charm is bonus.  
And to decorate the same braided bun for parties, other casual events, this headband in red is all that you need. The wavy pattern adapts to the hairdo pretty smoothly and enhances the look without sacrificing elegance. It is made with skin friendly material so that you have absolutely no worries neither about your looks nor your health. Our suggestion is to add both the headbands to your beauty box so that none of the events you plan to attend go unattended.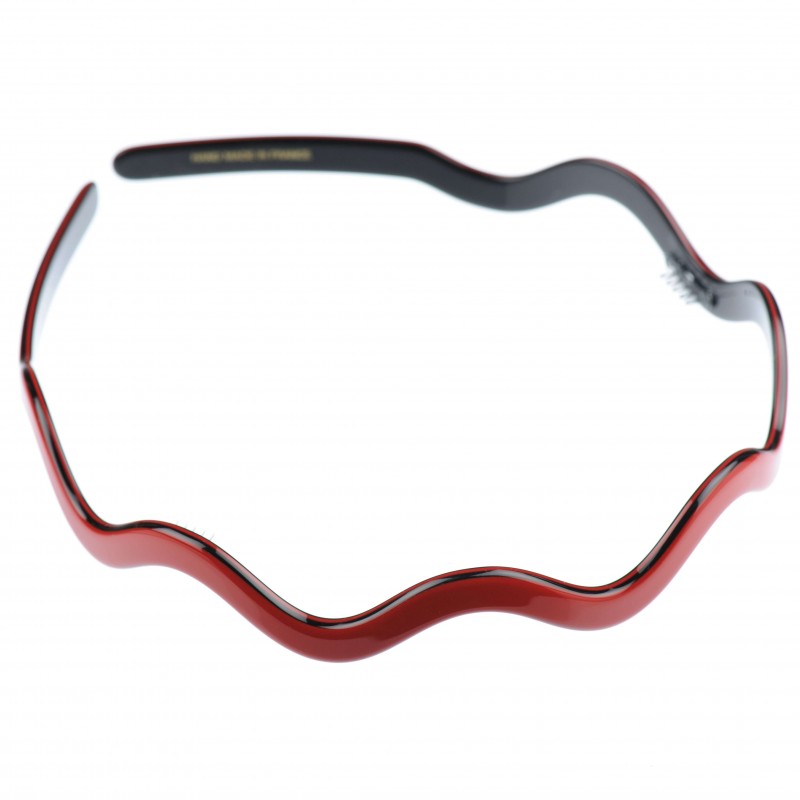 Cute Hairstyles with Headbands #8:
Braided Updo With Spiked Headbands
A perfect edgy downtown girl look like that of Katy Perry can be achieved b pairing a braided updo with an edgy spiked headband. This look is particularly ideal for women with straight hair. If you have a knack for showcasing your flawless skin then this opt this look without giving a second thought. Braided updos are not only perfectly decorated but also firmly secured with spiked headbands because of their unique design.  A great way to become a focal point wherever you go.
Ø

 
Spiked headbands for braided updos
Take advantage of the following two spiked headbands to accentuate your braided updos.
A playful hair accessory in a catchy color is best way to define this headband.  It is a made in France headband which is perfectly suitable for decorating a braided updo in a firm manner. Therefore, make use of this healthy and hypoallergenic hair accessory in glamorous color to make sure your effort of creating a braided get paid in full. And the best part is that it is really economical and wont cost you an arm and a leg.
This headband is of the same quality as the above but comes in a multicolor texture. it is great style choice for women who love experimenting different hairstyles especially braided updos. It is one of the cutest hair accessories for an adorable look.  The color of this headband suggests that it can not only make your everyday hairdo a charming one but can also upgrade the braided updo without a lot of effort and money. So, without wasting time, try this headband and know its magic for yourself.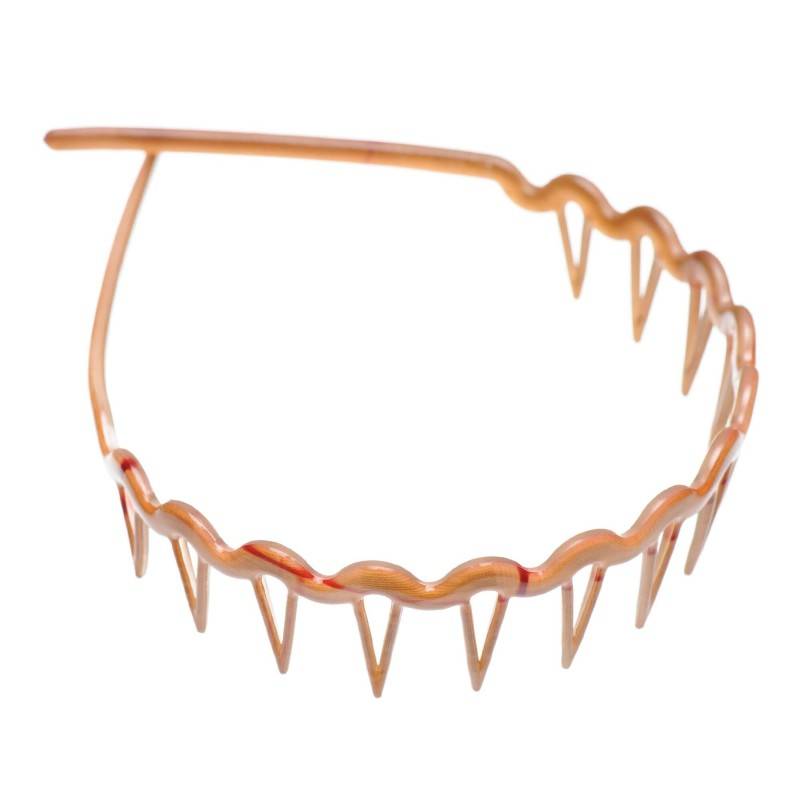 Final Words
Cute hairstyles with headbands are going to get more and more popular with every passing day. Therefore, it is only rational to get to know them as soon as possible because they become too common and you miss your train to a unique-look land. And to do that, the above-mentioned cute hairstyles with cute headbands will help you a great deal.
Say yes to change and say no to the same old boring look, forever.