Butterfly Clips: A Perfect Hair Accessory to Create A Fashion Statement
The best thing about the fashion industry is that it keeps producing something new every day. To cater to the demands of fashionistas and even ordinary people, the lead fashion designers and accessory makers keep brainstorming new ideas.
And when it comes to fashion, hair accessories come into play. Because what is fashion without looks? Come to think of it, women all dressed up with the latest fashion products, but her hairdo is all messy and without any hair accessory…
Doesn't make sense, right? And why would that make sense because what is incomplete is incomplete no matter how much time is spent on making the rest of the part decorated? Therefore, hair accessories are the pieces to your puzzle of an outstanding look.
However, every hair accessory is not the same and does not offer the same advantages. Some hair accessories look and work better than others, and butterfly clips are one of them. In fact, butterfly clips are great when it comes to embellishing any hairdo.
So, what are butterfly clips?
Butterfly clips refer to those hair accessories that are shaped or decorated with vibrant artificial butterflies. They were one of the most favorite hair accessories in the 90s. However, due to the evolution in the fashion industry, butterfly clips have made come back, and this time with much more styling options.
Therefore, if you want to stay updated with the latest fashion trends, make sure you have the best butterfly clips in your beauty arsenal. Because one day or the other you are going to need them. 
Let's get you introduced with the finest butterfly clips in town. 
MEDIUM SIZE BUTTERFLY HEADBAND IN BLACK
Kicking off with this fantastic headband would not be a bad idea. This glossy headband in black, which is decorated with a Tokyo dark butterfly, is aesthetically the best duo. This headband belongs to the hypoallergenic family of hair accessories that means it is completely skin-friendly. The butterfly that is sitting at the top of the headband is also made of bioplastic and is decorated with original Swarovski crystals. This butterfly headband is suitable for all hair types, no matter which hair type you want to try this on.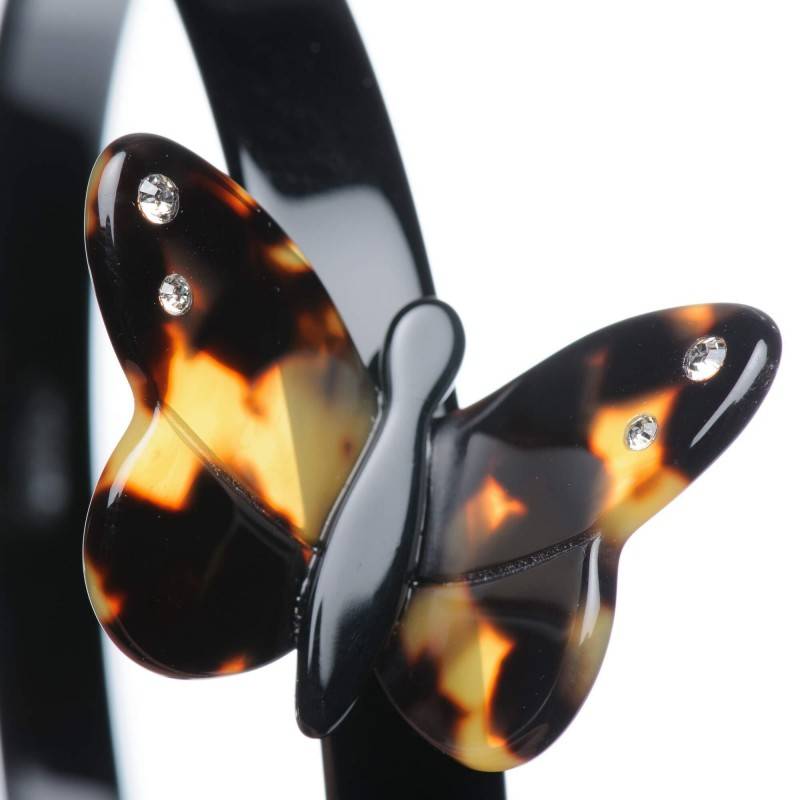 SMALL SIZE BUTTERFLY HAIR CLIP IN TOKYO DARK
This fancy butterfly clip is one of the best hair accessories that are made in France. It is a metal-free hair accessory that ensures your protection from nickel allergy. You can use this butterfly clip on all hair types and all occasions. You will also find hand encrusted Swarovski® crystals on the wings of the butterfly. This butterfly clip has it all what it takes to be your go-to hair accessory for business dinners. 
SMALL SIZE BUTTERFLY HAIR CLIP IN IVORY AND BLACK
Want a butterfly clip for formal occasions? If yes, then this one is the right butterfly clip for you. In fact, if you want to win a job interview, then take advantage of this butterfly clip because it is one of the ideal hair accessories for interviews. It works great with all hair types, especially thin hair. It does not damage the hair or skin due to smooth surface and skin-friendly features.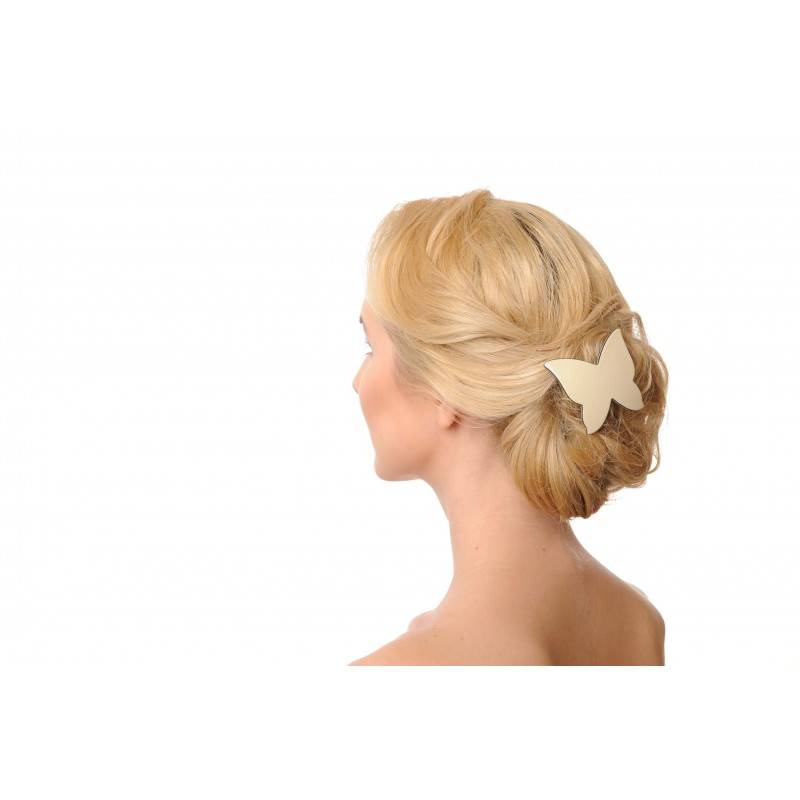 MEDIUM SIZE BUTTERFLY HAIR ELASTIC WITH DECORATION IN PINK AND DARK VIOLET
Can you stay away from a hair elastic that is affordable, skin-friendly, hair-friendly, and an epitome of style? No, you can't because this butterfly-shaped hair elastic deserves to be there in your wardrobe. You can also gift this butterfly hair elastic to your little angel because it is an ideal hair accessory for kids as well. You can too rock as a hair accessory for family gathering and barbecue. 
Another variation in the same butterfly hair elastic is as following.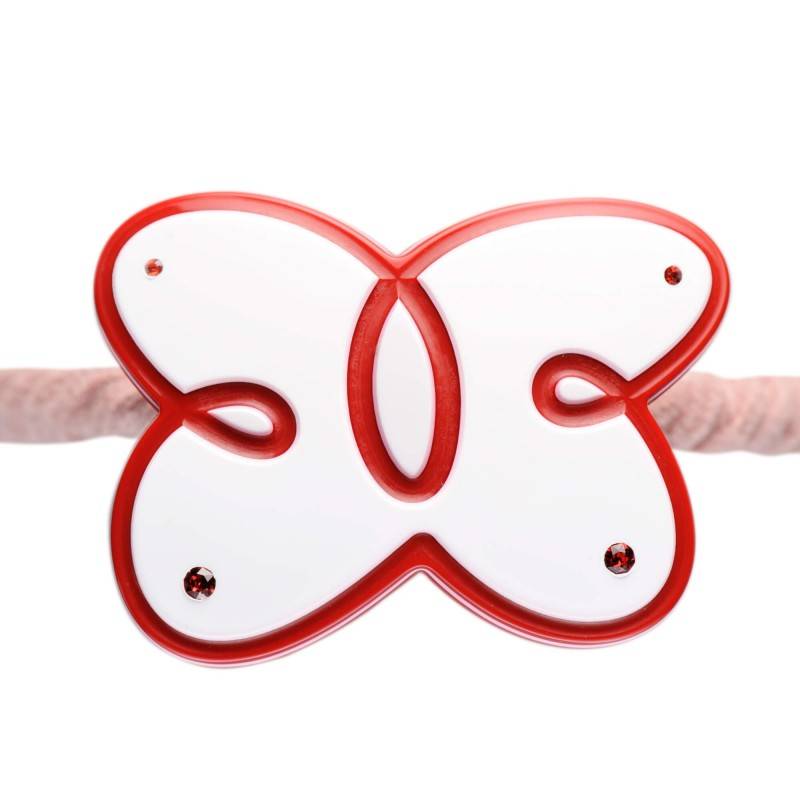 MEDIUM SIZE BUTTERFLY HAIR BARRETTE IN MULTICOLOR
When a butterfly sits on a barrette, the outcome is an adorable butterfly clip. This one is ideal for you if you are about to attend a wedding ceremony or re planning to do so in the future. It is also made with cellulose acetate, a skin-friendly material. The contrast between the clip and the butterfly makes things even more aesthetic. 
MEDIUM SIZE BUTTERFLY HAIR BARRETTE IN MULTICOLOR
If you have a knack for vibrant colors without compromising on elegance then congratulations, you just found the ideal hair accessory for you. This butterfly clip showcases all the features of high-quality hair accessories at a meager price. All you need to do is make a hairdo and attach this butterfly clip and let the magic begin. 
MEDIUM SIZE BOW HAIR BARRETTE IN TOKYO DARK
Now is the time for you to use your imagination. This hair barrette might look like a ribbon, but the idea behind its creation is to allow the user to wear in any context she wants. This versatile butterfly clip is going to make your hairdo appear classy and modern at the same time. Its grip on hair is matchless and its elegance, fantastic. It can also be one of the best hair accessories to gift. 
SMALL SIZE ROUND BUTTERFLY BROOCH IN BLACK AND WHITE
Another out of the box idea for you to decorate your hair is this little yet adorable brooch. To decorate your hair with brooches is not a novel idea as many women have been using these. However, this butterfly brooch will simply take things to the next level. This brooch can pretty much cover your pursuit of standing out wherever you go.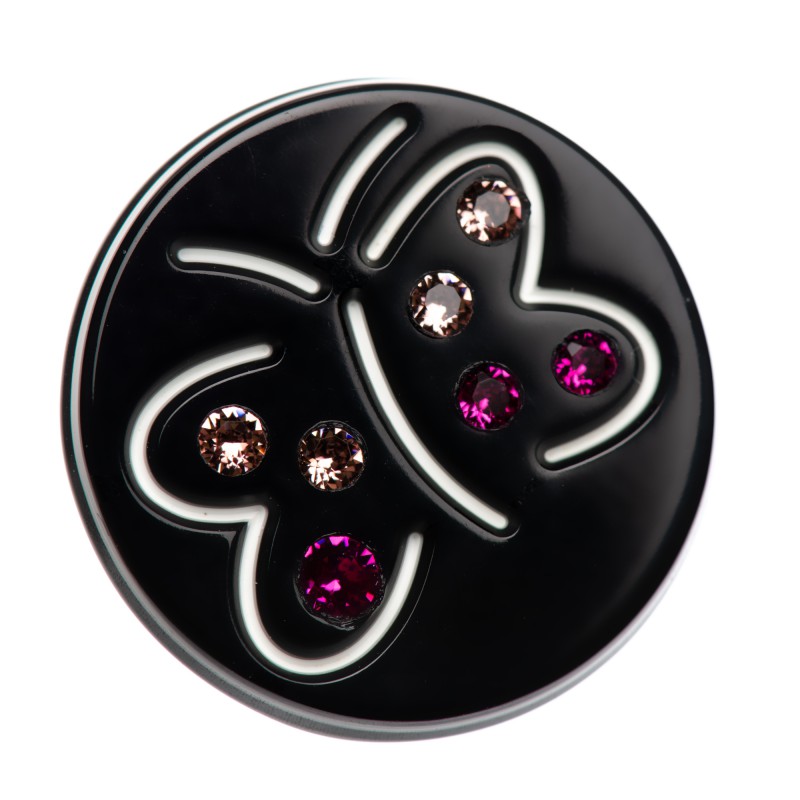 Final Words
Hair accessories are hair accessories, and anything that helps you tie your hair can be called a hair accessory. However, it takes an ideal hair accessory to help you make your own fashion statement, and these butterfly clips will help you exactly that. So, hurry up to get your hands on these unique butterfly clips before your friends come to know about them and take the lead.
Make your time count.
You may also like to read:
Which Hair Accessories to BUY and Which NOT to?
Canadian Women and Hair Accessories; A Perfect Match
Top Hair Barrettes and Hair Clips for British Women with a Royal Fashion Sense