Best Range of Ponytail Holders and Hair Clips for Kids
Parents have many responsibilities, and they always try their best that their kids feel and look good all the time. For this purpose, they do not leave any stone unturned. In the old ages, the only concern of parents used to be the health of their children.
However, times have changed, and now parents need to take care of the style factor as well because how their children look like holds a lot of importance. Thanks to the internet, it has become really easy to understand what needs to be kept in mind while shopping for hair accessories for kids. 
Also, children are fragile, and parents cannot risk their health at any cost. That Is the reason why parents take into account many factors before buying products for their children. And when it comes to hair accessories, they become even more conscious.
The mild skin and hair of kids are more likely to catch allergies. Therefore, it is crucial to understand which hair accessories are suitable for the hair and skin of children. 
If you are also a parent and want to get some healthy yet fashionable hair accessories for kids, you have to keep the following aspects in mind before making any purchases. 
1.     Hairclips are Nickel-Free
The skin of kids is an easy victim of allergies. Therefore, before purchasing any hair accessory, make sure that it is nickel-free. Do not take risks because once someone becomes allergic to nickel, this allergy is going to be around for a lifetime. At Kosmart, you can find a complete range of skin-friendly hair luxury accessories easily. 
2.     No rough edges
It goes without saying that rough or sharp edges can be hazardous, especially when it comes to the kids. Therefore, whenever you are about to purchase some hair accessories for kids, make sure that the product is not edgy. Kosmart hair accessories for kids come with rounded corners to ensure their safety all the time. 
3.     Variety of Colors
Kids are like flowers, and flowers always catch the eye due to the diversity of their colors. So, do not think of children by the same mature standards you have set for yourself. Instead, go for colorful and vivid hair clips that highlight the innocence of kids. Kosmart offers numerous colours in all the ranges of hair accessories. 
4.     Kids-specific size
Do not try to make your children wear your hair accessories because they look awkward even if they serve the purpose. Hair accessories for kids are specially designed and crafted for them. So, it is never a good idea to just lend your kids your hair accessories. Kids are small, and miniature accessories suit them perfectly. 
5.     Kids Have Thin Hair
The hair of kids are different as they are more frail and thin than those of the elders. Therefore, always opt metal-free hair accessories that are friendly for their thin hair instead of hair accessories for thick hair. It is because these metal hair accessories can be harmful to their thin hair. Kosmart proudly manufactures metal-free hair accessories and brooches for kids that are safe to use as many times as you want. 
Now that you know all the prerequisites for the hair accessories for kids, let us help you find some ideal hair clips for your kids that they will love. These are specially crafted in a way that they are safe and stylish at the same time. 
1.     Small Size Special Ornament Hair Clip
This teeny-weeny cute hair clip is very popular among parents and kids at the same time. Made with bioplastic that is ideal for the skin of kids, this hair clip comes in two different colors. The metal part of this special ornament hair clip for kids is made with white bronze that is healthy for the gentle skin of kids.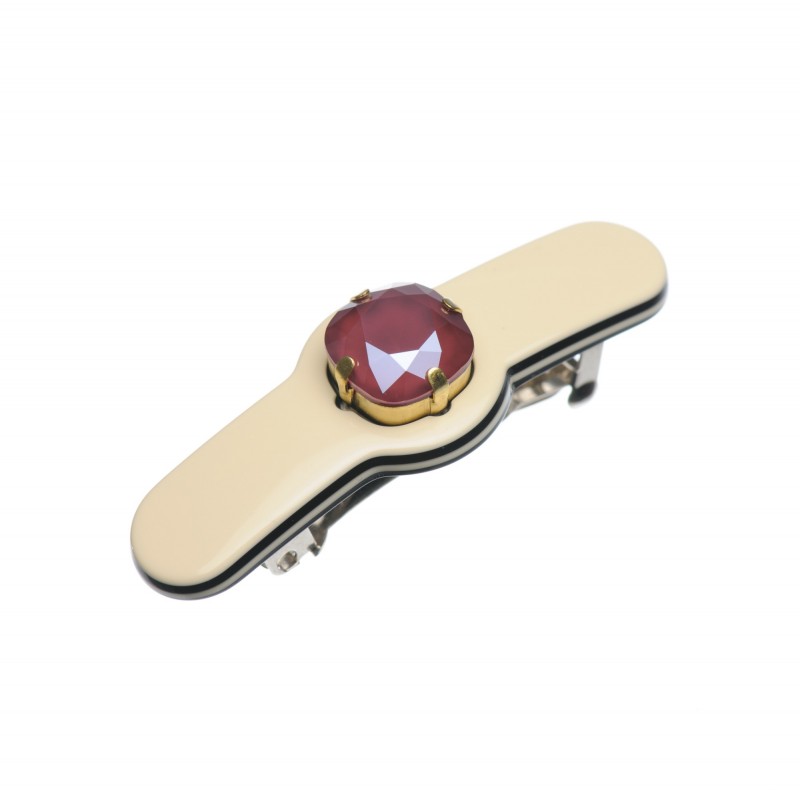 You can embellish the hair of your kids when they are out and about for school, as well as the playground. The metal grip part is covered by rubber, which ensures that the kids won't lose their hairclip while playing. 
2.     Small Size Rectangular Shape Hair Clip
When it comes to the fine hair of kids, small size rectangular hair clip leads the race. Do not underestimate this hairclip because of its small size. It is pretty much as efficient in performing its duties as a large-sized hairclip.
This clip is perfect when you want to take your kids to some formal event or weddings. You can always showcase the creative side of your fashion statement by grabbing a large size rectangular hair clip for yourself as well for twinning with your daughter. Like mom, like kids. 
3.     Elogium Hair Clip
This is one of the classiest yet prettiest hairclips that you will ever come across. Just casting a glance at Elogium hair clip can make you fall in love with it. The glossy black look that it flaunts thanks to the original Swarovski crystals catches everyone's eyes.
So, when you are all set to make your kids stand out at a party, make sure you do not miss out on this fascinating hairclip. And the best part is that this hair clip cum snap is made entirely of high-quality bioplastic that makes this hair clip the safest yet the chicest option around. Gift this hairclip to your kids to let them know the real worth of their hair. 
4.     Dark Brown Prime Factor Hair Clip
You've got to see this hairclip to understand the elegance that Kosmart's expert craftsmen have blessed this hair clip with. Just like its name, this hair clip adds a prime factor to the look of your kids. It is a stylish hair clip that your kids can never resist to wear.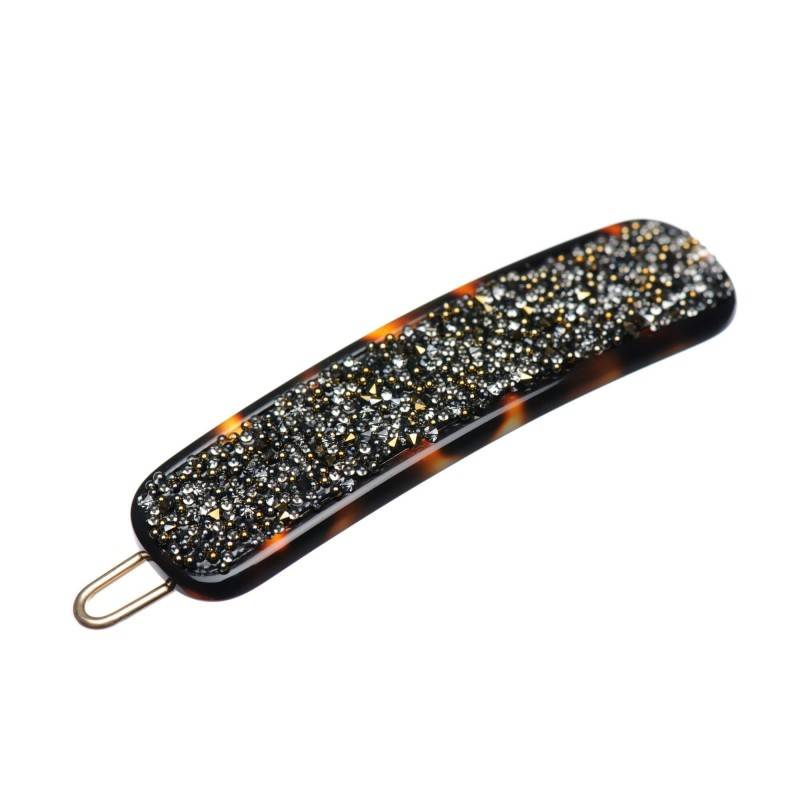 Despite its million-dollar look, this hair clip is completely safe for kids because it is crafted by using skin-friendly materials only. Kids can put on this hair clip on a variety of occasions ranging from school parties to winter vacations.
 It comes in a dark brown color embellished with certified Swarovski crystals. That means you can wear it with any hairdo and any color of the dress and it will never disappoint you. That's a given.
5.     Learning Curve Luxurious Hair Barrettes for Kids
This one is a state-of-the-art hair clip for both elders and kids. Learning Curve hair clip is a work of art, and when kids wear it, this delicately curved hairclip sets many things straight for them. It can also serve the purpose of a fantastic gift at the birthday of your kids. 
Although this luxurious hair barrette is specially made for fancy events like weddings and prom nights, yet they are equally effective when the kids want to wear a formal look without compromising on style. 
This hairclip is also a result of the collaboration of skin-friendly materials and original Swarovski crystals. Let your children cast a spell on their fellows by wearing this stunning product. 
6.     Fruity Pop Bow Shaped Bobby Pin
Kosmart creates cuties, and if you do not agree, take a look at the fruity pop bobby pin, and you will agree. Available in the favorite colors of little girls i.e., hazel and coral, these bobby pins are perfect for keeping in place the hair of your little angels.
As the name suggests, the fruity pop bobby pin adds further cuteness to the look of baby girls. It also comes equipped with Swarovski crystal and no-allergy guarantee. 
So, the next time your daughter complains about her thin squandering hair that irritates her eyes or boring hair clips, you know precisely what to tie her hair with. Let her sparkle herself through her bobby pin. 
7.     Flower-shaped ponytail holder 
Parents love making ponytails out of the hair of their kids because they are the ideal hairdo for little angels. But to find a skin-friendly and stylish ponytail holder can sometimes become a big hurdle. This flower-shaped ponytail holder is made to save you from this problem.
It is an exceptional ponytail holder that many parents trust owing to its reliability and excellent holding. It comes in vivid colours such as nude and coral coupled with a luxurious polished finish.
This hypoallergenic ponytail holder is totally safe for your child because no harmful material is used in its production. At the center of the flower, original Swarovski crystals are encrusted to give this ponytail holder an unprecedented look. 
Summary
Kids are a precious gift, and they deserve a lot of care and proper handling to protect them from harmful things. Therefore, before making a choice for hair accessories for your kids, please ensure that they fulfill the quality and health standards. Also, it is important to let your kids enjoy a variety of hair clips so they can make their own choice for any event and occasion they want to join. Kosmart knows exactly the needs of the kids, and that is why it crafts the hair accessories for kids in accordance with all the health and quality standards.