Canadian Women and Hair Accessories; A Perfect Match
Canada is known for its rich diversity, and so are hair accessories. It would not be wrong to claim that Canadian women take great interest in hair accessories.
You would say women for which part of the world wouldn't want to have high-quality hair accessories anyway? Yup, you are right too. 
However, people from every region of the world have different preferences and choices, and so do the Canadian women. Since Canada is a great country, even inside Canada, the preferences of women changes.
However, one thing is shared among all Canadian women, and that is all of them hold a special place in their hearts for hair accessories. That is why Canadian women and hair accessories are a perfect match for each other.
Therefore, if you are a Canadian woman or you love how Canadian women treat their hair, then this blog is for you. It is because, in this blog, you will find all the hair accessories that a Canadian woman should be having, owing to their unique physical and mental orientation.
What Kind of Hair Accessories Are Suitable for Canadian Women?
From teenage Canadian girls to mature women, each one of them is fond of wearing different hair accessories that can transform their looks and make their hairdo stand out. However, it is crucial to know first which type of hair you have. 
Knowing your hair type can help you a great deal in deciding the hair accessories and other hair products you should be having in your closet. if you are curious about your hair type, read our guide Different Hair Types and Ideal Hair Accessories for Each.
Once you are done reading the guide, you will be able to quickly form your opinion about the hair accessories your hair deserves to have. You must also take into consideration the following factors before giving a green signal to any hair accessory.
Things to consider before purchasing a hair accessory
Some Canadian women buy hair accessories because they love them, others because they need them. However, whatever your reason might be, make sure you keep the following aspects in mind before making a final decision.
1. Is it Skin Friendly? 
It is perhaps the most crucial question, but unfortunately, many women tend to ignore it. Remember, not ever hair accessory is skin-friendly, especially those hair accessories that are made using nickel. In the US only, a staggering 36% of girls under the age of 18 suffer from nickel allergy. Therefore, make sure you steer clear of hair accessories that are not skin-friendly. 
2. Is it suitable for your hair type
As discussed earlier, your hair type is crucial when it comes to finding perfect hair accessories. It is because hair accessories are usually hair types. For example, there are hair accessories for thin hair, hair accessories for thick hair, hair accessories for short hair, hair accessories for long hair, hair accessories for fine hair, etc. make sure you know your hair before you go for a hair accessory so that you do not end up regretting later. 
3. Is it worth its price?
It is also important not to waste money as well. We understand your passion for hair accessories, but do not let it blind you. Some hair accessories come with hefty price tags, but their quality does not justify the price. On the contrary, some hair accessories are offered at such a low rate that they cannot represent a high-quality hair accessory. Therefore, make sure you save your hard-earned money by observing both the quality and the price. 
4. Does it fulfill your purpose?
Whenever we purchase something, we make sure that it fulfills our purpose of purchase. Hair accessories are no exception. Since hair accessories are generally specific for different occasions, hairdos, and statements, it is vital to consider the purpose of purchase.
5. Is it the season for this hair accessory?
Yup, hair accessories are season specific as well. For example, you cannot wear a wooly headwear on a hot sunny day. Moreover, each season demands different outfits as well. Therefore, season-specific hair accessories cater to the looks and costumes of that particular season. So, ensure that you know which hair accessory to buy and which not to and in which season. 
6. Is it in line with the occasion you want to wear it on?
It is simple. You cannot wear extravagant hair accessories in your workplace. Similarly, you cannot wear a dull hair accessory on a vibrant party. Thus, it is important to keep in mind the occasion you are purchasing the hair accessory for. This will save you from falling short of hair accessories in the future. 
Hair Accessories for Working Canadian Women
According to a report that was published in 2018, almost 50% of the workforce in Canada comprises of women. That is a significant number of women in offices. Therefore, it is important to guide all those Canadian working women who do not find enough time to spend on the internet searching about high-quality hair accessories that they can wear to the office on a daily basis.
Moreover, at times it becomes challenging to decide which hairdo to make and which hair accessory to use for office. Businesswomen also have to keep pondering over Ideal Hair Accessories for A Successful Business Meeting.
So, many of the Canadian women choose to compromise on their fashion statement by repeating the same hair accessories often just to save time. 
If you can relate to this problem, then no need to be disheartened because you are in the right place reading the right article. 
Below we have listed some high-quality hair accessories for Canadian working women so that they do not have to keep searching around the hair accessories amid their busy schedule.
MEDIUM SIZE BOW SHAPE HAIR BARRETTE IN PEWTER GREY AND RASPBERRY
This lovely hair barrette is perfectly in line with the preferences of Canadian women who work. You can confidently decorate and hold your hair in your office using this skin-friendly hair barrette without compromising on your style. 
MEDIUM SIZE RECTANGULAR SHAPE HAIR BARRETTE IN IVORY AND VIOLET
Hair barrettes are the favorite hair accessory for working women, and Canadian working women are no exception. This hair barrette doesn't only allow you to showcase your professional mannerisms but also your creative side. That is why it is one of  the ideal workplace hair accessories.
LARGE SIZE REGULAR SHAPE HAIR JAW CLIP I WHITE AND BLUE
Another fantastic hair accessory for work, this hair jaw clip is ideal for Canadian working women. No matter which color of hair you have, this jaw clip adapts quite seamlessly. It offers all that it takes to be your go-to hair jaw clip for work.
MEDIUM SIZE REGULAR SHAPE HAIR JAW CLIP IN IVORY AND VIOLET
If you want to astonish your colleagues with an absolutely graceful hair accessory, then get your hands on this one. It is made in accordance with the hairdo needs of Canadian women. Moreover, it is skin-friendly and won't make you break the bank.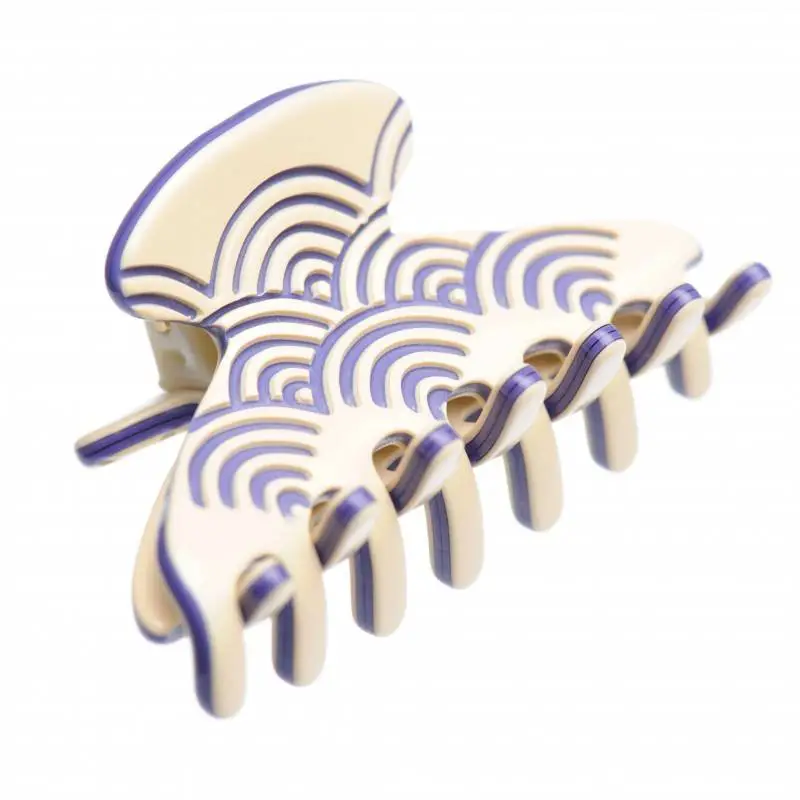 MEDIUM SIZE BOW SHAPE HEADBAND IN MULTICOLOR
Headbands are great out of the box hair accessory for working women. This headband is the favorite headband for all the working women because of its elegant look and skin-friendly properties. So, when you want to support your hairdo or just want to embellish them, grab this headband to make the difference.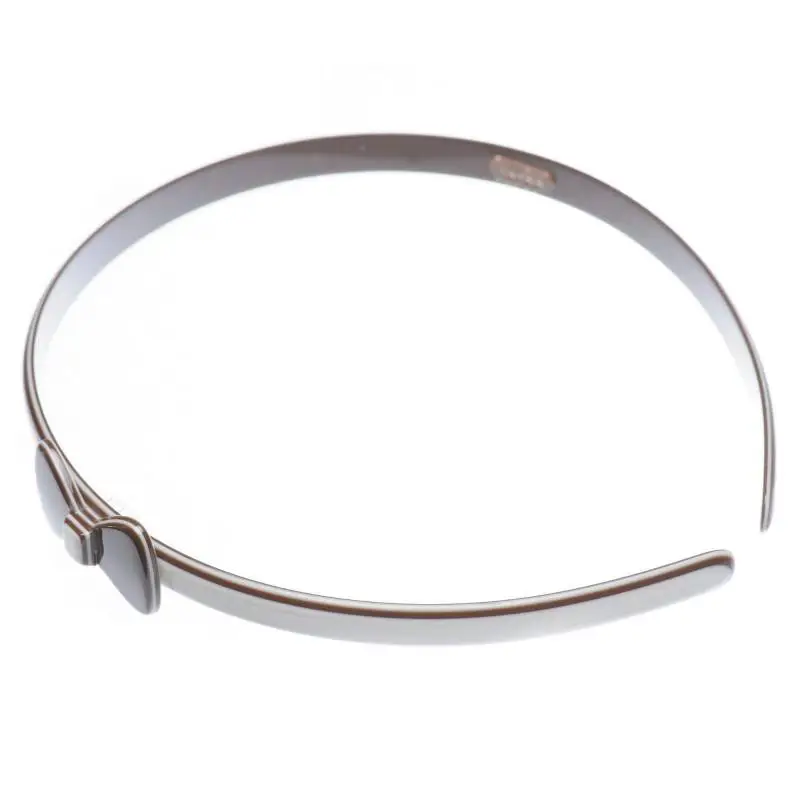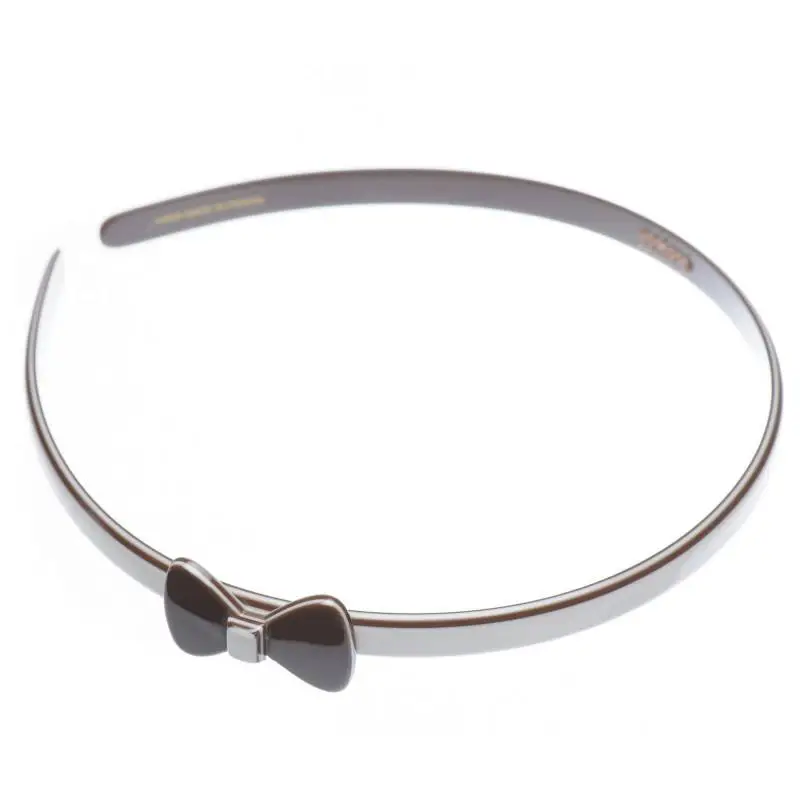 Hair accessories for Canadian women for everyday wear
Hair are hair, and they are going to be here because they grow on their own. No matter where you go, your hair are going to be with you, so better be friends with them.
And one of the foremost ways you can express your love towards your hair is by treating them with their favorite hair accessories on a daily basis. Yup, hair accessories that do not damage them, do not harm your skin, are not made with low quality, and are trendy. 
Therefore, it would be unjust not to guide Canadian women regarding hair accessories for everyday wear. Below you can find some ideal hair accessories for Canadian women that can turn the ordinary hairstyles into special ones.
MEDIUM SIZE FLOWER SHAPE HAIR BARRETTE IN MULTICOLOR
Canadian women love standing out even when they are not out and about attending events. This flower shape hair barrette is ideal for everyday women. It is made with hypoallergenic material that takes care of your hair every day so that you can do your daily chores without any worries. 
MEDIUM SIZE RECTANGULAR SHAPE HAIR BARRETTE IN BLUE AND WHITE
Who said that you could not wear colorful hair accessories on an everyday basis? In fact, it is never a good idea to keep letting the world no the bright side of your creative personality, and this hair barrette helps you do that. Moreover, it is made of high-quality material that means you are never going to have your hair or skin harmed by this. 
LARGE SIZE REGULAR SHAPE HAIR JAW CLIP IN TOKYO DARK
This skin-friendly hair jaw clip in Tokyo dark is all about elegance and style at the same time. Your everyday hairdo is ensured a stylish look by this hair jaw clip. Moreover, it does not cost an arm and a leg to buy this hair jaw clip because it is among the best budget hair jaw clips. 
MEDIUM SIZE REGULAR SHAPE ALLIGATOR HAIR CLIP IN MIXED COLOUR TEXTURE
Alligator hair clips are the evolved side of hair jaw clips, but their utility is no less. This snake patterned alligator hair clip is your guarantee to a decorated look even on the regular random hairstyle. You can literally get up from the bed and attach this clip into your hair it will turn when that messy hair into something amazing. Give it a try if you do not believe it.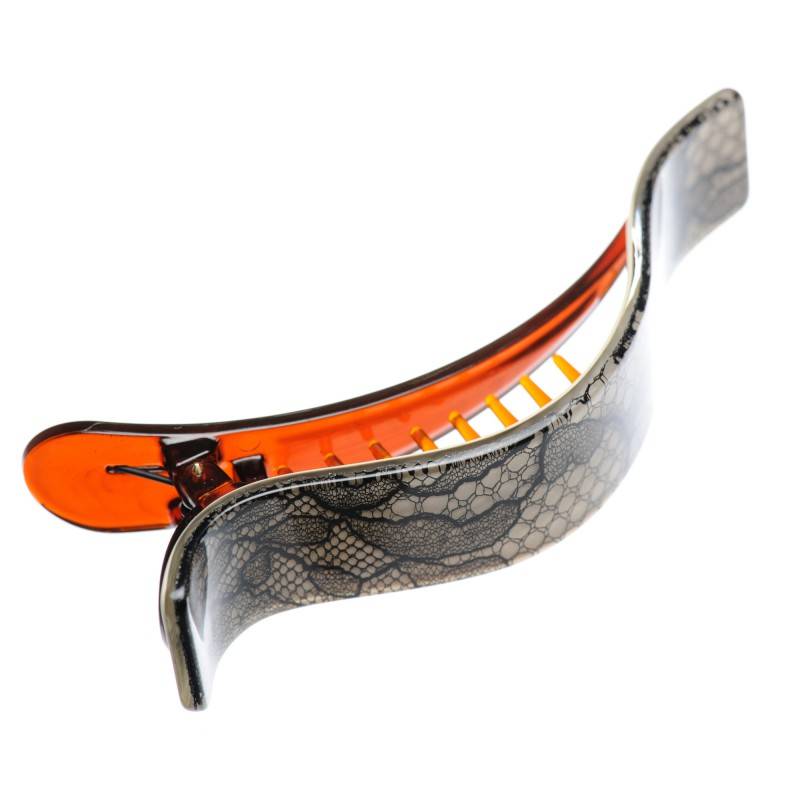 MEDIUM SIZE REGULAR SHAPE HEADBAND IN BLACK
If you are fed up with wearing hair barrettes and hair jaw clips for your office daily and want something a bit relaxing at home, then try this headband. This is a budget headband that is made to allow your hair to be in one place and yet relaxed. 
Hair accessories for Canadian women for casual occasions and parties
Canadian women know how to enjoy themselves. They not only participate in the economy of the country but also enjoy their social life to the fullest. For this purpose, they do not miss out on any event, be it fun parties of any other adventurous occasion.
And when it comes to casual events and parties, the looks come into play. In fact, women tend to look better than other women in their pursuit to do that; their hairdos are at the top of the list. Therefore, whenever there is a party coming up, Canadian women look for unique hair accessories to create unique hairstyles. 
Hence, we have listed some ideal hair accessories for casual occasions and parties for all the Canadian women to take advantage of. Make sure you make them count. 
VERY LARGE SIZE RECTANGULAR SHAPE HAIR BARRETTE IN WHITE AND BLACK
Hey party girl, you might be having several hair barrettes in your closet, but none of them can beat this amazing hair barrette. It is because it is not only skin-friendly but is also decorated with original Swarovski crystals. It comes with anti-slip innovation that makes it ideal for all hair types. 
MEDIUM SIZE RECTANGULAR SHAPE HAIR BARRETTE IN OLD PINK AND IVORY
Just look at this hair barrette, and you will become a fan. And when you embellish your hair with this on a party, your friends will also become a fan. That's a given. Its metallic part is gold plated, and the plastic part is made with skin-friendly bio acetate. Your parties are never going to be the same again.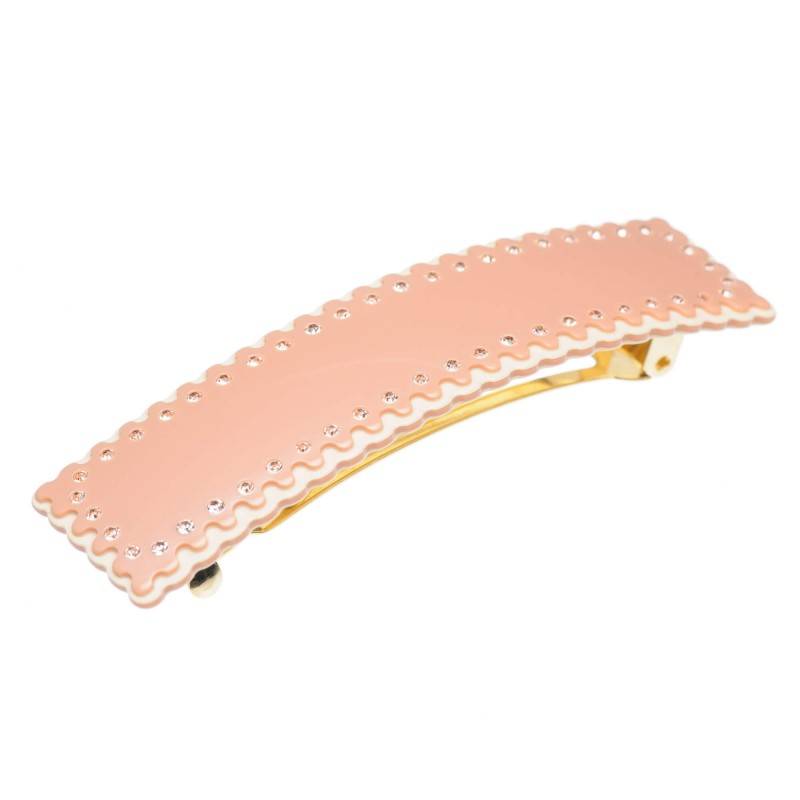 MEDIUM SIZE REGULAR SHAPE HAIR JAW CLIP IN SILVER GLITTER
This glittered hair jaw clip is ideal for night parties when you want to decorate your hair vibrantly. This hair jaw clip caters to all types of hair, given the appropriate spacing between the teeth of its jaws. You can always be creative with your hairstyle, and this hair jaw clip will not disappoint you.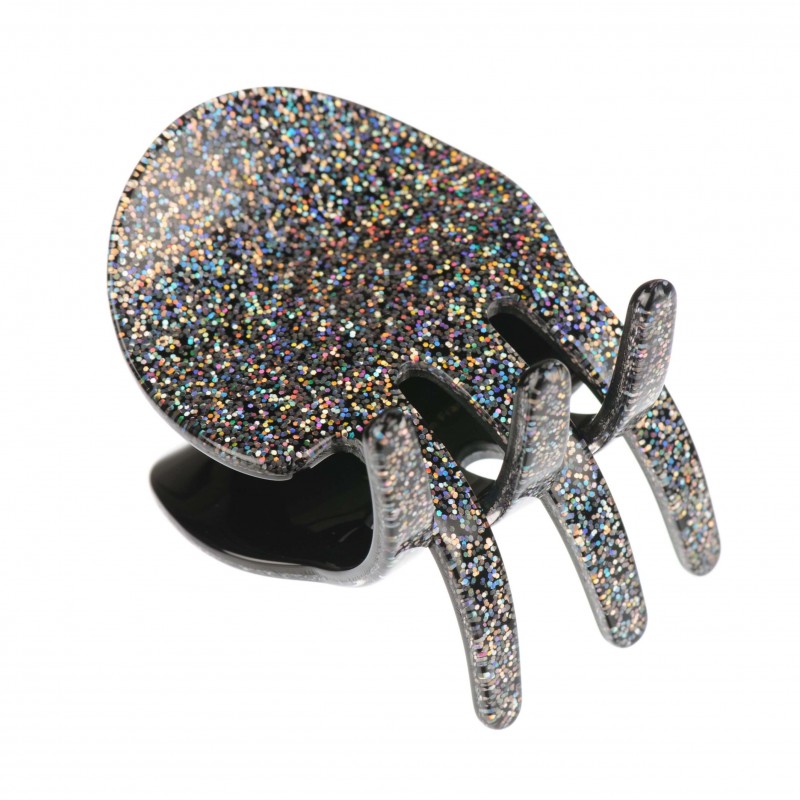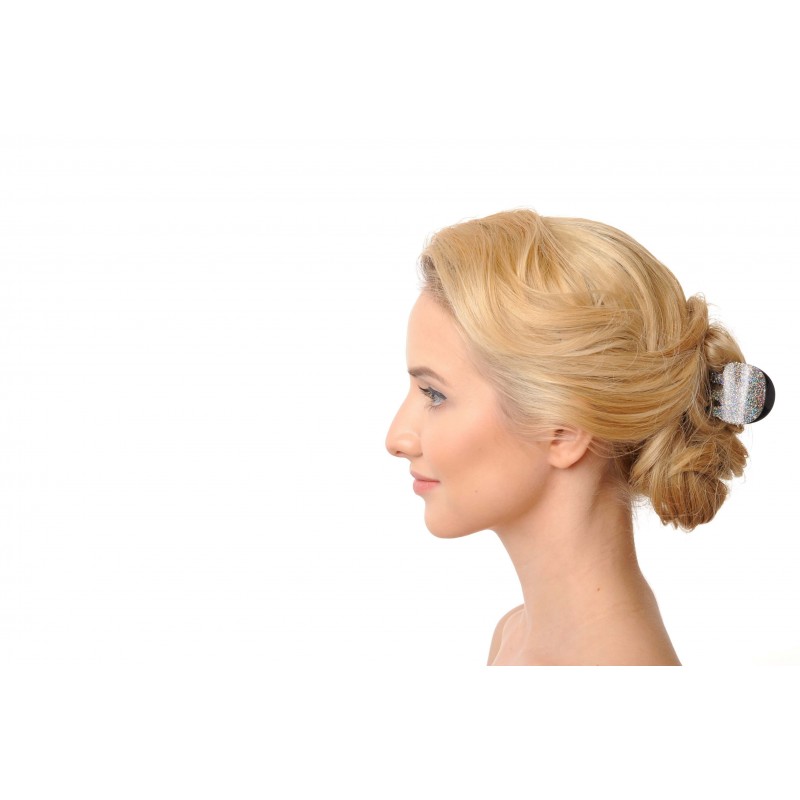 MEDIUM SIZE REGULAR SHAPE HAIR JAW CLIP IN BLACK AND WHITE
It is pertinent to mention that unique hairstyles and unique hair accessories quickly draw attention towards them. This hair jaw clip also belongs to the same category. You can attach this hair jaw clip with your hair on any hairdo and compliment any dress, and that's it. 
MEDIUM SIZE REGULAR SHAPE HEADBAND IN GOLD
This is one of the most affordable hair accessories that you would ever come across. It is specially made for casual fun parties where you are free to choose your hair accessories without thinking about any formalities. And another plus point is that it is really good at holding your hairdo in one place.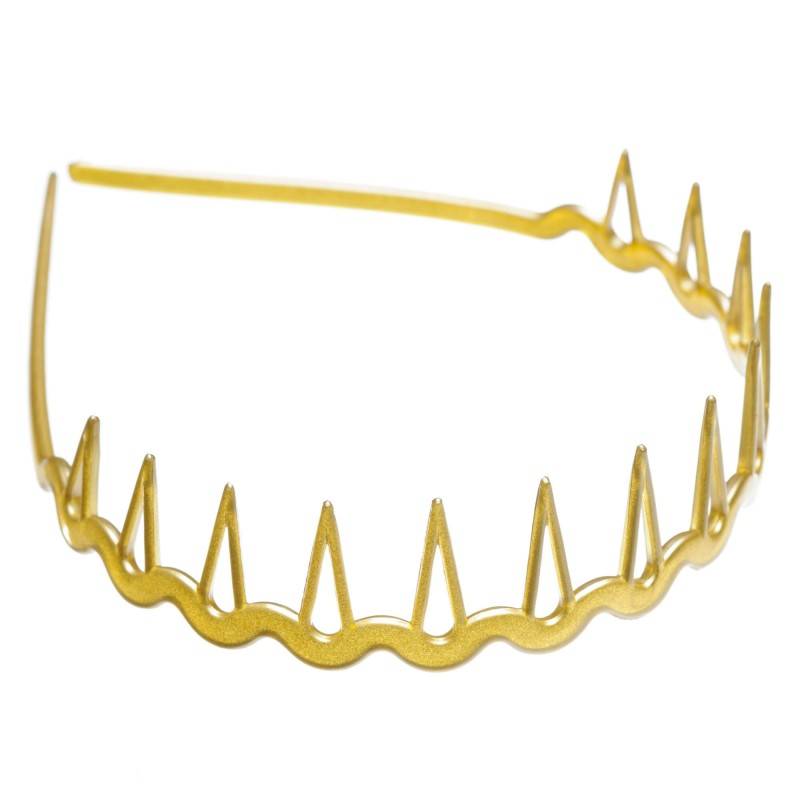 Conclusion
Canadian women deserve to wear the finest hair accessories because why not? The diversity in Canada is an epitome of the fact that the choices of women when it comes to fashion are quite unique and diversified at the same time. Since Canadian women represent 50% of the workforce of Canada, they face a big puzzle every day. This article and these hair accessories will save them from the everyday struggle.
You may also like to read:
American Women's Guide to Hair Barrettes