5 Perfect Tiny Hair Clips to Instantly Glamourize Short Hair
One of the most challenging situations women face is when they have to choose between long hair and short hair. Countless women have a penchant for long hair because they think that short hair renders them with fewer options for styling.
Their claim has currency to some extent because short hairstyles are less in number than long hairstyles. However, that does not mean you cannot be creative with your hair anymore.
In fact, the look of authority and professionalism that short hair equips you with is unparalleled. And the good news is that there are plenty of hair accessories that help to style the short hair like never before. Doesn't matter if you have thick hair or thin, these accessories work well with every hair type. 
However, before jumping to conclusions, it is vital to address the elephant in the room. How are you going to carry them? Yup, the need for short hairstyle accessories. 
Tiny hair clips are at the top of the short-hairstyling list. They offer an out-of-the-box solution to your hair styling equation. Therefore, if you are looking forward to giving your friends a pleasant surprise, read on. 
Below you can find the some cherry-picked and hot-favourite tiny hair clips of women for short hairstyles. 
1.    Tiny Hair Snaps
Since short hair does not demand a lot of handling, these tiny hair snaps are the perfect hair accessories for them. Their size matches ideally with the size of your hair as they keep your short hair tied in your preferred style.  
Do not underestimate them because of their teeny-weeny size; their grip is rock solid. No kidding. They do not slip down the hair under any circumstances. However, along with being space-friendly, tiny hair snaps are pocket-friendly as well. Most of the tiny hair snaps are made up of metal for a better grip and aesthetic look. So, the next time you are all set to rock the dinner party with your amazing short hairstyle, you know what to make use of. 
Perfect for:Short chic waves and pixie cuts 
2.    Tiny Hair Claw Clips
Given the versatility in short hairstyles, it is evident that each comes with different requirements. And some of them work best with tiny hair claw clips.These minuscule versions of regular claw clips are reminiscent of the 90s. They are ideal for a range of occasions from formal to informal to date nights.
Tiny hair claw clips are there to be your best buddies when you want to wear a classic short hairstyle. They are colourful, vibrant, lively and vivacious enough to help you spruce up your hairstyle elegantly. And the best part is that you can buy these mini clips in bulk by paying a minimal amount to reinforce your clip collection. Jackpot!
Perfect for:Braided updo, fluffy half-ups and messy top-knots
3.    Tiny Hair Clips
And can we forget the hair clips, huh? Tiny hair clips can do you a huge favour when it comes to a more feminine look. Due to their miniature design, they ensure that your short hairstyle wins you plenty of admiration.
These hair clips are best for holding in place your braided updo while complimenting the overall style. You can pick tiny hair clips from a range of designs, colours and looks. The only difference between you and your sophisticated looks are the little hair clips. So, make sure you make the best use out of them.
Perfect for:Messy low bun, razored bobs and smooth buttery bobs
4.    Tiny hair Barrettes 
Hair barrettes do not need any introduction because women love them. Barrettes have been around for centuries. It was their reputation that gave birth to the idea of tiny hair barrettes.
Tiny hair barrettes come into play when you want your hair to look dapper and well-ordered at the same time.
When you embellish your short hairstyle with tiny barrettes, they return the favour by adding an exclusive glam to your hairdo. These hair barrettes are light-weight, which lets your hairstyle stay firm even when the afterparty starts. Yay!
Perfect for:Short updos, cropped cuts and French braid buns
5.    Ponytails Holders
Who said that ponytail holders are meant for making ponies only? Creativity knows no bounds, and it is never a bad idea to show the world your unique sense of style, is it? Ponytail holders have been our favourite hair accessories in childhood. However, the time has changed, and ponytails are not an exclusive long-hair accessory anymore. 
A ponytail is one of the cutest hair accessories to help you keep hair off your face without compromising on style. For short hairstyle, you may make use of a half knot, full knot or high ponytail. Ponytails provide you with the golden opportunity of looking gorgeous and cute simultaneously. 
Perfect for: Low bun, braided, and half-up hairstyles.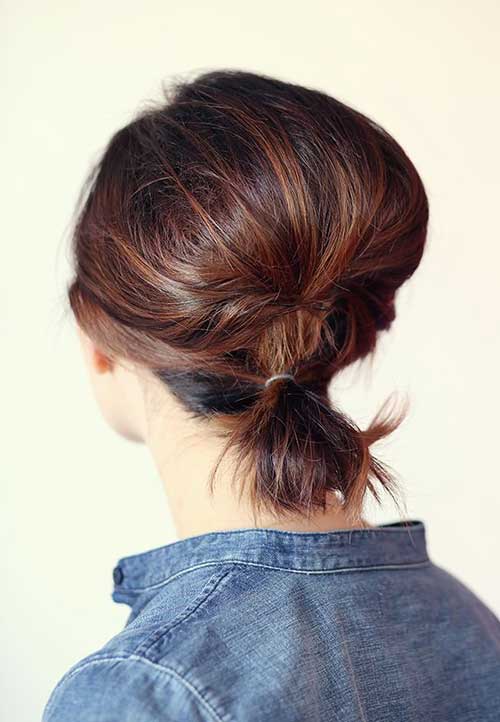 Image via shorthaircut.com
Now that you know the all the secret magic accessories to help you wear the perfect short hairstyles, it is pertinent to discuss the perks of short hairstyles. 
Advantages of Short Hairstyles
Short hairstyles are must-have for women who want to usher a transformation in their persona. If you are one of those women who are bored with their long hairstyles, look no further. Short hairstyle is your one-stop solution for your day-to-day hairstyle. In addition to al the personality perks that short hairstyles impart, there are plenty of other benefits of short hair as well. 
Let's take a look. 
Less Shampoo Usage
Yup, that's a fact. Short hair are short, and you don't have to pour tons of shampoo to get them to work. You can, in fact, do that by using a little quantity of shampoo. That necessarily means that you will not have to spend bucks on shampoo every fortnight. Now that's quite some saving. 
Perfect for Summers
Want to feel more relaxed in the summer? Start from wearing a short hairstyle, and you are all set. The less hair your head is covered with, the less likely is the heat to be trapped underneath. No sweating, no itching, and no irritation. Hooray!
Less Hair Colour
Just as in the case of shampoo, it is a lot easier and economical to dye your short hair. Less hair colour will be required to dye short hair and if you don't like the colour, dye them again. It is that simple with the shorter hair. 
You Look Younger
Well, there is something with the short hair that they make you look irresistibly younger than your age. Take this as a pro tip! With all the sassy short hairstyles and relevant hair accessories around, what else do you expect? 
Better Styling Options
When you realize that you no longer have long hair to make a ponytail out of them every day, you find time to become artistic with your hair. There are tons of styling options for short hairstyles, and you're going to love yourself to have made this decision. Kudos!
Brushing? Not A Big Deal Anymore
Short hairstyle saves plenty of your time which you would otherwise spend on brushing. Yup, you get up late in the morning, and you realize that you only have half an hour to get ready. That's where you thank yourself for having a short hairstyle. 
A lighter Head
Well, that's pretty much predictable, eh? Less hair on the head means less burden you are carrying. Although hair do not carry much weight, yet ask someone who just cut down her long hair to short, and she'll explain how unburdened she is feeling. 
A More Professional Look
Is there anything better than following the fashion of your choice and you get a professional look as a bonus? That's the best part of wearing a short hairstyle. Women rocking short hair tend to be more confident and self-assured. Now you know why many working women opt short hairstyles. 
You Can Grow Them Long Again
Last but not least, if you find out that you need to switch back to longer hair, you will not have to go to the hair salon for that. Instead, you only give them some time, and they grow back to how you want them. That's the thing with the hair; they grow. 
Conclusion
Short hairstyles are back in style again, and many women are already jumping on the short-hairstyle bandwagon. Even celebrities cannot stay out of the circle of influence of short hairstyles. The remarkable tiny hair accessories are playing the most important part in forwarding this trend. Hence, in your quest to wear an all-new impressive look again, make sure you do not miss out on short hairstyle.
If you have anything to add, please let us know in the comment section.