American Women's Guide to Hair Barrettes
Let's be honest; women are incomplete without hair barrettes. In fact, barrettes are one of the most beloved hair accessories of women for centuries. And why won't they be? Women love their hair and style. And what holds the hair at one place and that too in style? 
Yes, what you are thinking is the right answer i.e., hair barrettes. Come to think of it, the versatility, styling element, robustness, and elegance that hair barrettes offer to your look, can that be found in any other hair accessory? The answer is simple, No.
These are the reasons why American women love hair barrettes. Despite the fact that Europe is considered the hub of fashion and European women as the most fashionable women across the globe, American women are not behind at all. They keep themselves as updated as to any European woman.
However, due to the different geographical location and fashion preferences, women in America are always more conscious when it comes to getting their hands on quality hair accessories. That is why they do not trust low-quality products and always go for something that suits their persona perfectly. Hair barrettes are one of those hair accessories that they just can't get enough of.
If you are a non-American and happen to visit the dressing room of an American woman, you will surely find a vast collection of hair barrettes in her favorite closet. This showcases their love for this timeless accessory. There are many reasons why hair barrettes have won the trust of all the women in general and American women in particular.
However, if you are a woman and belong to the US, yet you do not know much about the hair barrettes (which is very less likely), then this blog is for you. Make sure you read the blog to the end so that you know why hair barrettes have taken the American fashion industry by storm. 
What Are Hair Barrettes, And Where Did They Come From?
The hair barrette is basically the fancy name (American version) of the hair clip. Just like any other hair clip, the primary function of hair barrette is to hold the hair in one place. Most of the hair barrettes are made of plastic, metal, or hypoallergenic bioplastic material. It also sometimes features the decorative fiber to take things to the next level. 
What differentiates hair barrettes from ordinary hair clips is their size. Most of them are large and can be as long as 3-5 inches. Due to their size, they grasp the hair quite well, and a single hair barrette can cover a lot more hair than ordinary hair clips. The length of the barrette is not the only unique feature; its width is also a thing to regard. The wider the barrette, the more hair it can hold. 
Hair barrettes are not an invention of the 21st century. Instead, they are around for centuries now. Would you be surprised if we say they were first employed even before Christ? Yes, they are THAT old. However, it was only in the 20th century that their manufacturing actually took place on an industrial scale. 
Their sudden popularity caused a mass production that resulted in different designs, shapes, sizes, colors, and materials. The metal part of barrettes was started to be manufactured in the late 60s when automatic machines took over the charge. This way, barrettes became a style icon instead of a mere hair-holding accessory. Since then, they haven't looked back at all. 
So, How Do You Use Barrettes?
You might be thinking that it is a silly question. Because who doesn't know how to use hair barrettes after all? Well, sorry to break it to you, wearing hair barrettes is a science and an art at the same time. Just grabbing a hair barrette and sticking it to your hair might serve the purpose of keeping your hair in one place. But this way you will make only half of the use of barrette. Barrettes are a part of decorative hair jewelry, and you have to wear them accordingly. 
Therefore, how you wear barrettes depends on a number of factors. The next time you are going to let barrettes adorn your hair, you need to consider the following aspects before making the decision. 
• Occasion:
There are specific barrettes for different occasions. So, whenever you are going to attend a party, you must acknowledge the type of party. If you are concerned that there are many types of parties, then you don't need to. Because there are a lot more types of barrettes for parties than there are parties. Barrettes for weddings, barrettes for parties, barrettes for the workplace, barrettes for meetings, there is a full-fledged range of barrettes for every event.
• Season: 
You must also consider the season before making a choice. Season-specific barrettes are readily available, and you should make them count if you do not want to sacrifice your fashion statement. Hair barrettes for winters are different from hair barrettes for summers, and so on. 
• Hair Type:
Do you ever consider your hair type before purchasing a barrette? If you don't, you are making a big mistake. Because each type of hair barrette is made while keeping in consideration the type of hair. How can hair accessories for thick hair do well with the thin hair and vice versa? Know your hair type to know your preferred barrette. It is that simple. 
• Skin Type
This a very crucial aspect that the majority of American women seem to ignore and later regret. Not every barrette is skin-friendly, and not every skin is allergy-free. That is the reason why, in the US only, 10 percent of women suffer from skin allergy due to beauty accessories. Most of the barrettes are made of Nickel, which can be devastating for those who are allergic to this metal. If you have a skin allergy, hypoallergenic barrettes should be your only choice. Because there is no compromise on health at any cost. 
• Hairdo
If you are really passionate about your hair (which you surely are), then you must know that barrettes are also dependent on the hairstyle. Either they help you make your desired hairstyle, or they enhance the look of the one already made. There are barrettes for short hairstyles, long hairstyles, buns, updos, etc. the perfect barrette will be the one that complements your hairdo and holds it well. 
• Venue
Venue matters, especially when it comes to styling elements. You cannot wear the same barrette in the garden party and a red-carpet welcome. Your barrette choice must manifest your understanding of the venue. Some venues are decorated in a particular theme, and your hair barrette must not disagree with that. 
• Dress
That's pretty much obvious, right? Being an American woman, your choice of dress would be nothing less than exceptional. Do not disappoint your dress by not pondering over the barrette you are going to wear with it. You can always go for a matching barrette to make things look seamless. However, you can also flaunt your creative side by choosing a contrasting or unusual barrette.
Ideal Hair Barrettes for American Women
Now that you know exactly how you are going to pick your barrette, allow us to be a bit more generous by guiding you to some of the finest barrettes out there. All these barrettes are handpicked by our experts, especially to suit the American style. Each one of these comes with a novel styling option to cater to your dream look. Have a look. 
1.     Rectangular Hair Barrette in Black
This is one exceptional hair barrette that has all that it takes to transform your hairstyle instantly. This sparkly Rectangular Hair Barrette can make you stand out on a range of events. Hand encrusted tricolored Swarovski crystals add substance to the chicness. You can rock this barrette with your formal as well as semi-formal outfits. You can put on this barrette without worrying about skin allergies because it is totally hypoallergenic. And oh, its metal part is covered with rubber so that it doesn't slide down your hair no matter how silky they are. That's a given.
2.    Large Oval Shaped Hair Barrette 
If you are looking for an out of the box yet reliable option for your thick hair, then look no further. This large-sized hair barrette will do the trick for you in the best possible way. Its unique wood patterned design ensures to catch many eyes. Due to its size, shape, and anti-slip innovative solution, it holds on to hair pretty firm. Moreover, only skin-friendly material is used in its manufacturing. It is an ideal barrette for prom nights, operas, and other indoor events. Original Swarovski crystals outline the finely polished boundary of this barrette to intensify its appearance manifold.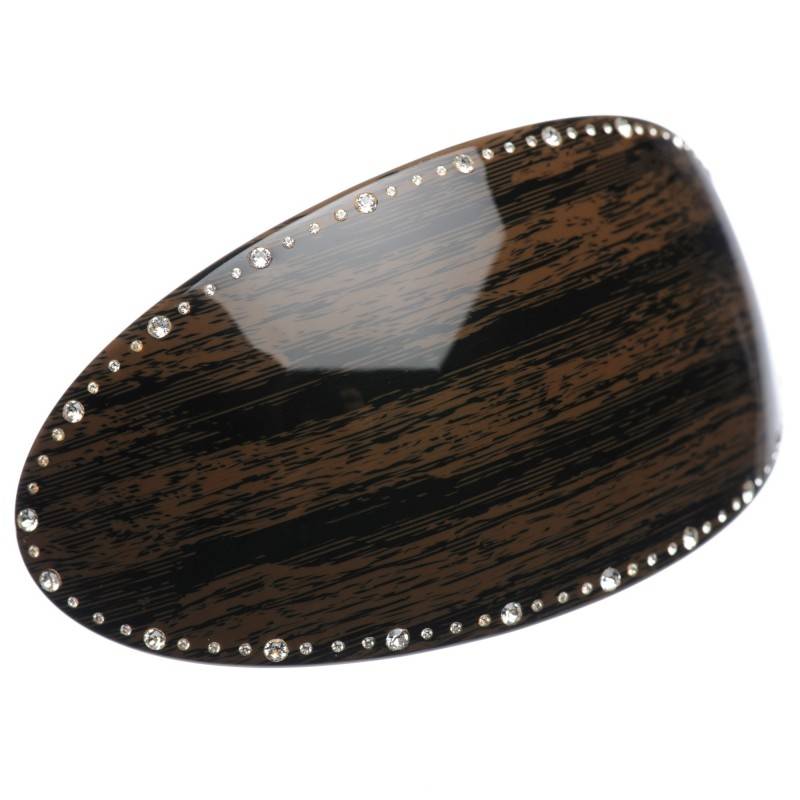 3.     Bow Shaped Hair Barrette in Ivory and Black
All you need to be convinced by Bow Shaped Hair Barrette is a glance and BOOM; you are flat. This is one of the most aesthetically appealing barrettes you will ever come across. It comes in two royal colors, which can cover every event for you. Two absolutely exquisite maroon Swarovski crystals lie right in the middle of this barrette. Made with bioplastic to ensure the safety of skin, this barrette makes things much more delightful. Professional American women love this barrette and wear it on many formal occasions such as meetings, presentations, and interviews.
4.    Large Rectangular Shape Hair Barrette 
If you are a party girl and love attending cocktail parties, this barrette should be there in your closet. It is a large hair barrette, and its semi-circle shape ensures that no matter how thick or rough hair you have, it never fails. The multiple colored Swarovski crystals that are hand encrusted on its surface and three-dimensional engravings make this barrette even more vibrant. So, having this barrette in your closet means you will not have panic attacks whenever there is a party coming up. 
5.    Luxurious Hair Barrette in Black
Barrettes fall in the domain of decorative jewelry, and this barrette fits this definition perfectly. This luxurious hair barrette comes into play when you decide not to compromise on the fanciness of your look any more. Crafted by expert hands and encrusted by countless Swarovski crystals, you are going to fall in love with your hair once you attach it to your hair. And the best part is that it is completely safe for your skin. Its metal part is made of white bronze and the other part with bio-plastic. The next time you are in confusion about how to tie your hair for any event, this barrette will come to the rescue. 
6.    Extra Large Hair Barrette in Black and White
It is not unexpected to get bored with the same range of barrettes with no creative designs in view. In those times, this barrette is a blessing. This extra-large hair barrette with enchanting black and white 3D engravings is a unique solution to your messy hair. Given its versatility, it can become your go-to barrette for a variety of occasions ranging from casual events to business meetings. The Swarovski crystals that are engraved in a square shape on a black background just puts the cherry on the top. This barrette is unique, stylish, extensive, skin-friendly, and goes easy on the pocket. What else do you want?
7.    Long and Skinny Hair Barrette
We understand that it is not every day that you want to wear large-sized hair barrettes. Instead, many occasions and hairstyles demand skinny barrettes, as well. And that is why you should have this hair barrette in your collection. It can be perfect for tall and slim American women who want to translate their looks through their hair accessories. The delicate and slender design of this barrette does not mean that there is any compromise on the safety of the skin. You can rest assured that this barrette won't get you caught in a skin allergy. It can land in your barrette collection for office as well as parties. 
8.    Fancy Hair Barrette in Oval and Violet
Have you ever had a barrette that looked decent and fancy at the same time? If you didn't, you could have it now because this fancy hair barrette is all about the amalgamation of sophistication with luxury. We get it that it is never easy to find something luxurious without a touch of inelegance. However, that is not the case with this captivating medium-sized barrette. The 3D engravings in semi-circles and hand carvings of Swarovski crystals make this barrette almost unignorable. You can stylize your looks by putting this barrette on weddings and semi-formal parties. It is also a valuable gift for thanksgiving, Christmas, or even birthdays. 
9.    Rectangular Barrette with Square black Embellishment 
If you want to witness the embodiment of sophistication in the form of a barrette, this is the one you should be looking for. The pair of shiny rectangular white with jet black square makes it look a thing of class. Its glossy look with a high-detailed finish means you can take advantage of this barrette for an ideally seamless look. On top of that, original certified Swarovski crystals are generously used in a flawless symmetry. Although it is ideal for evening and night, you can also put it on during the day timings to put your creative side on show. It is made of cellulose acetate that is a scientifically proven material for its skin-friendly properties and also referred to as bioplastic.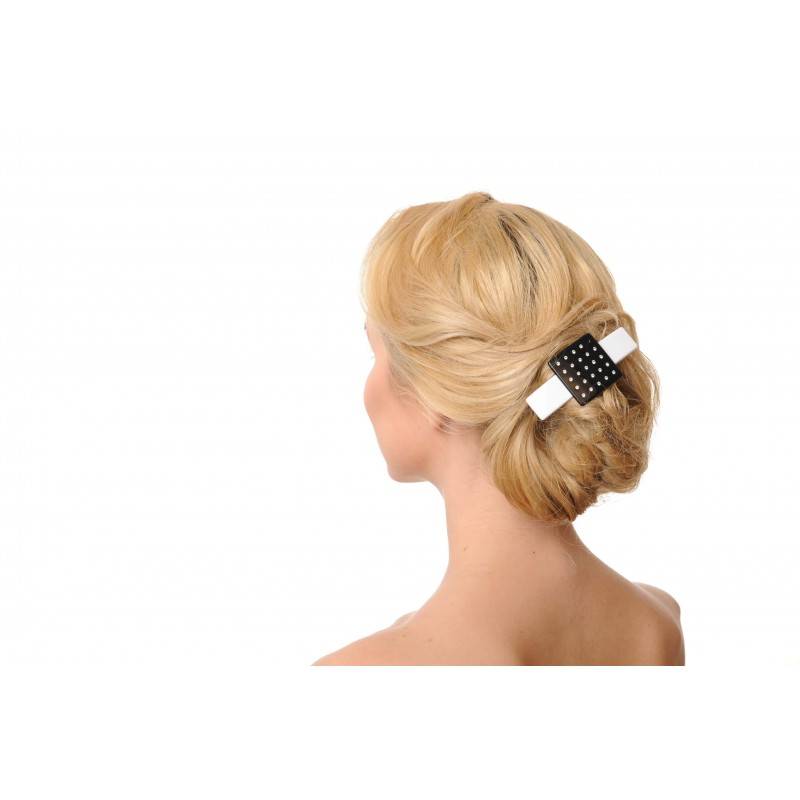 10.  Deluxe Hair Barrette in Marlboro Red and Black
Last but not least, this vibrant hair barrette should be a classic addition to complete your barrette collection. There are many reasons why this barrette is called deluxe. Beautifully designed into the shape of a gift wrapper, this barrette adds a lot of confidence to your personality. The color selection is impeccable, so that you never go out of style. The metal part is made of skin-friendly bronze to keep allergies at bay. You can pair this barrette with some of the most vibrant dresses, and it would complement them easily. So, whenever there is a garden party or catch up with old friends, or you just want to introduce your hair to something new, this barrette will do the trick.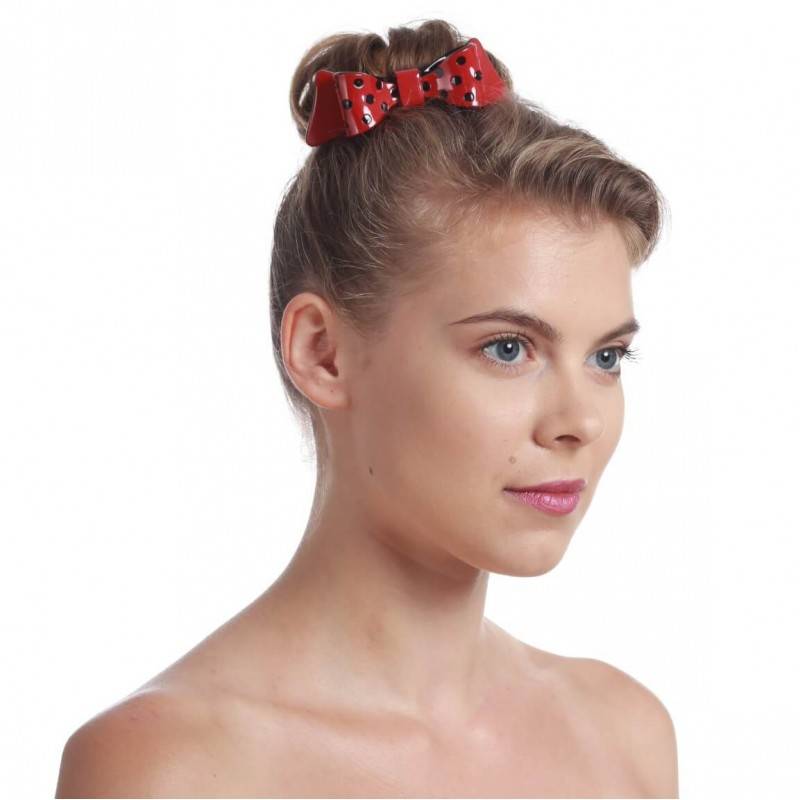 Final Thoughts
Owing to their dedication to their families and the amount of work they have to do in daily life, many American women tend to ignore themselves. That doesn't mean they do not have a sense of fashion. Because their love for barrettes says volumes about their unique choices. These exclusive tips and barrettes will help them find their lost appetite for the hair embellishment and wearing a new look on a daily basis. 
When you can add to your collection such amazing, hypoallergenic, forward-looking, and phenomenal barrettes to your collection without breaking your bank, what is keeping you from your personality transformation?