15 Stunning Gold Hair Clips to Add A Luxurious Flair to Your Looks
According to the color psychology, golden color reflects bounty, luxury, success, abundance, achievement and triumph. The psychology of this color indicates prosperity, material wealth and extravagance.
Therefore, women who want to rock a luxurious look, make use of this color in abundance and gold hair clips are no exception. in fact, gold hair clips are a great way to win appreciation and stand out.
Thanks to the increasing demand, gold hair clips come in my types, shapes and sizes. No matter which type they come in, they cater to the hair of women of all ages equally.
Types of gold hair clips
There are two main types of gold hair clips.
1.

     
Hair clips made of gold
This type of gold hair clips is made of gold and are very expensive. They are completely metallic and can be detrimental to the skin and hair due to sharp edges. Moreover, gold hair clips are very expensive and only women with a rich background can afford them. Therefore, hair clips that are made of gold are very rare.
2.

     
Hair clips in golden color
 These hair clips are not made of gold instead they are gold colored or gold plated. Such hair clips can be made of both plastic and metal and belong to affordable hair accessories. These hair clips are further divided into different types of hair clips such as barrette hair clips, hair clip claws, banana hair clips and alligator hair clips.
In this article, we are going to discuss the second types of hair clips only because a vast majority of women can afford only these.
Advantages of gold hair clips
There are many advantages of getting your hands on gold hair clips. Some of them are as follows:
·

        
Gold hair clips are fancy
One of the best advantages of gold hair clips is that they belong to the best fancy hair clips. Fancy hair clips are great for wearing a look that help you stand out instantly and that is exactly what gold clips do. Therefore, getting gold hair clips will help you get two tastes in flavor without breaking your bank.
·

        
Gold hair clips are catchy
If you have a knack for grabbing the attention of everyone around, then gold hair clips might be your best bet. Thanks to their catchy color, gold hair clips not only make your hairdo appear much better but also make them catch the eyes. Add to that the gloss and you have an amazing hair accessory at your disposal.
·

        
Gold hair clips make you appear wealthy
In this modern age, everyone loves to look as modern and well-off as they can. Gold hair can help you achiever that look easily and effectively. Since gold is the color of affluence, wearing a gold hair clip exhibits the vibes of wealth and prosperity. Therefore, you can live a luxury look without breaking your bank.
·

        
Gold hair clips are unique
It takes courage and boldness to wear some colors and golden is one of them. So, when you have secured your hair with a gold hair clip, rest assured that you would be rocking a unique look since only a few women are bold enough to give this color a try. Thus, for women who are bored of their traditional boring looks, bold hair clips offer a sigh of relief.
·

        
Gold hair clips match with all colors
Where other hair clips are supposed to match or contrast with your outfits, gold hair clips are not bound by any such conditions. That necessarily means that you can use a gold hair clip with the dress of any color and it would adopt seamlessly. This feature makes gold hair clips ideal for almost all occasions.
15 Stunning Gold Hair Clips to Add A Luxurious Flair to Your Looks
Now that you know why you should have gold hair clips in your wardrobes, let's do another favor for you. Our experts have picked some of the best gold hair clips for you. All the following gold hair clips share some outstanding qualities. These gold hair clips are:
·         Hypoallergenic
·         Scalp friendly
·         Hair friendly
·         Affordable
·         High-quality
This gold hair clips comes with a shiny surface in golden color. It is a skin friendly hair clip that women love trying out various occasions. If you are a business women who often have to attend busing dinners and meetings then make sure you have this hair clip by your side. Because it is one of the best hair accessories for business meetings.
Large hair clips are great for making a statement and this large gold hair clip offers exactly that. Thanks to its color and gap between its teeth, this hair clips is one of the best hair accessories for afro hair. It is completely hypoallergenic and an ideal hair accessory for women who love attending cocktail parties. And the best part is that it doesn't damage the hair.
If you have to choose from hair accessories everyday wear, then this gold hair clip can be of great help. it is one of those made-in-France hair accessories that women love to secure their hair with. Its golden texture, glossy finish, skin-friendly clasp and lightweight features brought it to our list of ideal gold hair clips. You can also accent your elegant updo or pin up your front hair using this hair clip and you will never be disappointed. That's a given.
If you have a knack for unique hair accessories to create unique hairstyles then this gold hair clip is all you need. Its amazing design with wide area means its can hold a big chunk of hair without damaging them. Moreover, it is one of the most affordable hair accessories that you can get your hands on. What are you waiting for when a brand-new look is waiting for you?
Using an extra-large hair clip is never a bad idea, especially when this amazing extra-large gold hair clip is around. This hair clip Is one of the best hair accessories for thick hair. No matter you want to attend a party or looking for hair accessories for family get together or barbecue, this hair clip will be there to cater to your hair. And worry not because it is a hypoallergenic hair accessory that means no nickel allergies at all.
If you are a working woman and are remote working due to COVID-19, then having best hair accessories for women working from home must be your priority. And this gold hair clip offers you just that. It secures and decorate your hair like no other hair clip thanks to its beautiful combination of black and gold and a skin friendly metallic clasp.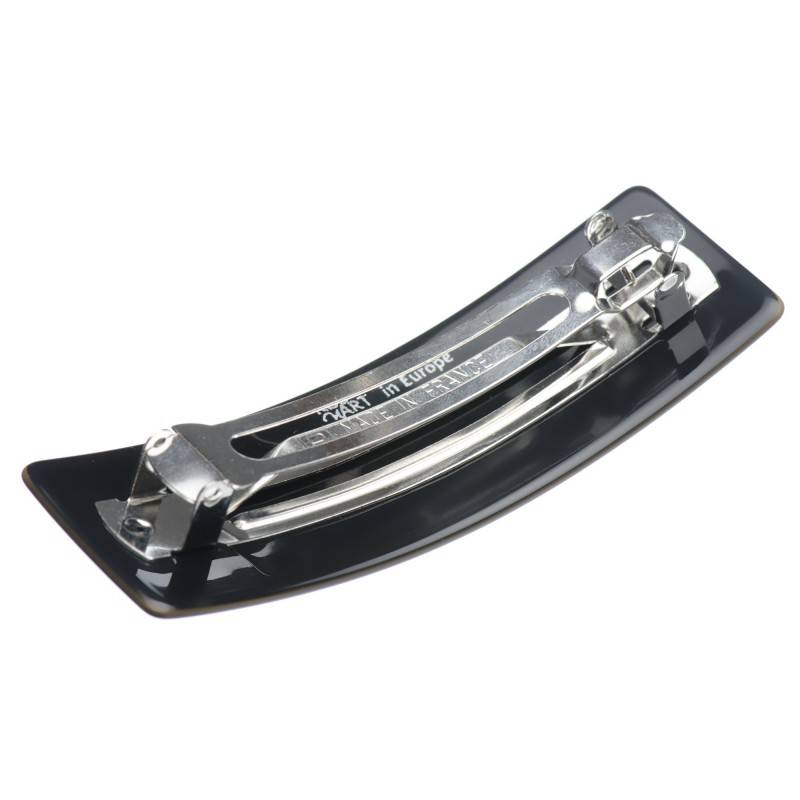 This hair clip is ideal for women who do not want to compromise the beauty of their hairdos even when they are at home. The horizontal black stripes on the golden background sets up tables for a laid-back yet elegant look. You can also take advantage of this magical hair clip on almost all kind of occasions to let your friends observe your unique sense of fashion.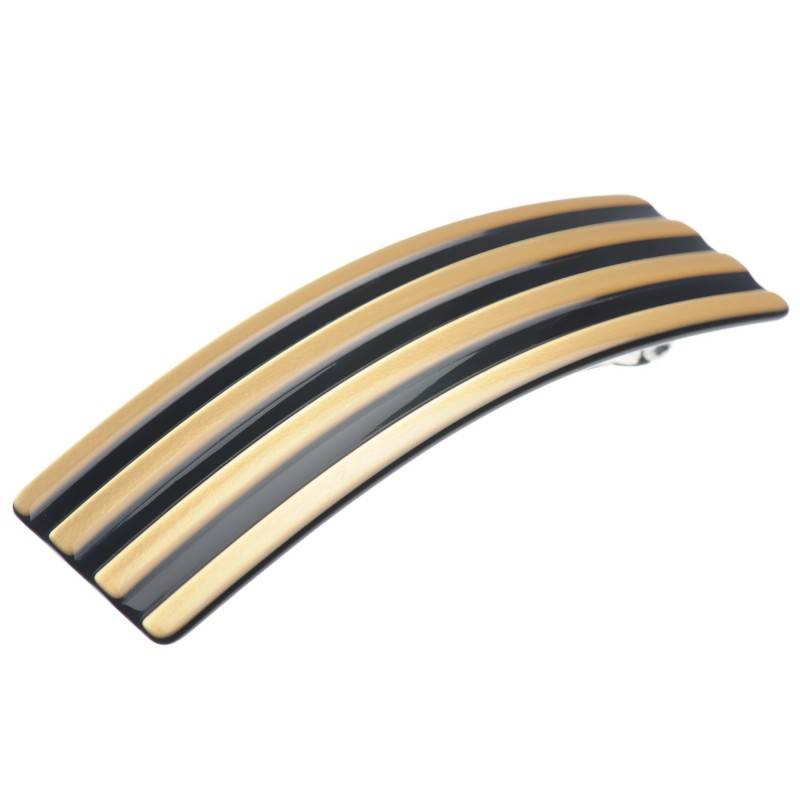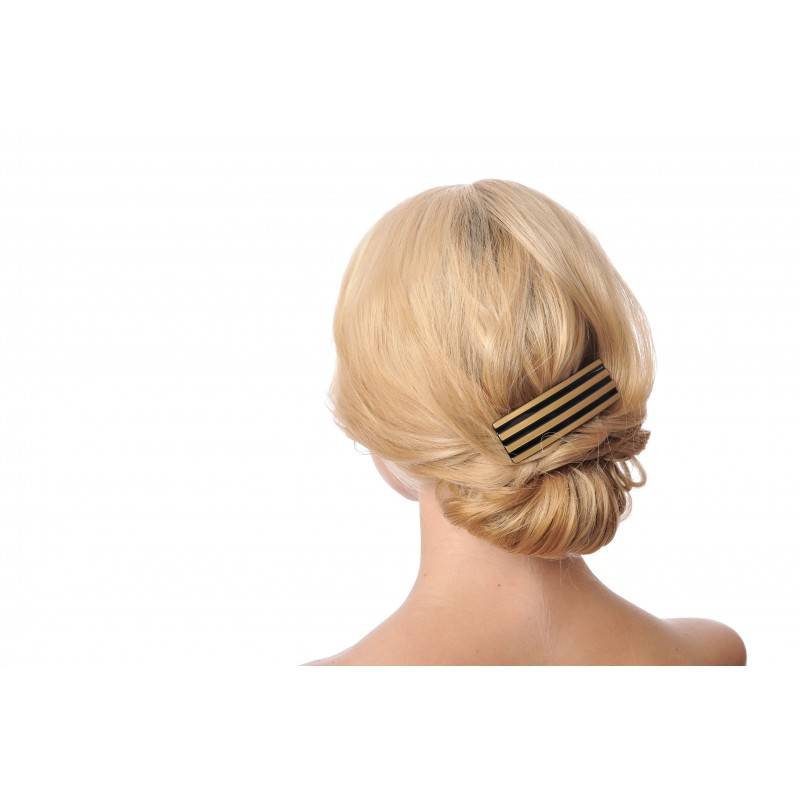 This gold hair clip is perfectly curved to cater to as many hair as you can. You can use it as a ponytail holder as well to bring a pleasant change in your looks. Moreover, its clasp is safe for your hair and your skin because no nickel is used in its making. It also secures all types of hair no matter thick or thin. No wonder why it is one of the best hair accessories for mature women.
Here is one of the best small hair accessories to make a big difference. This gold hair clip is a perfect replacement of the same old boring bobby pins. It adds chic yet elegant sparkly flair to your hairdo. Whether you like messy buns or a stylish updo, this hair clip claw will find its perfect place and bless you with an adorable look.  
All that glitters is not gold, sometimes it is better than gold. Just like this glittering gold hair clip that is round in design and great at securing and decorating hair. You can add an instant chicness to your hair using this ideal hair accessory for an interview to increase your chances of winning the job. It treats all types of hair equally that means you do not have to consider your hair type before purchasing it. Isn't that amazing?
If you have a date coming up and you want to dress all romantic and cute, then we suggest this cute hair clip to you. It can adapt to any outfit without compromising your style. Its sparkle is going to become the apple of the eye of your beloved, no kidding. Plus, here are some hairstyling tips for a romantic date. Make them and the hair clip count.
Skinny hair clips are loved by women because they allow them to appear smart and pretty. This gold hair clip is one of those. It is absolutely pleasant to look at thanks to its smooth, polished and glossy look. It is made with bio-plastic i.e. cellulose acetate which is perfectly suitable for sensitive skin. It is one of the Top Hair Clips for Summer 2020 that you can use to look chic in the summer season.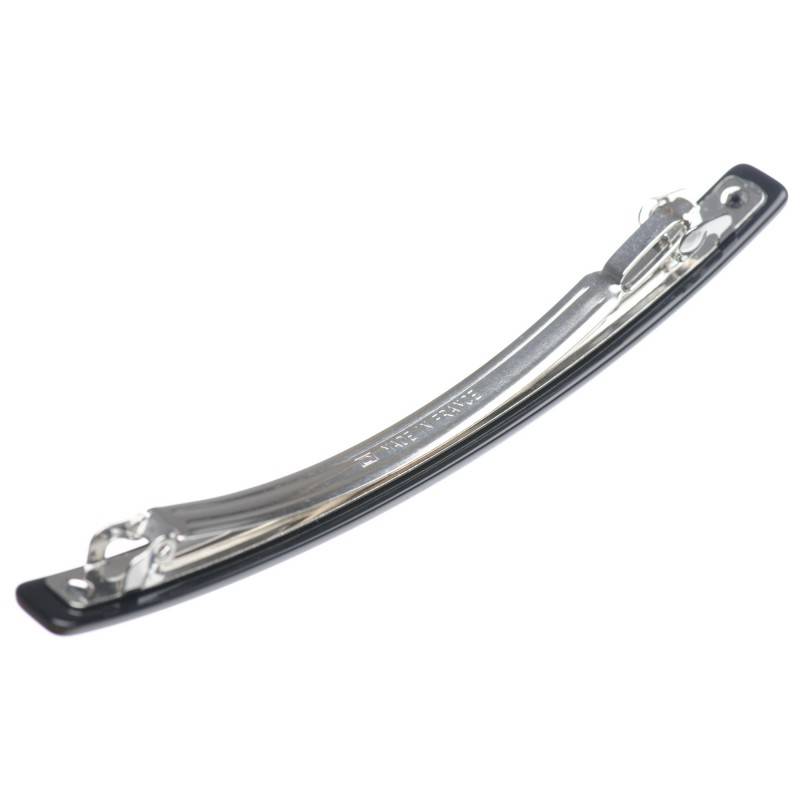 This is a similar hair clip like the previous hair clip, however it is in a glitter texture. If you cast a glance at this gold hair clip, you will notice that it looks like gold particles have been sprinkled over the surface. Its metallic part is safe for the skin and plastic part is hypoallergenic. These features qualify this hair clip to one of the best hair accessories to wear at workplace.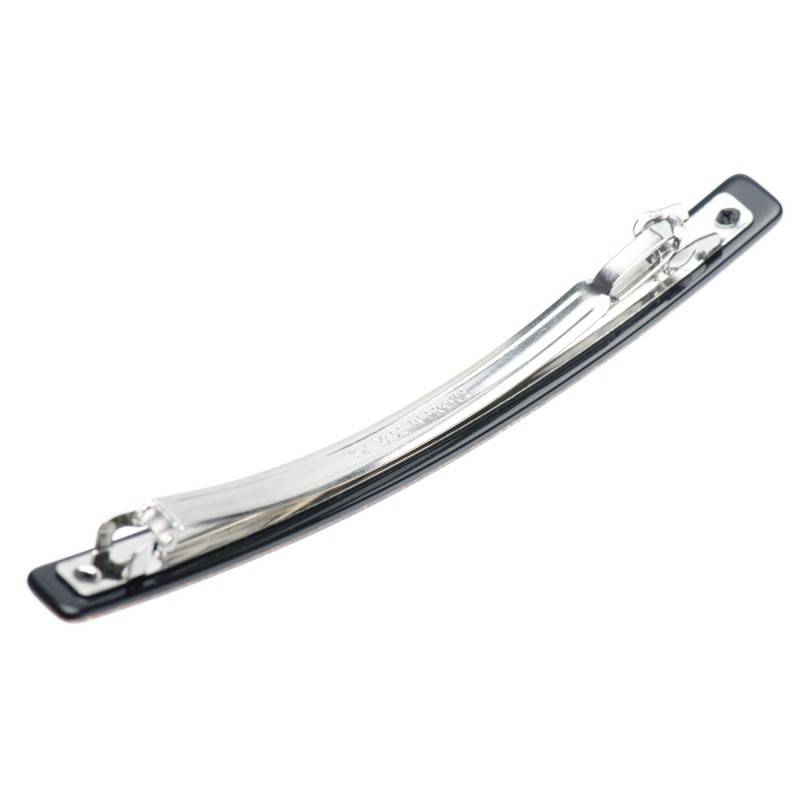 Finding a hair clip claw for thin hair can be an uphill task. You are casting a glance at one of the ideal hair accessories for thin hair, and that too in gold. Yup, this gold hair clip claw caters to thin hair very smoothly without damaging them. If you also have thin hair and are looking for some high-quality gold hair clips for thin hair, your search ends here.
Snap hair clips are big surprise in small sizes just like this one. This gold hair clip is one of the best snap hair clips that deserve to be there in your beauty box. It is a must have hair accessory for you if your hairdo never stays in desired place and some hair end up escaping the main hair accessory. This snap hair clip will secure those squandering hair for you while complementing your looks.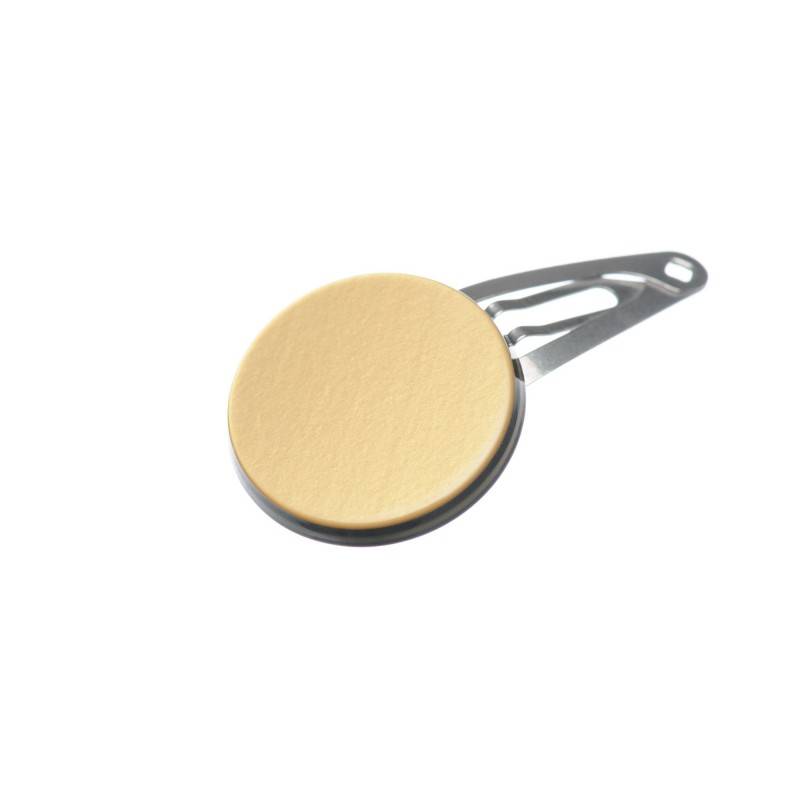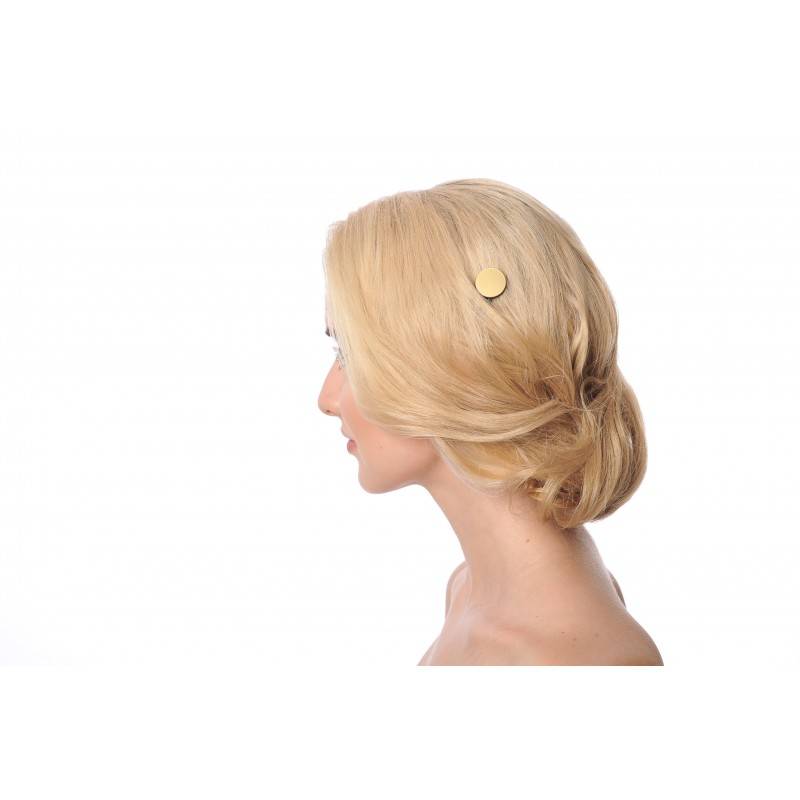 This is a bonus hair accessory for you. Although it is not a hair clip, yet it can be a highly valuable addition to your collection of hair accessories. It is made with bio plastic and might come in handy on many evening events like dinners, theatre, and opera. If you are fond of headbands or do not have any headband in your closet, this should be your pick either way.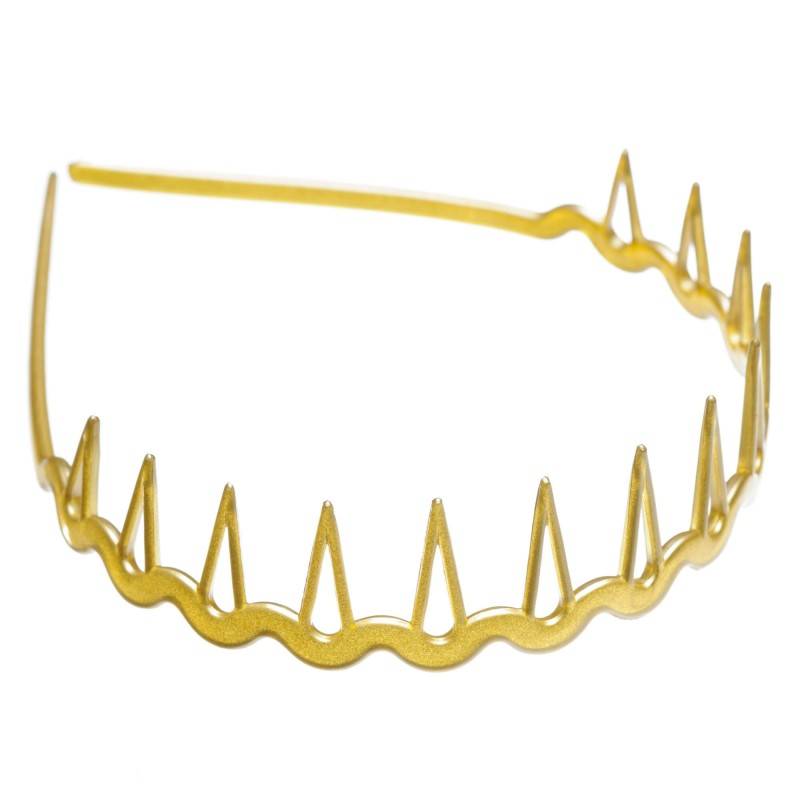 Conclusion
It is evident by now that gold hair clips are one of a kind and fastest way to bring luxury and prosperity to your looks. Rocking a dream look has never been this easy. Therefore, without giving a second thought get your hands on your favorite gold hair clips before they go out of stock.