Top 20 Hair Clips for Summer 2020
Summer is around the corner and this is the ideal time to get yourself updated with the best hair clips for summer 2020. Although hair clips are the favorite hair accessory for almost any season, but their worth increases manifold in the summer.
It is because summer hairdos are great when it comes to creating a statement. You can boast your hairstyle and hair accessories freely in summer given the openness of the season and its affinity to colors.
However, the choice of summer hair clips matters a lot because your comfort and fashion statement depend on it. However, no need to be sweating because we are here to help.
You may also be interested to know Bridal Hair Accessories for Summer-2020
Below we have listed some tips that you must go through and follow before you give your purchase a green signal. These are simple tips and do not involve any rocket science.
Tips to Purchase Hair Clips for Summer 2020
1.     Quality of hairclips
The general rule of thumb before purchasing anything is its quality check and hair clips should be no exception. Do not compromise on your beauty standards in summer 2020 by purchasing low quality and cheap hair clips. Instead, go for a decent quality hairclip that is good for your hair and is long-lasting. compromise on your beauty standards
2.     Color of hair clips
Summer is the season of bright and expressive colors. Especially in the summer of 2020 when women are so eager for the lockdown to end and meet their beauty goals again. So, make sure you have everything sought out before purchasing hair clips for summer 2020. A good hack is to evaluate the outfits that you are planning to wear during summer 2020 and buy hair clips accordingly.
3.     Skin Friendly Hairclips
The skin problem is a real thing and the nickel allergy is the proof. A large number of women catch nickel allergy due to using cheap hair clips that have nickel in their composition. The nickel allergy is a very painful skin condition and 10 percent of American women face this problem. So, to keep nickel allergy at bay, make sure you opt skin-friendly hair clips for summer 2020. So that your summer becomes smooth sailing. 
4.     Hair clips for hair types
Another aspect that many women tend to ignore while getting their hands on hair clips is their hair type. And the irony is that a lot of women aren't even aware of their hair type and just purchase hair accessories. Make sure you are not one of them. If you are not sure which hair type you have, click here.
5.     Hair Clips for Occasions
If you are looking forward to attending events in summer 2020 like weddings, office get-togethers, or hi teas, etc, then make sure your hairclips shopping for summer 2020 is tailored for those. For example, you cannot confuse a hair clip for casual events with hair clips for formal events. so, make your summer 2020 an organized season with planning everything from now on, even the hair accessories.
Tips to Wear Hair Clips in Summer 2020
1.     Sanitize your hair clips after purchasing
Since the world is still fighting with COVID-19, it is only rational to sanitize whatever you including hair accessories. It applies to both store purchases and online purchases as well. It will not only ensure your hair safety but also the safety of your family.
2.     Do not wear for long periods of time
Summer is hot (obviously), and hotness brings sweat and sweat gives way to bacteria. Therefore, to observe a healthy routine, make sure you do not wear the hair clip in summer 2020 for a very long time. Especially if you go out in the sunshine for some time. Sweat accumulation in the hair clip isn't only bad for your hair but can also damage your hair clip.
3.     Opt anti-slip hair clips for fine hair
If you have thin hair and you have lost many hair clips because they fell off unknowingly, then you have been using the wrong hair clip. For summer 2020, get the innovative anti-slip air clips that grip the hair firmly without damaging them. There are rubber pieces lined inside the catcher so that the grip remains strong and you do not lose any more hair clips.
Related: Top 15 Ideal Hair Accessories for Thin Hair
4.     Avoid using edgy hair clips
Hair clips that are not properly rounded on edges are considered dangerous for your skin as well as your scalp. Therefore, in this summer 2020, do not skip the safety part even if you like a hair clip a lot. High-quality hair accessories makers keep this fact in mind while crafting hair clips, so should you.
5.     Complement or Contrast
Summer is a great time to experiment with new looks. Make this summer your best summer so far by surprising your friends and family by wearing new looks. In this ambition, you will have to take help from hair clips. One of the best practices to wear new looks is using a complement or contrast concept. Either your hair clip should match with your outfit or should be totally opposite. So, in your summer shopping bucket list, make sure you have enough number of hair clips for summer 2020 to carry out experiments.
Top 20 Hair Clips for Summer 2020
Now that you know the essentials of hairclips for summer 2020, let introduce you to some. Hair clips you are going to see below showcase all the above-mentioned qualities.
That means you get all the good things are one place. Excited? So are we.
Let's dive in.
OVAL SHAPE HAIR CLIP FOR SUMMER 2020 IN TRANSPARENT GREEN
Colored in the shades of cool breezy mornings of summer, this transparent green hair clips topped with vibrant Swarovski crystals are all you need to make your summer evenings special. Once you use it, it will automatically become your go-to hair accessory for parties, beaches, and casual events. that's a given.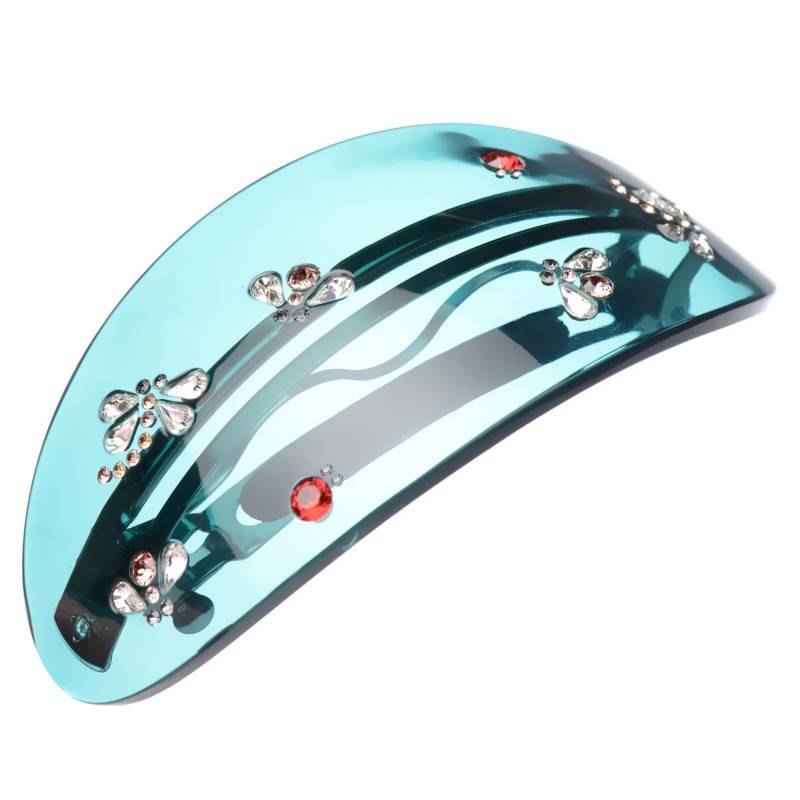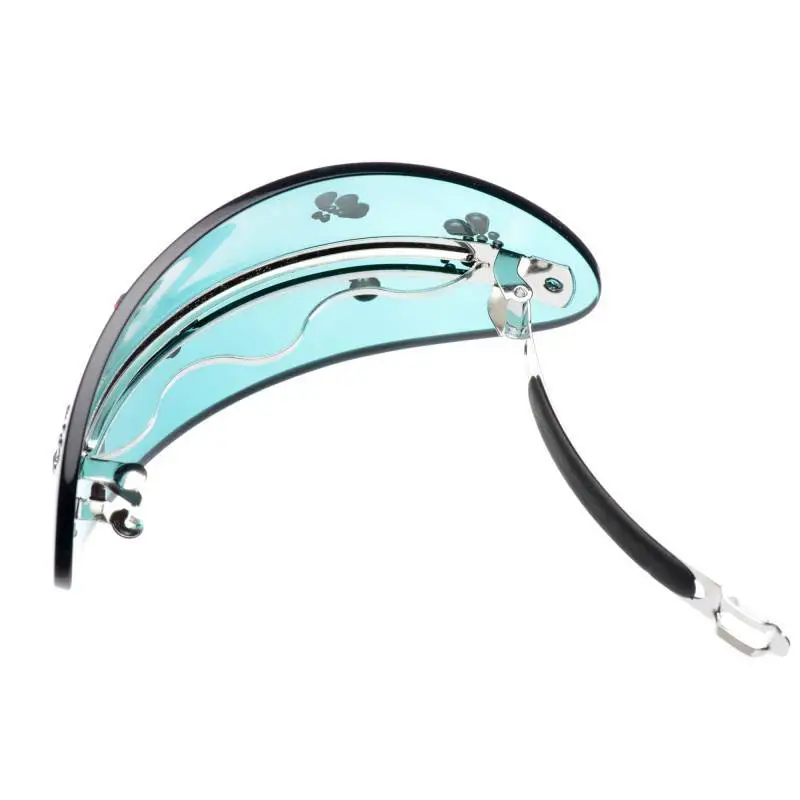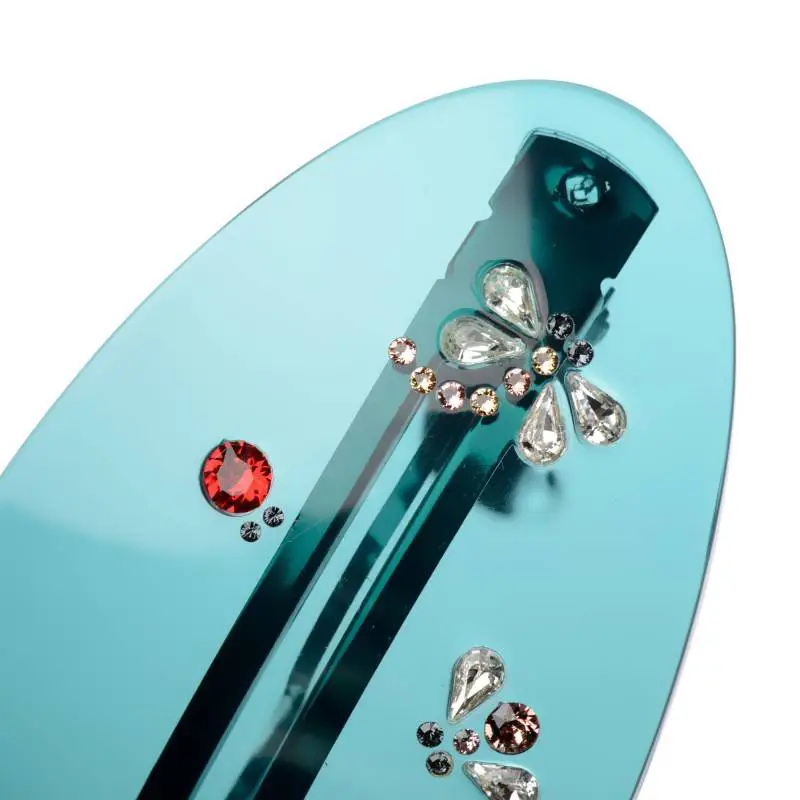 OVAL SHAPE HAIR CLIP FOR SUMMER 2020 IN FLUO ELECTRIC BLUE AND GOLD
Your hunger for bright and vibrant looks in summer 2020 can be greatly aided by this beautiful piece. This hair clip is ideal for both casual and formal occasions. It is not only safe for your scalp but also for your hair given its skin-friendly characteristics.
BOW SHAPE HAIR CLIP FOR SUMMER 2020 IN PEWTER GREY AND RASPBERRY
Aiming to rock a perfect summer look this year? Then make sure you have this hair clip by your side. It goes great with different colors of outfits and its embellishment with two big Swarovski crystals allows for a chic look in a formal tone. It can surely bring the youth out, you bet?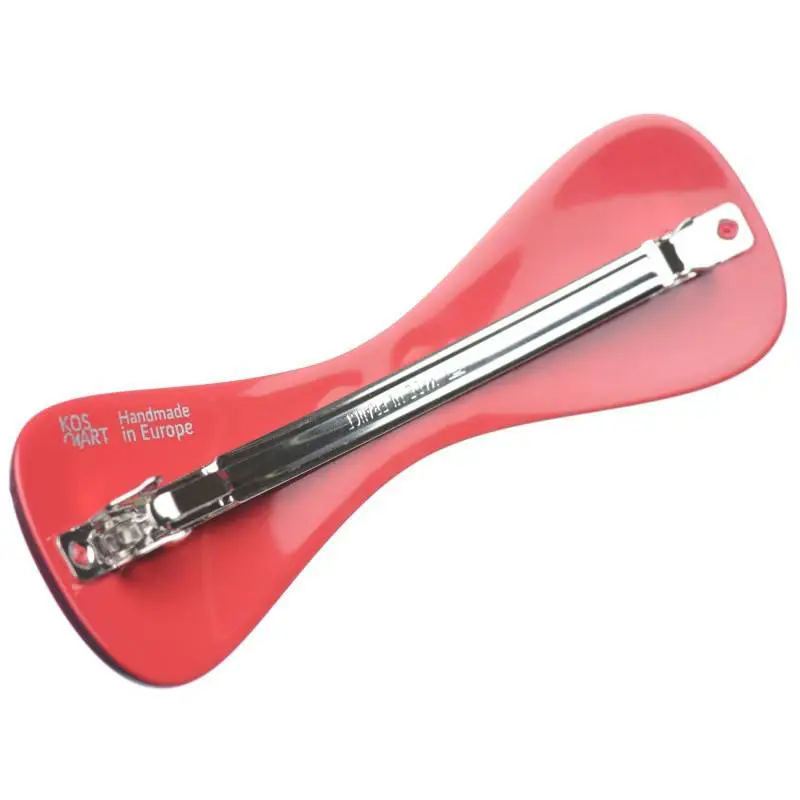 RECTANGULAR SHAPE HAIR CLIP FOR SUMMER 2020 IN WHITE AND BLACK
What is summer without parties, eh? And when it comes to parties, you've got to have this hair clip in your beauty arsenal. It holds all hair types pretty well without compromising on the health of hair. Having this hair clip in your hair means you are going to be the center of attention in the parties of summer 2020.
MEDIUM SIZE RECTANGULAR SHAPE HAIR CLIP FOR SUMMER 2020 IN BLACK AND WHITE
Want a hair clip that is as just like the summer's night full of stars? Then this hair clip shall serve the purpose easily. This is a luxurious hair clip that is made to enhance your office and business meeting looks without compromising on the decorum. You can also match it with different outfits given its versatility and adaptability.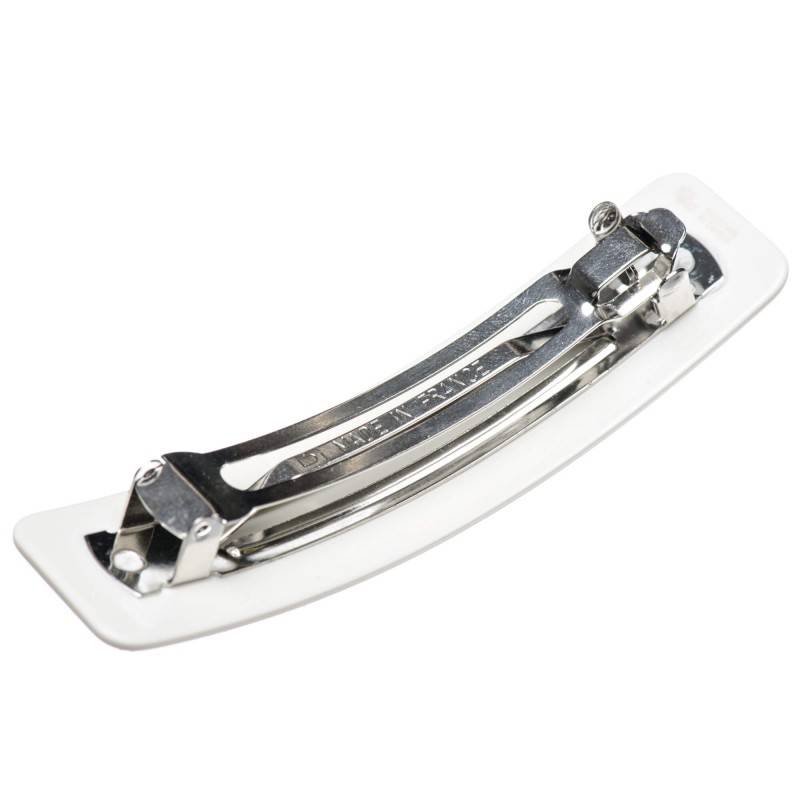 EXTRA LARGE SIZE OVAL SHAPE HAIR CLIP FOR SUMMER 2020
Sometimes simple just doesn't work and one has to look towards more creative and aesthetic looks and this beautiful hair clip will help you do exactly that. It is ideal for impressing your colleagues in summer 2020. Moreover, this hair clip allows your hair to be at their best thanks to its skin-friendly and hair-friendly features.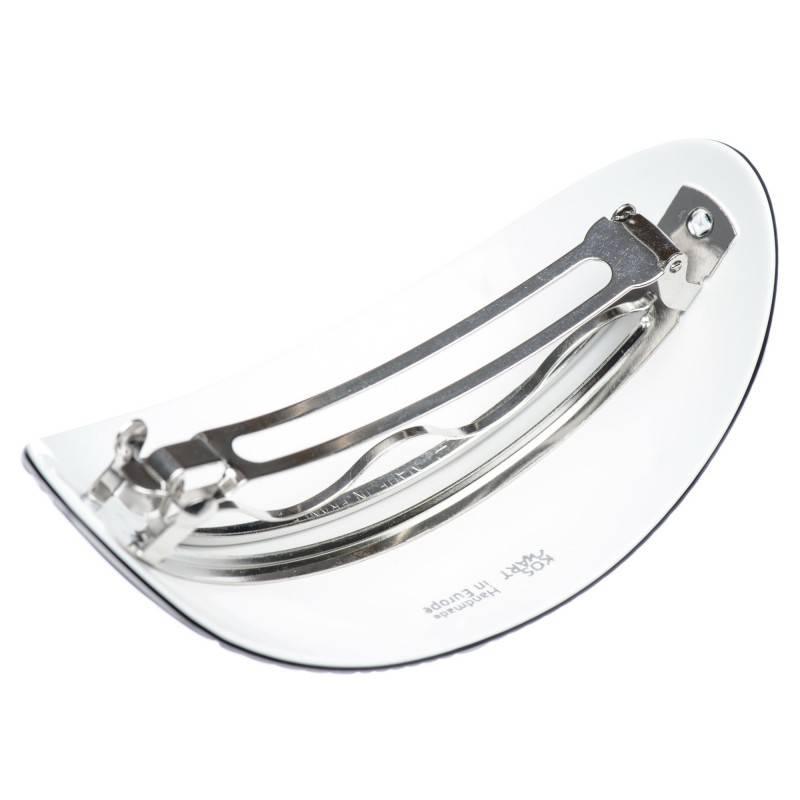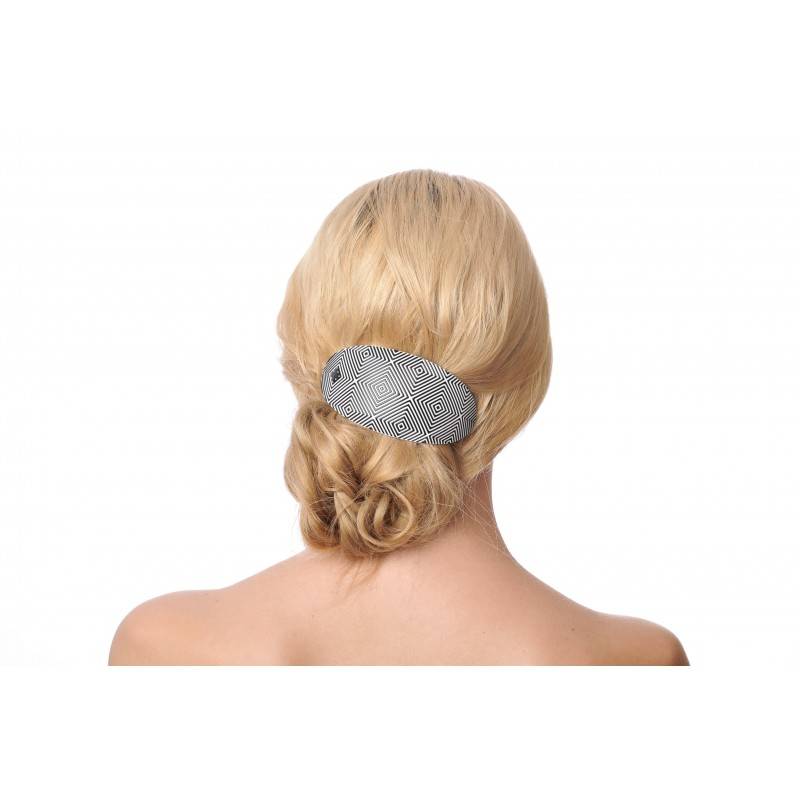 LARGE SIZE OVAL SHAPE HAIR CLIP FOR SUMMER 2020
For summer 2020, one thing is for sure that the old concepts of looks have changed given the long lockdowns across the globe. People would love to create a new statement and this hair clip will help you do the same. Decorated with Swarovski crystals on a pure black background, this hair clip is ideal for summer evenings.
MEDIUM SIZE RECTANGULAR SHAPE HAIR CLIP FOR SUMMER 2020
It would be unjust to talk about hair clips in black and ignore this one. Embellished with three giant Swarovski crystals of different shades and equipped with the latest anti-slip feature, this hair clip turns your hairdo into something really special. rock it for your relaxed look or a put-together look and it won't disappoint.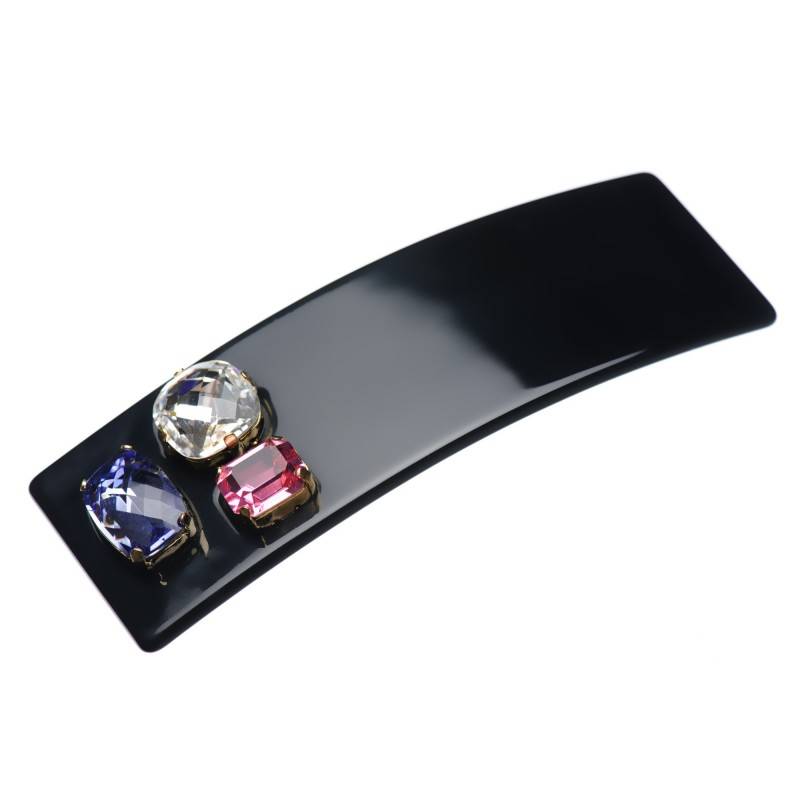 BOW SHAPE HAIR CLIP FOR SUMMER 2020 IN HAZEL AND CORAL
If you are a young ambitious girl, you ought to have this adorable hair clip in your closet for summer 2020. And if you are a mature woman, this hair clips presents you the opportunity to live your youth days again. After all, age is just a number. This hair clip is unique thanks to its lively colors and high-quality finish. Perfect for summer cocktail parties.
RECTANGULAR SHAPE HAIR CLIP  FOR SUMMER 2020 IN FLUO ELECTRIC BLUE AND LIGHT GREY
No matter you have thick hair or thin hair, this hair clip works like a charm for both the hair types. It is a great way to showcase your sense of style and love for bright colors. Party hairdos in summer will never be a problem when you have this hair clip in your wardrobe.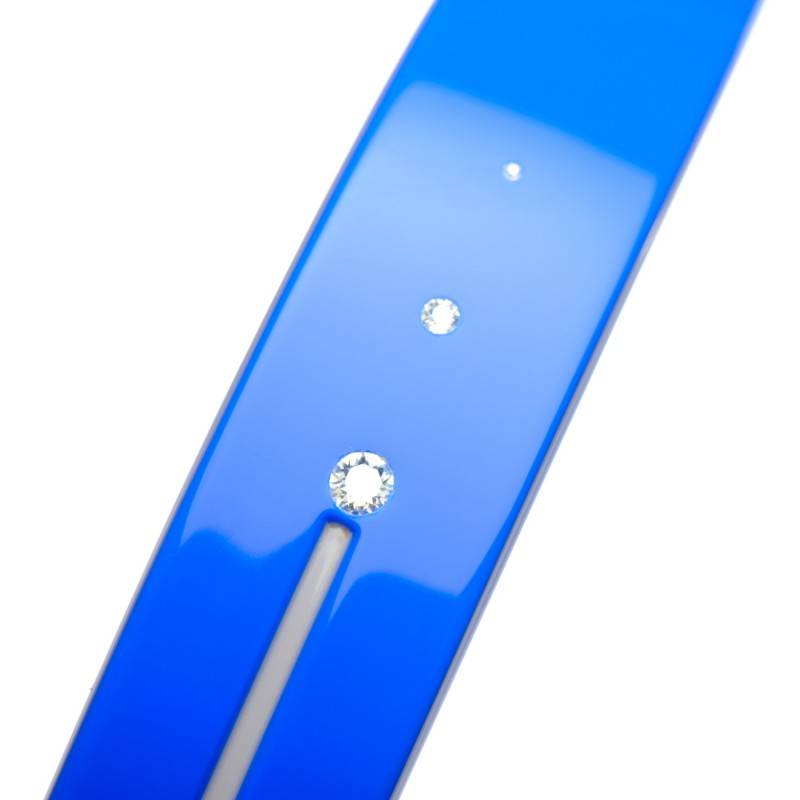 MEDIUM SIZE RECTANGULAR SHAPE HAIR CLIP FOR SUMMER 2020 IN BLACK
Every color has its own charm, but when two of the most favorite colors come together, they create a unique aura. The same is the case with this hair clip. The combination of black with blue Swarovski crystals is adamant that this hair clip adds numerous style options to your look book. Make it count.
LARGE SIZE SPECIAL ORNAMENT HAIR CLIP FOR SUMMER 2020 IN HAZEL AND CORAL
This handmade luxurious hair clip comes into play when you want to play with colors in summer 2020. Hazel and coral are known for their soothing properties and isn't that what we want in the scorching heat of summer?
Also, read 10 Must-Have Handmade Luxurious Hair Barrettes
VERY LARGE SIZE OVAL SHAPE HAIR CLIP FOR SUMMER 2020 IN HORN WOOD
Some hair clips can be spotted from far away due to their colors. And some want the observer to take a closer look to recognize its beauty and detail. This hair clip belongs to the second type of hair clips. It will come in handy when you want to look all fashionable in a business dinner and yet remain formal.
MEDIUM SIZE LONG AND SKINNY SHAPE HAIR CLIP FOR SUMMER 2020 IN WOOD
Long and skinny hair clips are becoming more and more rear which provides us with the best opportunity to rock a unique look. This hair clip is here to experiment with a sleek look in the summer 2020 and win the hearts and minds of people. You can actually end up being a trendsetter because women are going to ask you where did you get it.
SMALL SIZE ROUND SHAPE HAIR CLIP FOR SUMMER 2020 IN WOOD
Make a mission that in summer 2020, you will try new looks and new hair accessories, those you never tried. This hair clip is pretty unique and its holding mechanism is even unique. It can help you try hairstyles that you haven't ever worn. You can use it as an independent hair accessory and can also employ it to complement your main hair accessory.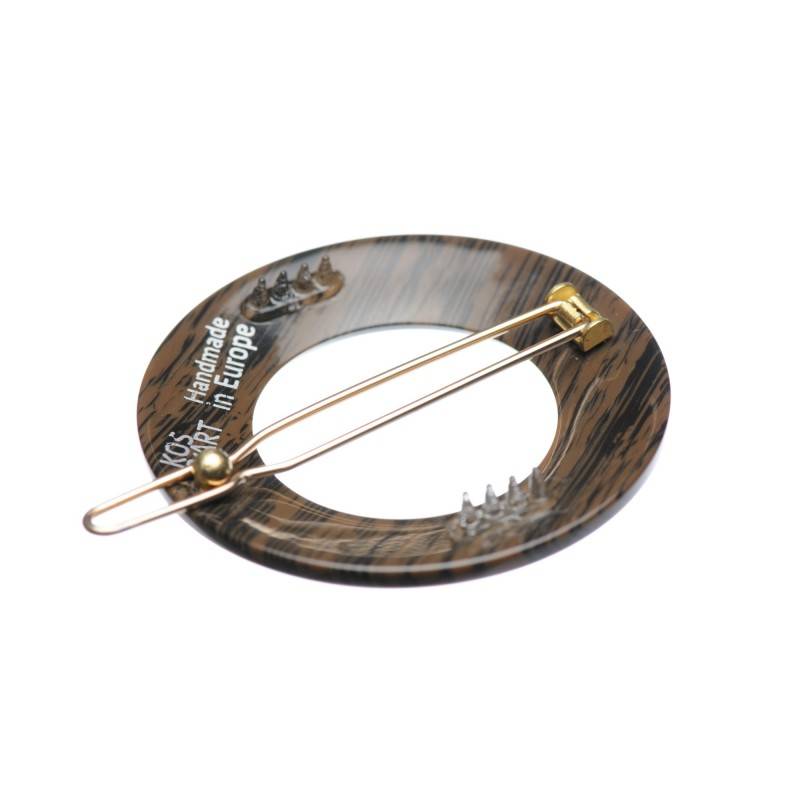 SMALL SIZE RECTANGULAR SHAPE HAIR CLIP FOR SUMMER 2020 IN BLACK
Well, they say size matters. So, using hair accessories of various sizes is a huge plus for your looks. This small size hair clip is one of the ideal hair accessories for kids as well as grownups. You can it as your main hair clip and will do the work pretty efficiently. It is completely skin-friendly which means if you have to use it in a hairdo close to your scalp, you can do that without any worries.
VERY LARGE SIZE OVAL SHAPE HAIR CLIP FOR SUMMER 2020 IN GOLD GLITTER
All that glitters is not gold, some things are even better than gold. For instance, this glittering hair clip in golden color is perfect for lavish parties, weddings, and other fun activities. You can also rock it on your job interview hair clip to highlight the glamorous side of your personality.
Related: Ideal Hair Accessories for A Successful Business Meeting
EXTRA LARGE SIZE OVAL SHAPE HAIR CLIP FOR SUMMER 2020 IN COCOA BEANS
Women love cocoa beans and Tokyo textures. If you are also one of them then here is your piece for summer 2020. The best part of having this hair clip by your side is that it suits perfectly with almost any dress color. So, when you'll be in confusion about which hair clip to wear with a certain dress, this will solve the riddle for you.
MEDIUM SIZE RECTANGULAR SHAPE HAIR CLIP FOR SUMMER 2020 IN IVORY AND FLUO ELECTRIC BLUE
No, this hair clip is not here to make you dizzy. However, it is surely going to steal a long glance from your friends and colleagues. That is because the pattern of this hair clip is not only eye-catching but also aesthetic. A tine Swarovski crystal at the center of the spiral indicates that wearing this hair clip will make you center of the attention in summer 2020.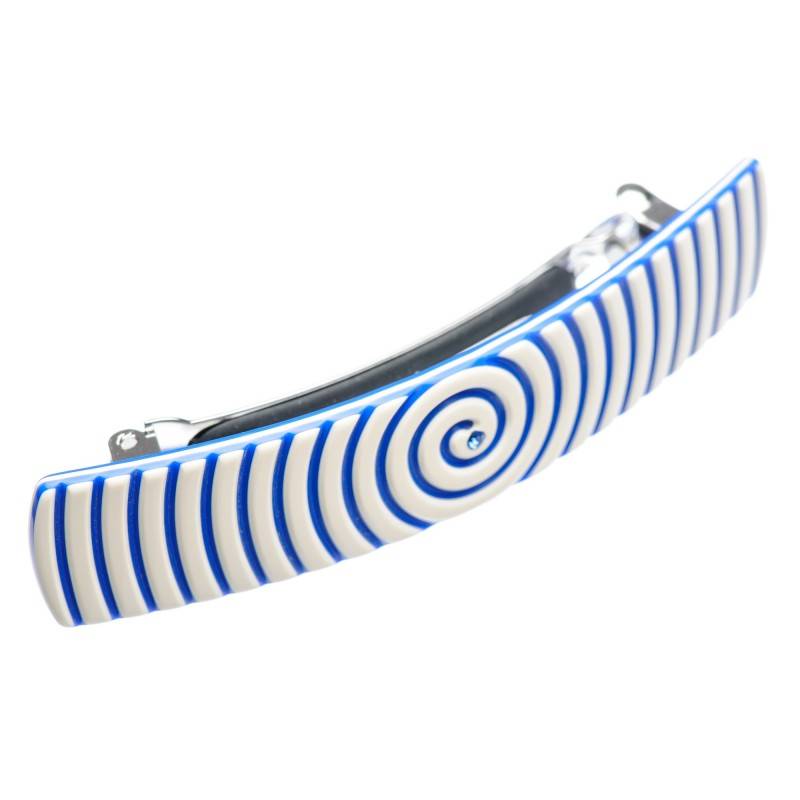 MEDIUM SIZE RECTANGULAR SHAPE HAIR CLIP IN BLUE AND WHITE
Last but not least, this hair clip is perfect for everyday wear. You're not always all dressed up of course, so this hair clip makes sure that even your ordinary look doesn't look ordinary in the summer. Grab this high-quality but low-priced hair accessory to make every look of summer 2020 an inspirational one.
Also, read Ideal Hair Accessories for Everyday Wear
Conclusion
Summer 2020 is going to be the harbinger of the happy moments after the gloomy times of the corona pandemic. Therefore, make sure you have these hair clips at your disposal so that when you meet your friends after ages, they don't think that you wearing the same old pre-corona hair accessories. Surprise them with your amazing collection of hair clips every day.
Make sure you let us know about your suggestions in the comment section.