10 Must-Have Handmade Luxurious Hair Barrettes
One of the best criteria to judge the quality of a hair accessory or jewelry product is by studying its manufacturing process. In this domain, handmade hair accessories are considered the best hair accessories across the globe.
While machine-made hair accessories are also up to the standard, handmade hair accessories are a class apart. The reason is that every piece of product is taken care of by the handcrafting experts. This way, instead of a mechanized process that doesn't pay special attention to each hair accessory, every article goes through the special attention of the craftsman, and handmade hair barrettes are no exception. 
Make sure you know Which Hair Accessories to BUY and Which NOT to?
There are many reasons why handmade hair barrettes are better than machine-made ones. And it is also crucial to find the ideal hair accessories because when you correctly pick a hair accessory, you not only end up looking good but also get the satisfaction that your money was worth it.
Also, read Top 10 Affordable Hair Accessories That Should Be A Part of Every Girl's Closet
Why should you always choose handmade hair accessories?
Whenever you are searching for hair accessories online or are out and about to purchase in the market, make sure you prefer handmade hair accessories over non-handmade hair accessories. The following reasons can cement your decision in the regard. 
1. Handmade hair barrettes have a polished surface. 
Handmade hair barrettes are easily recognizable because their finish is exquisite. You can tell a handmade hair barrette form a machine made by only casting a glance over it. Those made by machines can never match the smooth and polished surface of handmade hair barrettes. 
2. Handmade hair barrettes are rich in color
Due to their glossy finish, handmade hair barrettes appear richer in color. Since handmade hair barrettes are carefully crafted using the premium quality materials, the color of the hair barrettes doesn't only appear vibrant but also lasts much longer than others. 
Pro Tip: avoid spraying on the hair spray directly on the hair barrette because it can tarnish the shine and vibrance of the hair barrette. 
3. Handmade hair barrettes offer Better Grip
Handmade hair barrettes, especially those equipped with anti-slip innovation, are much better at gripping hair without damaging them. Since expert hands have catered to them, they make sure that each hair barrette is in perfect shape so that it helps the user in making various hairdos.
4. Handmade hair barrettes have Smooth Edges
Since from start to the end, hand made hair accessories go through expert hands; they are taken care of like a child. All the sharp edges are smoothed and thoroughly checked to ensure safety and beauty. The detail-oriented handmade hair barrettes thus enjoy smooth edges, which means those women with high scalp or skin sensitivity can use them without any worries. 
5. Hand made hair barrettes are better decorated
All the decorations studded on handmade hair barrettes are done by hands, which ensure pinpoint accuracy so that there are no spaces left. Every handmade hair barrette is thoroughly inspected after the installation of decorations such as Swarovski crystals. Thus, the decorations installed by expert hands leave machines far behind. 
6. Handmade hair barrettes are better in overall Quality
Carefully crafted, decorated, inspected, evaluated, and verified hand made hair barrettes come with an overall better quality than their competitors. Each move in line with the quality and limited scale production instead of large-scale production by machines make the handmade hair barrettes higher both in quality and utility. 
7. Handmade hair barrettes are going to turn you into a trendsetter
Yup, since handmade hair barrettes are easy to spot given the high-quality finish and vibrance, women are surely going to come and ask you where did you get this from. This way, you can actually become a trendsetter whom women seek advice from. Wouldn't you love it? 
10 Must-Have Handmade Luxurious Hair Barrettes
Now that you know precisely why you should always be rooting for handmade hair barrettes, let us help you with finding some as well. Below you can find some of the finest handmade hair barrettes which not only belong to high-quality hair accessories but are also luxurious hair barrettes. Have a look.
MEDIUM SIZE RECTANGULAR SHAPE HAIR BARRETTE IN BLACK
This handmade luxurious hair barrette that is made in Europe is the personification of beauty, elegance, and luxury. Handcrafted original Swarovski crystals make it even more special. The metal part of this handmade hair barrette is 24K gold plated, which means it is absolutely skin-friendly. Therefore, it is a must-have hair barrette, and you shouldn't miss out on it.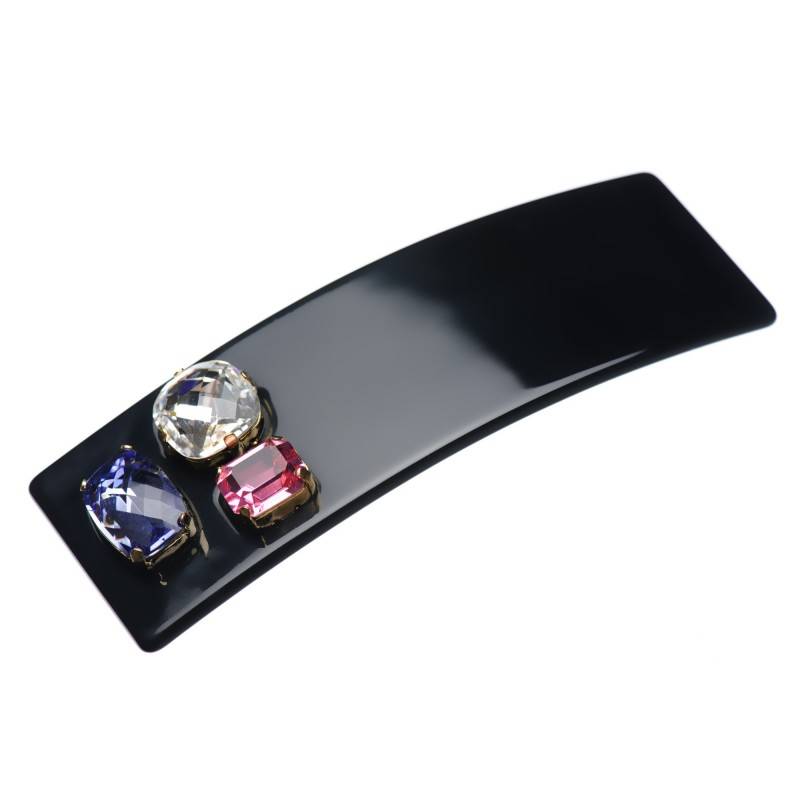 MEDIUM SIZE FLOWER SHAPE HAIR BARRETTE IN BLACK AND WHITE
This handmade hair barrette looks like there is a group of stars twinkling in the sky thanks to the hand crusted original Swarovski crystals. This luxurious hair barrette is among ideal hair accessories for work as well as other formal occasions and must be in your closet if you do not want to miss out on all the attention you will get wearing it.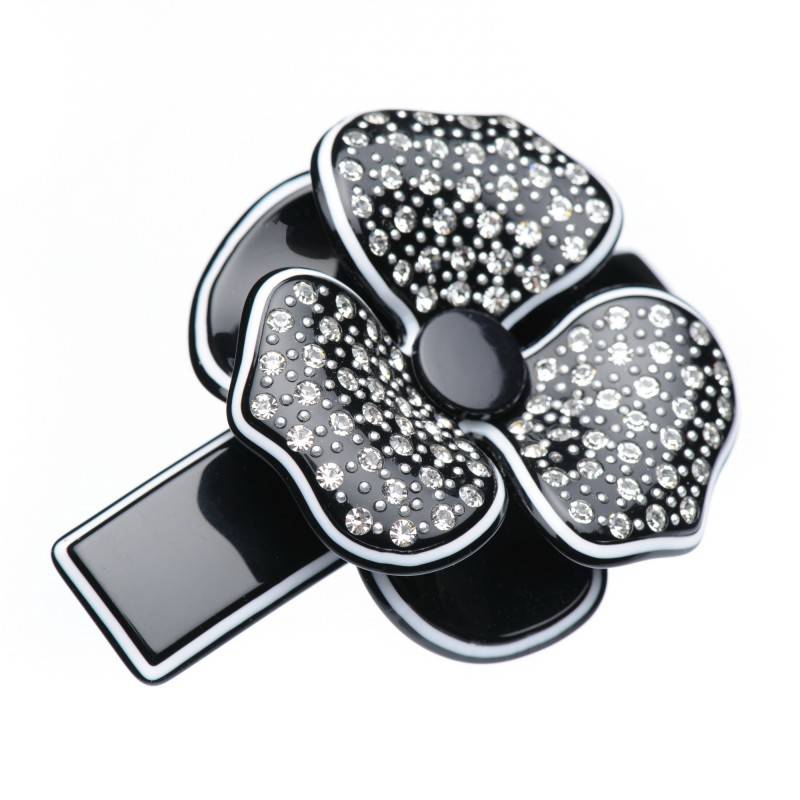 EXTRA LARGE SIZE OVAL SHAPE HAIR BARRETTE IN BLACK
Want a hair accessory to cater to your hair for a business meeting; then, this handmade barrette should be your choice. It is a versatile hair barrette that you can not only use in your bid to attend business meetings but also on a variety of occasions. Also, it is one of the brand-new hair accessories available online. 
MEDIUM SIZE REGULAR SHAPE HAIR BARRETTE IN MULTICOLOR
This luxurious handmade hair barrette is one of the perfect bridal hair accessories. Golden color coupled with matching Swarovski crystals make it one of the favorite hair barrettes of women for special occasions. Get your hands on this fantastic piece of handcrafted beauty before it goes out of stock.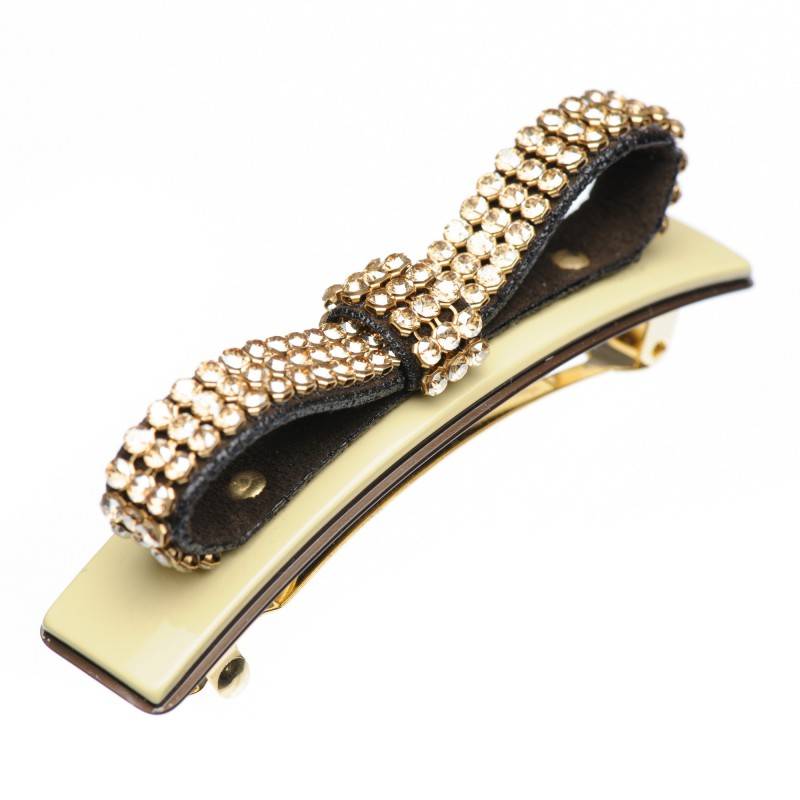 MEDIUM SIZE BOW SHAPE HAIR BARRETTE IN VIOLET AND IVORY
If you are looking for a Luxurious handmade hair barrette that is the perfect mix of both formal and informal features, then your search ends here. It a skin-friendly hair barrette hand encrusted with certified Swarovski crystals. You can wear this hair barrette to your office and depart from a late-night theater with the same hair barrette, and it will cater to both the places.  
VERY LARGE SIZE OVAL SHAPE HAIR BARRETTE IN WHITE AND BLUE
They say that a thing of beauty is a joy forever. Therefore, if you want to enjoy a lasting pleasure, choose this handmade luxurious hair barrette to do so. It can turn an ordinary hairstyle to an extraordinary one. Ideal hair accessory for a business dinner and all hair lengths, nothing that you should miss out on.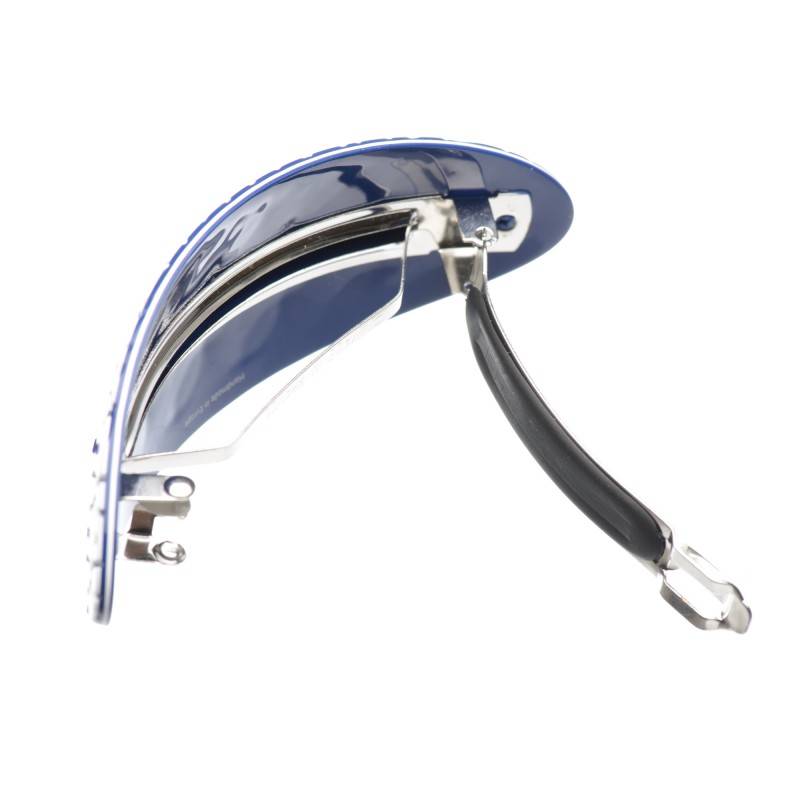 EXTRA LARGE SIZE OVAL SHAPE HAIR BARRETTE IN IVORY AND VIOLET
Do you have a very organized personality and want to showcase it through your hair accessories? Take advantage of this amazing handmade hair barrette. Its beautifully handcrafted pattern and anti-slip innovation allow it to be there in the first row of luxurious handmade hair barrettes. 
VERY LARGE SIZE RECTANGULAR SHAPE HAIR BARRETTE IN WHITE AND BLACK
It is time for the party girls to get excited because this handmade luxurious hair barrette is here. Made with skin-friendly bio acetate, hand crusted with original Swarovski crystals, quipped with the anti-slip innovation, and designed with 3D engravings, this handmade hair barrette enjoys very few competitors if any. Having this hair barrette in your closet means you are ready to rock every party and casual occasion. Luxurious Hair barrette is handmade in Europe. The metal part is made of white bronze without. 
EXTRA LARGE SIZE OVAL SHAPE HAIR BARRETTE IN BLACK AND WHITE
You are highly unlikely to find such artistic beauty anywhere else. The 3D engravings that are there on the surface of this handmade hair barrette are exclusive in terms of beauty and attraction. This hair barrette is among fantastic hair accessories for an interview, as well as other professional meetings.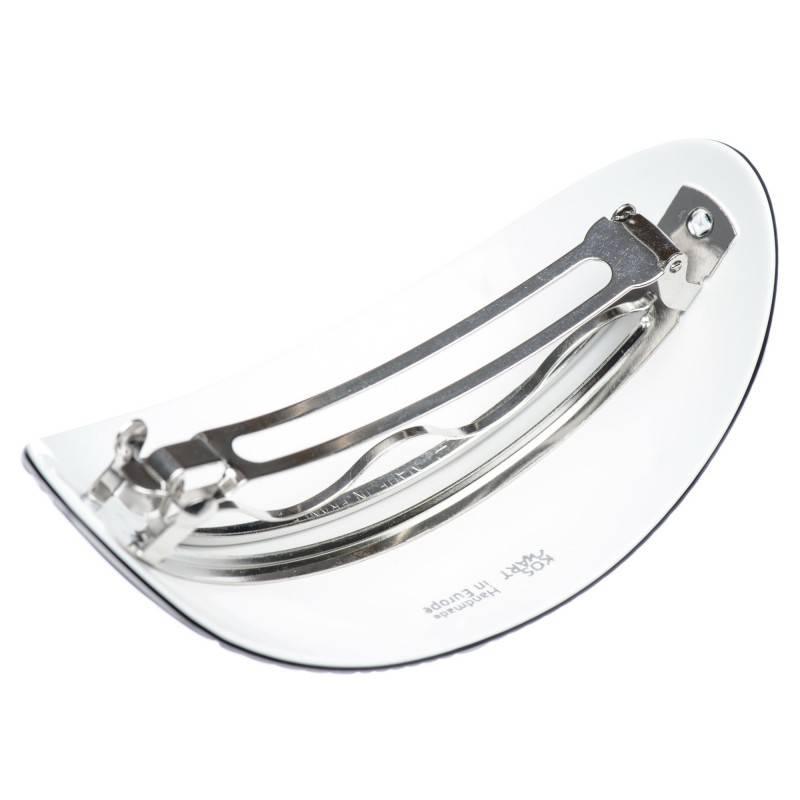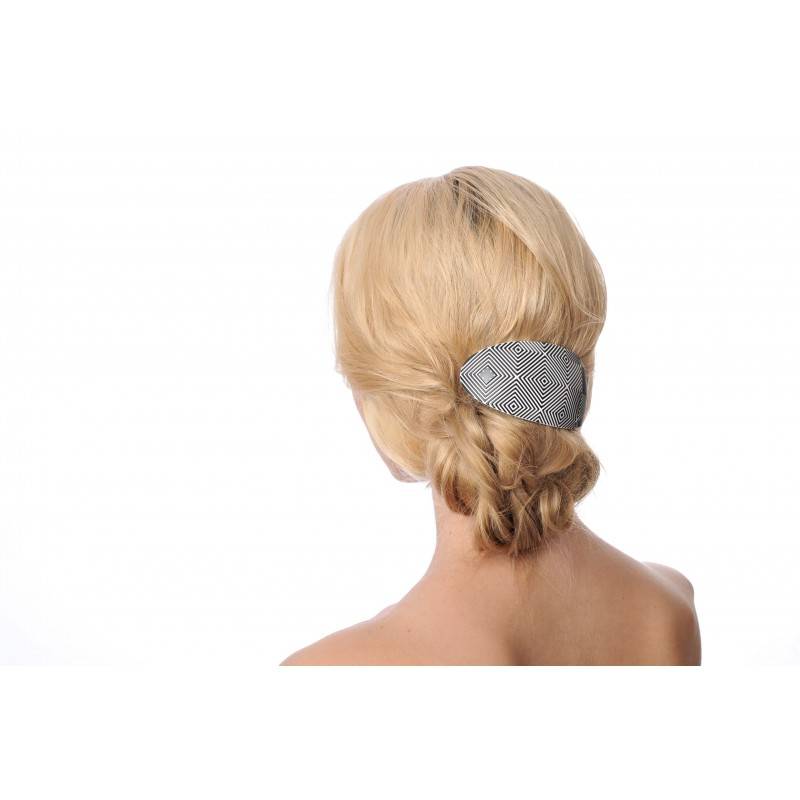 MEDIUM SIZE FLOWER SHAPE HAIR BARRETTE IN BLUE AND WHITE
Last but not least, this handmade hair barrette is the jack of all trades. Its color, as well as design, implies that it can be used on all kinds of events to embellish your hair. Moreover, it is one of the perfect hair accessories for all hair types. You can use it without having to worry about the nickel allergy.
Final Thoughts
You can have all the wondrous hair accessories in your wardrobe, but if those are not handmade, the chances are you are going to phase them out sooner or later. Therefore, purchasing handmade hair barrettes is like making the right decision. That is because handmade hair barrettes are not only going to take care of your hair but are also going to stay around for long. Moreover, you are also set to win some followers who are going to follow your footsteps in the domain of hairdos. 
You might also be interested in:

Extra Large Hair Barrettes for Adults with Thick Hair
Top 10 Coolest Hair Barrettes for Girls
American Women's Guide to Hair Barrettes