Hair Jewelry: The Recipe for Your Incredible Hairstyles
It goes without saying that hairstyles and hair jewelry go hand in hand. When they collaborate, the outcome is an amazingly embellished hairstyle that gives you a dream look. 
It also implies that when they do not match, the result can be discouraging. Therefore, it is crucial to ensure that your hair are treated with ideal hair jewelry so that they can be at their best. 
However, not everyone knows which hair jewelry to buy and which not to. Your choice of hair jewelry depends on multiple factors. Therefore, before you go out and about purchasing a hair accessory, make sure you know different hair types and hair accessories for each type. Moreover, you can also go for hair accessories for any hair type if you are not sure about your hair type. 
Also, you must be aware if metal-free hair accessories are good or bad. This way, you will be in a better position to judge. However, let's answer a fundamental question first.
What does Hair Jewelry mean?
Well, as the term suggests, hair jewelry is anything that embellishes your hair and consolidates your hairdo. Hair jewelry can be used on a range of events, from formal to informal to casual. Moreover, it doesn't necessarily mean that there should be jewels embedded on the hair jewelry for it to be called jewelry. Hair jewelry can be simple too, and hair barrettes, hair jaw clips, headbands, and ponytails holders also come in the definition of hair jewelry. 
Is There Any Difference Between Hair Jewelry and Hair Accessory?
The answer is both yes and no. It is yes because hair jewelry does the same work as hair jewelry as both are responsible for making your hairdo firm and appearing embellished at the same time. However, the difference is that hair accessories are made explicitly for hair only. Whereas, you can convert your jewelry into hair jewelry as well, such as bracelets and brooches. Moreover, hair accessories can be dull colored as well, but hair jewelry is most vibrant.
Why should you go for hair jewelry? 
There are many reasons why you should opt for hair jewelry. Some of them are as follows. 
Hair Jewelry Give You an Embellished Look
When you wear hair jewelry, you feel confident because of the bold and vibrant look of hair jewelry. Hair jewelry is a blessing for those women who do not want to spend a lot of time in making their hairdo. Instead, they make simple hairstyles and attach a piece of hair jewelry with them, and that does the trick for them. If you also belong to those women, getting your hand on hair jewelry would only be a rational decision.
You can gift hair jewelry to your loved ones
Another out of the box idea concerning hair jewelry is that you can gift it to your loved ones. In fact, several hair jewelry products are ideal hair accessories to gift to women. Rest assured, the receiver of such a unique gift is going to love this gift. Therefore, you have no reason to shy away from winning the hearts of your loved ones. 
Hair jewelry lets you stand out easily
Ever felt that you weren't getting enough attention at social gatherings? If yes, then the reason can be the choice of your hair accessories. Hair jewelry allows you to stand out by adding that unique flair to your look that you always lacked. Therefore, getting hair jewelry is not only important but also crucial.
Tips to Wear Hair Jewelry
There are a few tidbits that you are supposed to take care of while using a piece of hair jewelry. These tips will help you benefit from your hair jewelry to the fullest. Make sure you make them count.
Wear hair jewelry only when your hair are dry
Many women tend to ignore this hair care tip mostly when they are in a hurry to get ready. After taking a bath, they do not dry their hair completely and end up using hair jewelry on wet hair. This practice can result in hair shrinkage around the hair jewelry as the silver in the hair jewelry tarnishes. The moisture in your hair is terrible both for your hair as well as the hair jewelry you are using. Therefore, make sure your hair is dry enough before you adorn them with the hair jewelry.
Remove the jewelry before going to bed.
This should be pretty much evident. If you want to make sure your hair does not suffer from damage, then the best you can do for them is taking your hair jewelry offer before sleeping. It is because when you are asleep, you take many tosses and turns. This can severely mutilate your hair and can also make you discomfort. Therefore, set this rule for yourself that no matter how tired you are, you remove the hair jewelry before going to bed. 
Use Skin-friendly hair jewelry
Never compromise on your health by using hair jewelry that is not good for your skin. Especially those who have been made using nickel. Nickel allergy is a real thing, and a lot of women or even teenage girls suffer from it. Therefore, always invest safe and get your hands on hair jewelry that is skin-friendly and hypoallergenic. 
Now, some of you are already adept at the idea of using hair jewelry in the best way possible. However, many women do not know how they can create their fashion statement. Here are some out of the box tips for you to using hair jewelry unprecedently. 
Yup, hair sticks are a fantastic solution for the conundrum of your hair. Many women avoid using hair sticks, thinking that they have never given them a try. They shy away from something that offers them so much variation and styling options. Hence, if you also feel like that, you often run out of ideas of which hairdo to go for and which hair jewelry should be used, give hair sticks a chance, and you shall never forget. Here is a guide that will answer all your hair sticks related queries: Hair Sticks and Pins; A Guide to History, Tips, Hairdos, and Products
Wear fancy hair side combs
Have you ever used a side comb to add a unique flair to your look? If not, then it is time to embrace this beautiful hair jewelry. Side combs are not only good at holding your hairdo firmly but also add a gorgeous look to your hairstyle. And the best part is that they do not cost you many bucks. 
If you have a knack for making Japanese buns, but you do not have a bun cover in your closet, then you are missing out on something fascinating. Bun covers offer you something that no other hair jewelry does, and that is making your ordinary bun look like an extraordinary and sophisticated one.
Who said that sparkly hair jewelry is only meant to be worn on special occasions only? In fact, glossy hair jewelry is an ideal option for women who do not want to compromise on their style even on holidays using hair jewelry for everyday wear. Moreover, if you want to astonish your family and friends by wearing a new look, then add glossy hair jewelry to your wardrobe. Let the chicness arrive. 
Make A Fancy Hairdo with Fancy Hair Jewelry
Is it a bad idea to go for kinky twists, braids, and dreadlocks? Nope, it isn't. Especially when you are fed up with conventional hairdos using conventional hair accessories. Fancy hairdos can help you get rid of them; therefore, there is no reason not to be creative with your hair. 
Top 10 Hair Pieces of jewelry to Buy
Now that you have a general idea of hair jewelry, it is time to deal with the elephant in the room. Yup, to introduce you to some high-quality hair jewelry. Below you can find some of the best hair jewelry that we have chosen for you.
Have a look. 
EXTRA LARGE SIZE OVAL SHAPE HAIR BARRETTE IN TRANSPARENT GREEN
This luxurious hair barrette belongs to the finest collection of hair jewelry. It adds new options to your hairdo statement thanks to its transparent design and decoration with Swarovski crystals.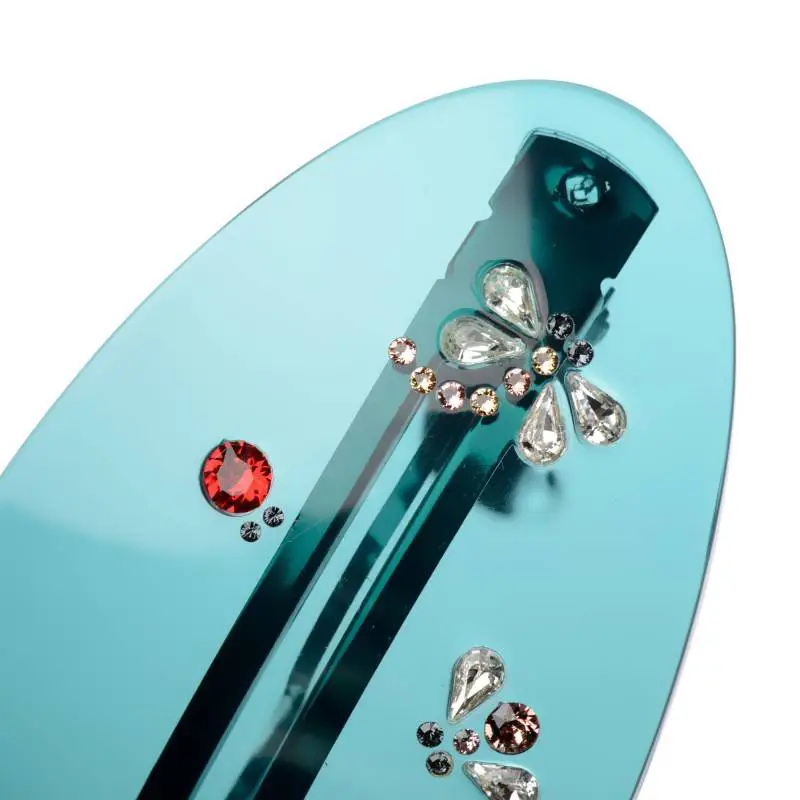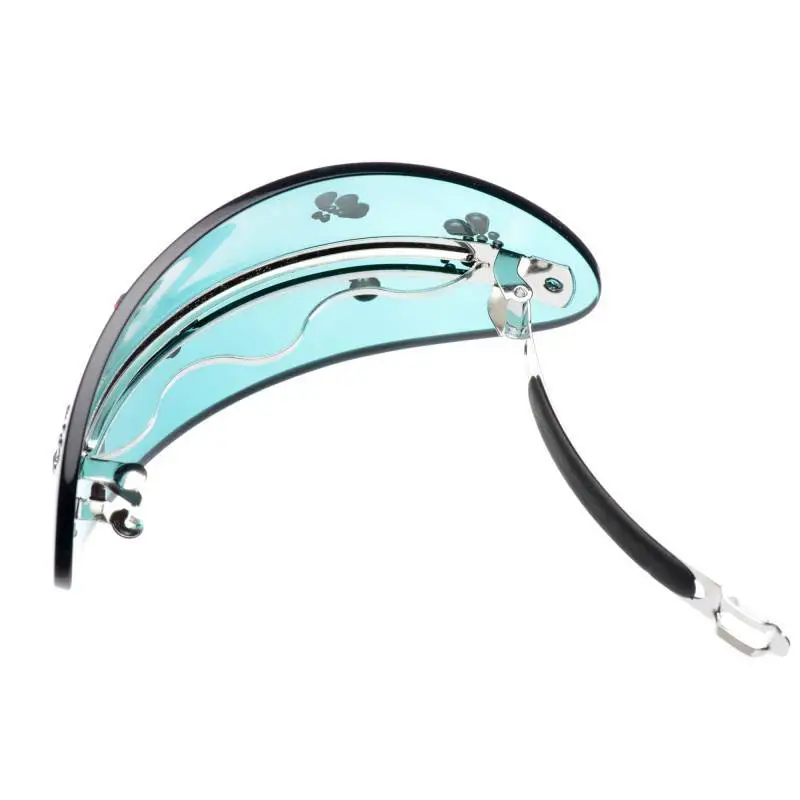 MEDIUM SIZE REGULAR SHAPE HEADBAND IN MULTICOLOR
Headbands are there when you want to wear a candid yet elegant look. This headband is ideal hair jewelry for a range of events. It is not only skin-friendly but also looks absolutely chic. Make sure the upcoming wedding functions do not go unembellished by getting this one of the ideal hair accessories for the wedding. 
VERY LARGE SIZE OVAL SHAPE HAIR BARRETTE IN WHITE AND BLUE
If you are a businesswoman, then this hair barrette deserves to be in your wardrobe because this is one of the best hair accessories for a successful business meeting. It is suitable for all types of hair, especially fine hair. It is also an ideal hair accessory to rock at your workplace.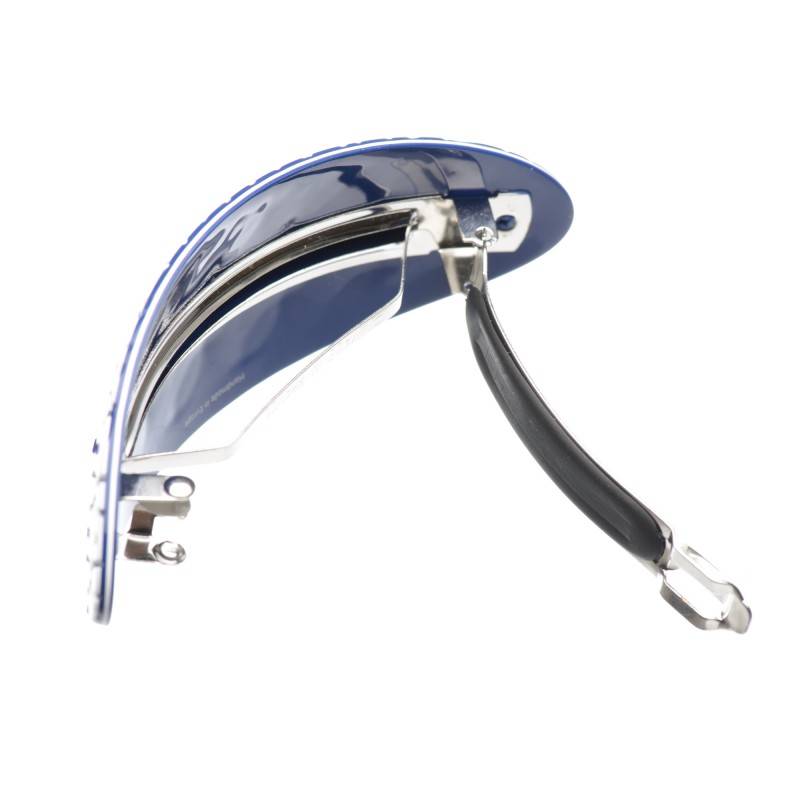 MEDIUM SIZE BOW SHAPE HAIR BARRETTE IN VIOLET AND IVORY
This shiny hair barrette is a great way to kick off your new look. As discussed earlier, this hair jewelry is all bout turning your ordinary hairdo into a fancy one. It is ideal hair jewelry for night events like opera and theater.
LARGE SIZE REGULAR SHAPE HAIR JAW CLIP IN BEIGE PEARL
Any hair jewelry collection will be incomplete without hair jaw clips in it. And this hair jaw clip is there exactly for the same reason. It is one of the brand new hair accessories available online and is good enough to be your go-to hair jewelry for long hair. 
LARGE SIZE REGULAR SHAPE HAIR JAW CLIP IN MULTICOLOR
When you have an event coming up, and you are stuck in the confusion of which hair jewelry to use, this luxurious hair jaw clip will come handy. Its fantastic design and decoration with original Swarovski crystals will make sure you stand out effortlessly. Your business dinners will never be the same.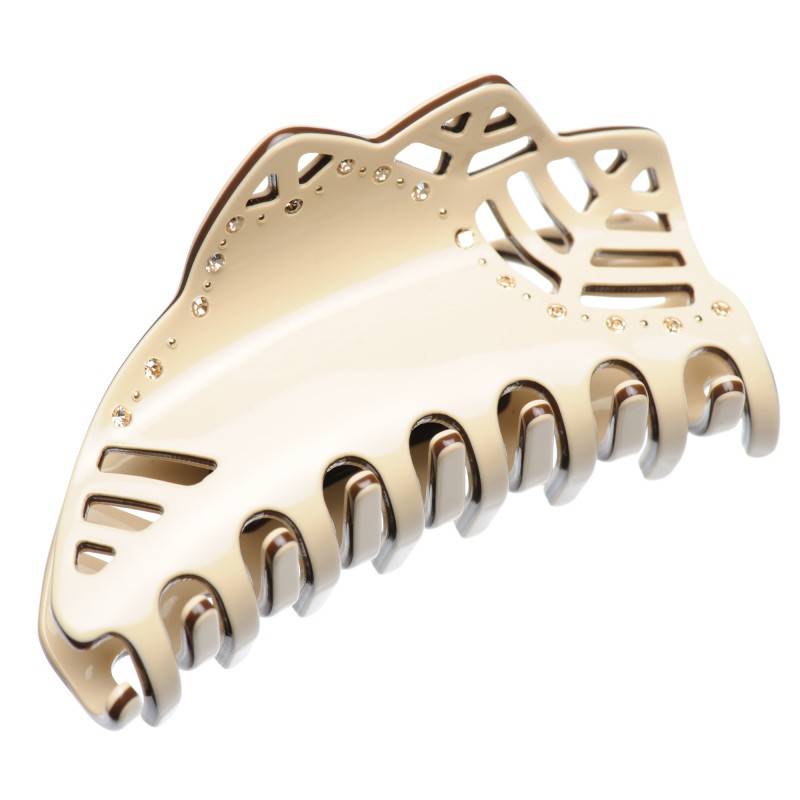 MEDIUM SIZE JAPANESE STICK SHAPE HAIR STICK IN PEWTER GREY AND RASPBERRY
Remember when we talked about hair sticks that can turn the tables for your hair? This hair stick will come in handy in your bid to wear a new look. Whether you opt to make a bun or go for something creative, this ideal hair jewelry for all types of hair will never leave you alone. 
MEDIUM SIZE RECTANGULAR SHAPE HAIR BARRETTE IN OLD PINK AND IVORY
This hair barrette belongs to those elite pieces of hair jewelry that are made in France, its royal pink color coupled with gold-plated metal part ensures that you get the luxurious vibes without costing you an arm and a leg. Moreover, it is going to light up your parties because it is an ideal hair accessory for parties.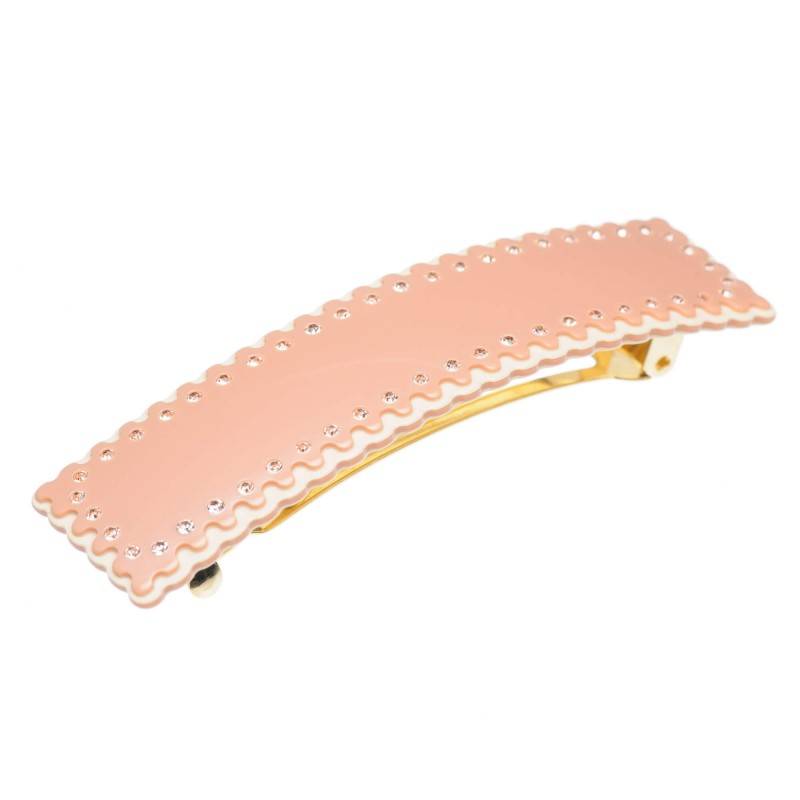 LARGE SIZE REGULAR SHAPE HAIR SIDE COMB IN MARLBORO RED AND BLACK
Side combs are rare, and that is what makes the value go sky high. This side comb has it that you can expect from quality hair jewelry. It is skin-friendly and can accommodate almost any type of hair. Plus, the vibrant color puts the cherry on the top.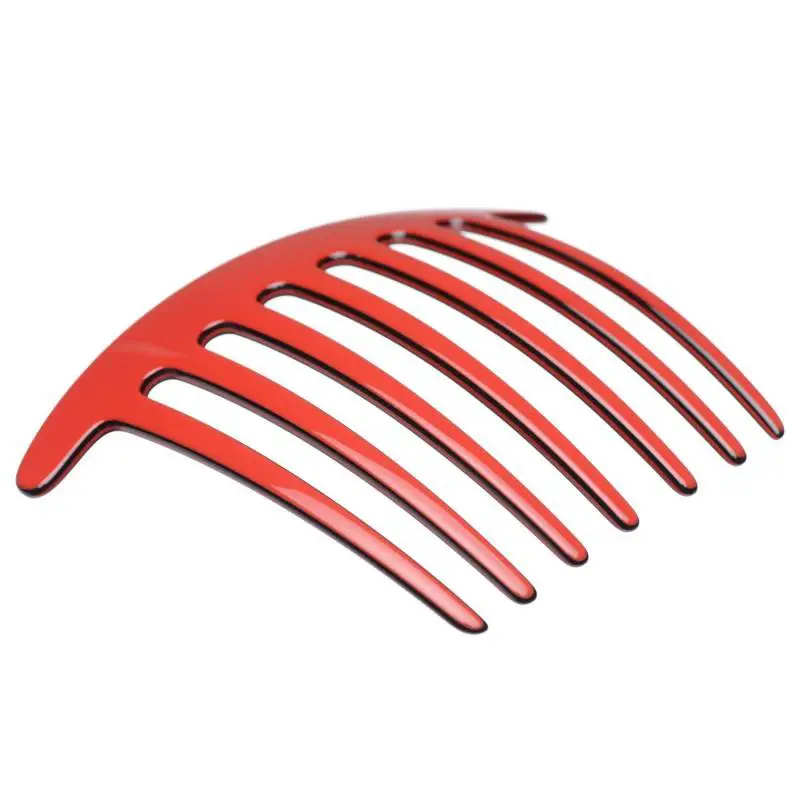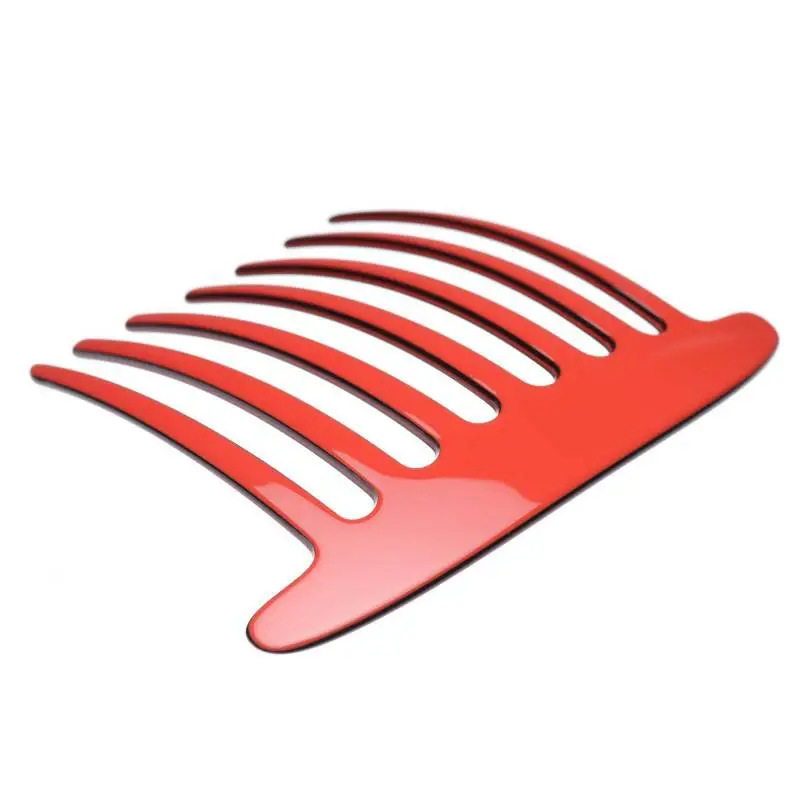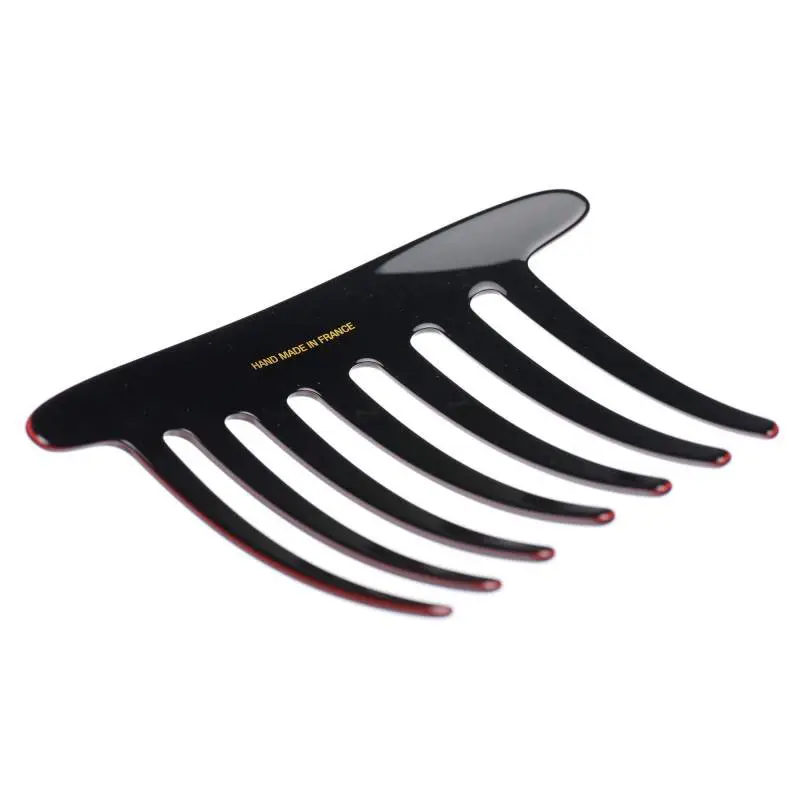 LARGE SIZE SPECIAL ORNAMENT BUN COVER IN TOKYO DARK
Bun covers allow you to decorate your bun in an unprecedented way. It is never a bad idea to put on display your beautiful collection of hair jewelry, and this bun cover does exactly that for you. It is skin-friendly, and its Tokyo dark texture ensures your bun cover gets noticed by the admirers.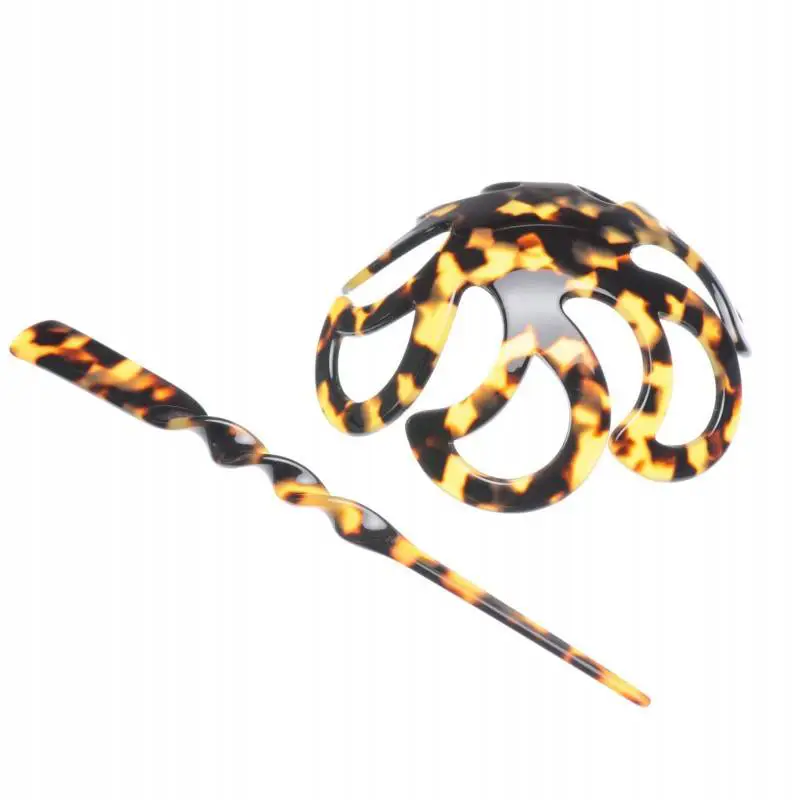 Final Words
It is pretty much evident that hair jewelry can be your best friend in daily life, the party life, office life, and luxury life. It all boils down to the choices that you make while purchasing hair accessories. If you follow all the tips enlisted in this blog and choose to buy hair accessories that we have listed, they will be a game-changer for you. 
Do you like to add anything to the tips? Feel free to let us know.