15 Large Hair Clips to Make A Statement
The best part about hair accessories is that they come in all shapes, colors, and sizes to cater to the hair of women of all ages, tastes, and likes. One of these hair accessories is the large hair clips. Ladies love large hair clips because they allow them to express themselves in a better way.
Large hair clips are one of the most decorative hair clips because of their large surface area. They are decorated with embellishments such as Swarovski crystals that boldly decorate hair.
Therefore, having large hair clips in the closet is considered a mandatory beauty tip by women across the globe. Thanks to this interest, a significant number of large hair clips are available for women to take advantage of.
The majority of women use large hair clips for long hair. However, that doesn't mean these hair clips aren't suitable for short hair. It all boils down to how creative you are with your hair. If you do not have large hair clips in your wardrobe, you must have asked yourself the following question:
Should I buy Large hair clips?
The short answer is yes, you should. And the long answer is that large hair clips are a permanent part of any fashion-conscious woman's beauty box. Many looks for different occasions remain incomplete without a large hair clip attached to your hair. So, purchasing a large hair clip is in your interest.
If you are still confused, the following are the reasons why you should be going for large hair clips.
1.      Large hair clips help to create a statement
Since they are visible from even far away, large hair clips offer women the luxury f creating a statement. Your hair clip can speak volumes about your fashion choices and thus deserve to be paid special attention.
2.      Large hair clips offer excellent hair security
A large hair clip covers a large area on the head and hence offer better secure hair. Moreover, space thy offer is also much more significant than regular hair clips, which makes them the best hair accessories for thick hair. You can also secure and decorate your bun without using a specific hair accessory for buns this way.
3.      Large hair clips help you stand out
In their bid to look better than other women, ladies try to take help from anything that allows them to stand out. Large hair clips do precisely that by luxuriously decorating their hair. That is why it is a must-have hair accessory for ladies who love attention.
4.      Large hair clips are decorative
Large hair clips mostly come highly decorated with different decoration techniques. Some are decorated with engravings, some with beads, and some with crystals. Since they have a large surface area, the room for decoration increases manifolds in comparison to small and medium-sized hair accessories.
5.      Large hair clips offer a wide range of hairstyles
Whether you are looking for unique hair accessories to create unique hairstyles, or copy some celebrity hairdo, large hair clips come in handy. So, if you opt to create a bun, an updo, braids on any other hairstyle, large hair clip help you accomplish them efficiently.
15 Large Hair Clips to Make A Statement
Despite their increasing demand, finding a high-quality large hair clip in an affordable price range remains an uphill task for many women. It is, therefore, important to connect you to out handpicked ranged of large hair clips.
Here we go.
 OVAL SHAPE LARGE HAIR CLIP IN WOOD
This large hair clip in wood is the best way to kick off your Mondays with.  It is neatly outlined with original Swarovski crystals and comes with a highly polished surface. It is also equipped with anti-slip innovation that allows it to stick to your hair without budging for a long time.
 OVAL SHAPE LARGE HAIR CLIP IN WHITE AND BLUE
This is one of the ideal hair clips for long hair. Its beauty speaks for itself as it comes decorated with 3D engravings and high-quality crystals. Its color suggests that you can wear it on multiple occasions ranging from formal to informal—a must-have hair accessory for women who value aesthetics.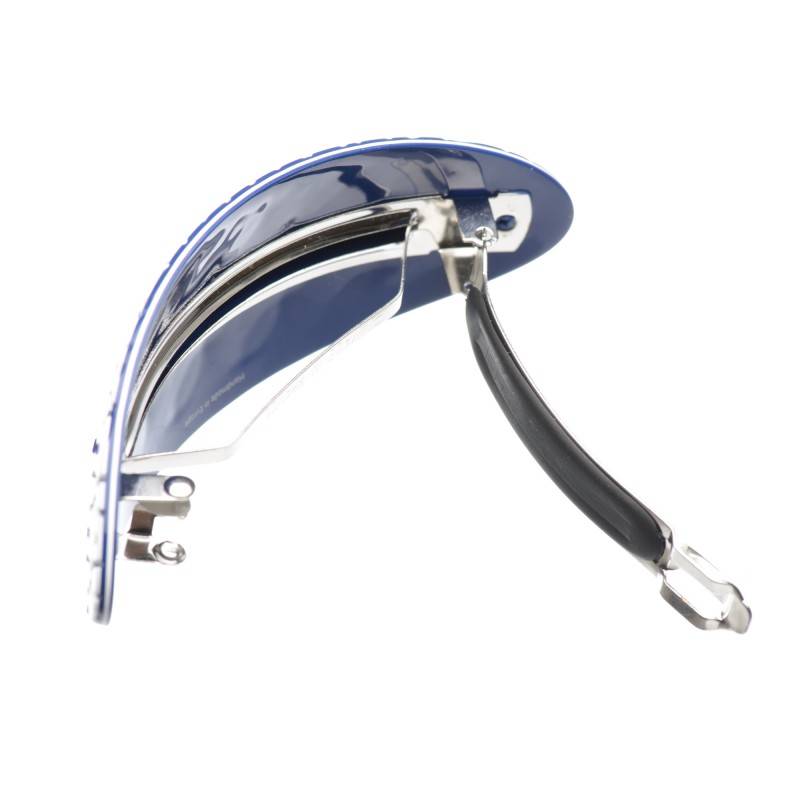 REGULAR SHAPE LARGE HAIR CLIP IN WHITE AND BLACK
If you are a party girl, then we recommend this large hair clip to you. That is because it is really pretty and perfectly in line with the spirit f parties. It embellishes the hair pretty easily and, owing to its large size, holds hair very firmly without damaging them.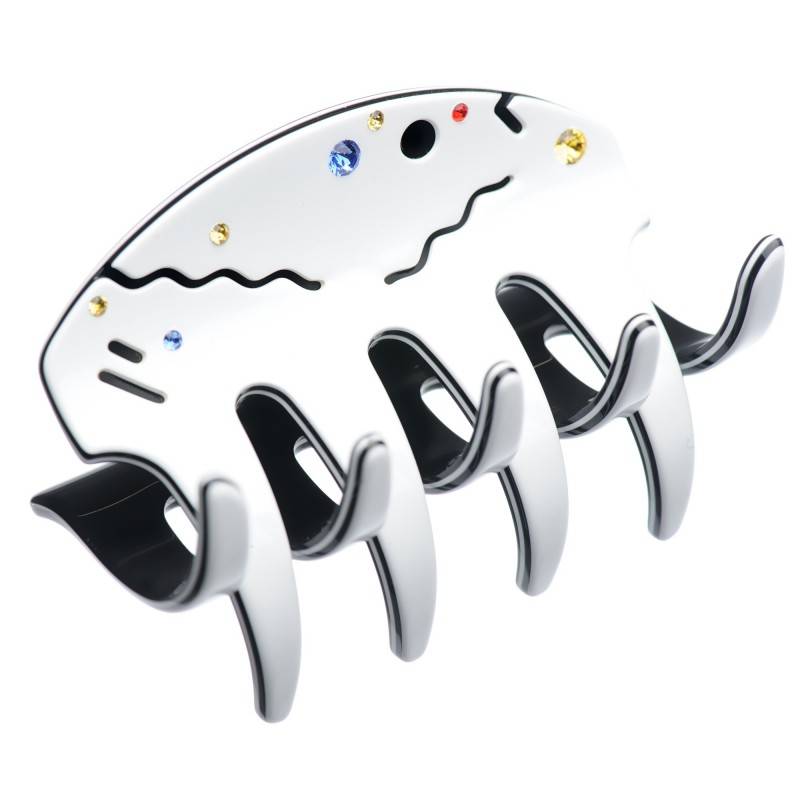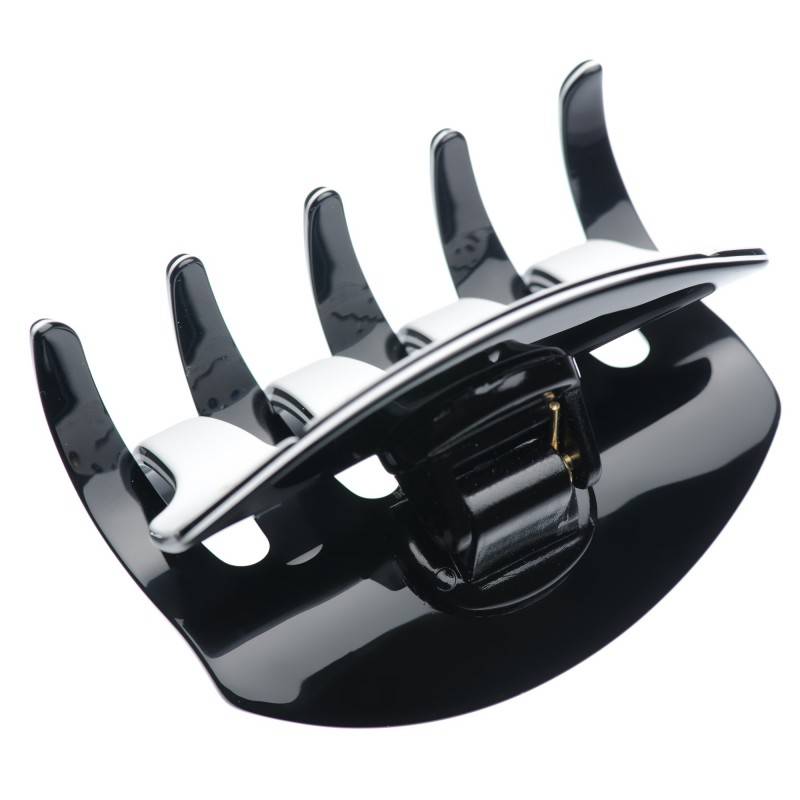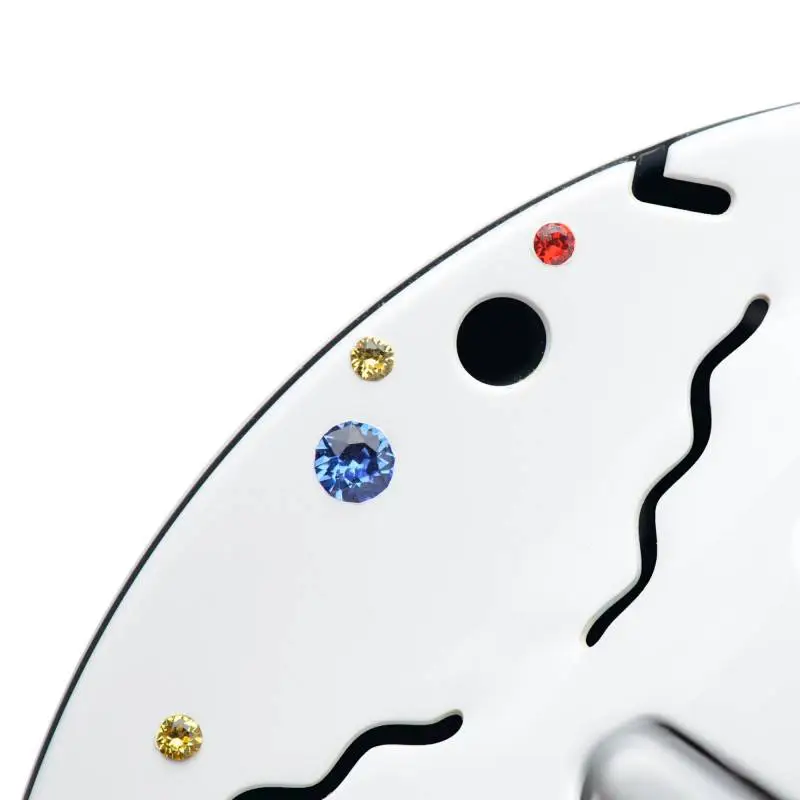 RECTANGULAR SHAPE LARGE HAIR CLIP IN BLACK
Black is the king of colors, and when it is polished, decorated, and engraved, things get a lot more interesting, the same is the case with this large hair clip. Not only it offers a big space to hold hair, but it also takes care of them without slipping thanks to rubber technology. It is like a blessing for women who keep searching elegant hair accessories for business meetings.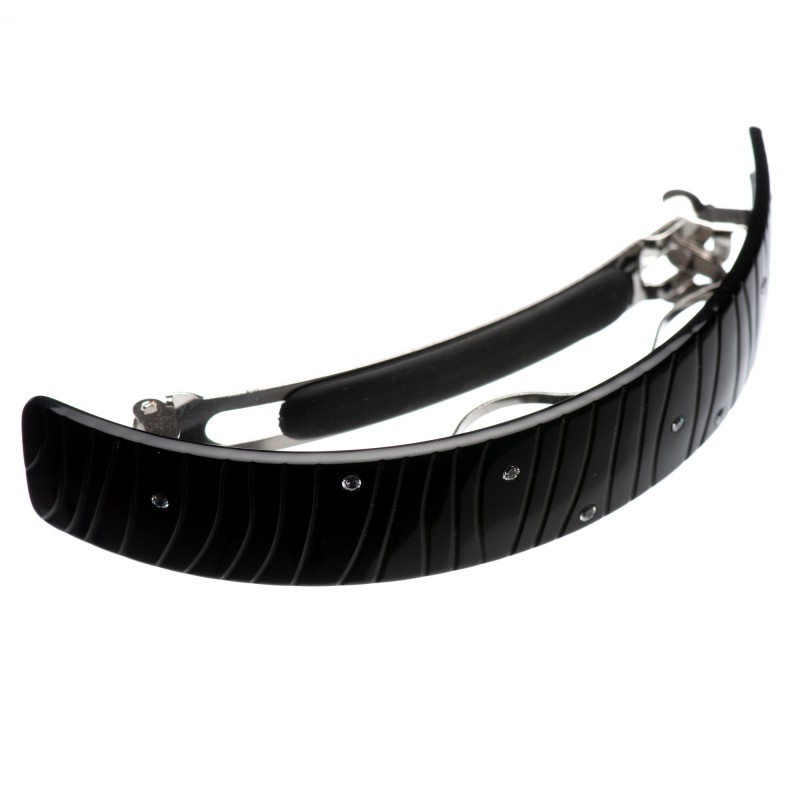 REGULAR SHAPE LARGE HAIR CLIP IN BEIGE PEARL
This right here is one of the brand-new hair accessories you can get your hands on. Working women can use this large hair clip to ensure a professional look without compromising on style. Also, it is a hypoallergenic hair clip that makes sure you stay away from even the threat of annoying nickel allergy.
 RECTANGULAR SHAPE LARGE HAIR CLIP IN TRANSPARENT GREEN
When it comes to matching, nothing beats this large hair clip. It is transparent with an additional touch of colorful Swarovski crystals. So, be it for a formal look or an informal one, this hair clip got your back. And the best part is that it is completely safe for all hair and skin types. Cocktail parties aren't going to be the same for you.
 REGULAR SHAPE LARGE HAIR CLIP IN MULTICOLOR
This one is a fancy large hair clip that is ideal as a bridal hair accessory for summer 2020. You can use this hair clip to decorate your hair for attending weddings as well, given the ability of this hair clip to adapt. Also, it is made with bioplastic, which is proved to be safe for skin. It caters to all hair types, yours deserve to be one of them.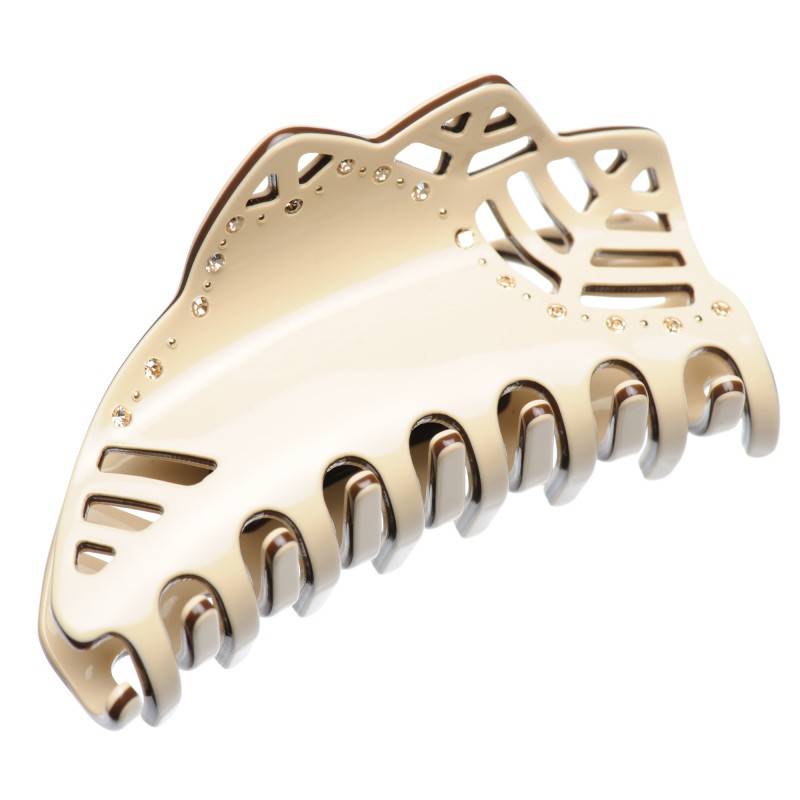 REGULAR SHAPE LARGE HAIR CLIP IN WHITE AND BLACK
White hair accessories hold a lot of charm and elegance, and this large hair clip in white does the same. It holds hair elegantly and securely and does justice with your looks. Women with a taste for neat looks must-have this hair clip to take their hair game to the next level.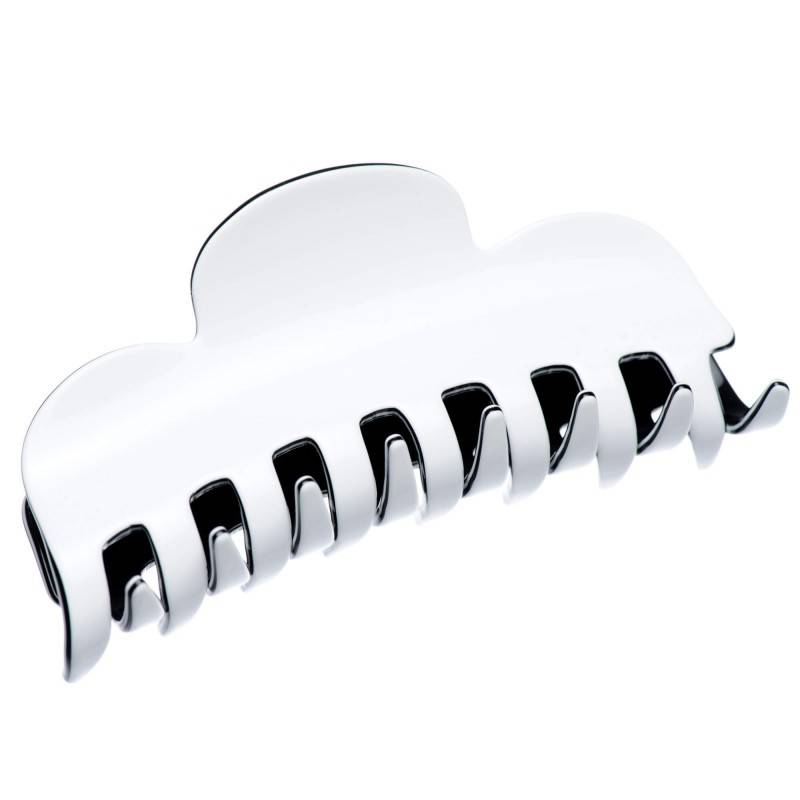 OVAL SHAPE LARGE HAIR CLIP IN HORN WOOD
This large hair clip is an out of the box solution for women with a taste for nature. The horn wood is all about making things easier for you when you are confused about which hair accessory to wear on which occasion. If you also face the same situation often, this hair clip might come in handy for you.
 REGULAR SHAPE LARGE HAIR CLIP IN RED AND BLACK
If you have a semi-formal event coming up, you can give this colorful large hair clip a chance. Its vibrant red color, coupled with decoration from Swarovski crystals, allows women to live their favorite looks. It is so hypoallergenic that even the spring is covered with bioplastic so that it doesn't touch your skin.
 OVAL SHAPE LARGE HAIR CLIP IN OLD PINK AND IVORY
This is a made-in-France hair clip that represents elegance and style. It comes hand encrusted with original Swarovski crystals and decorated with 3D engraved wavy pattern allowing ladies to get an instant glow. Make sure you get the best out of this large hair clip by employing it on a family get together and barbecue.  
 DOG SHAPE LARGE HAIR CLIP IN TOKYO DARK
This is the type of hair clip that you can use for all kinds of occasions. That necessarily means you have one less headache on whatever occasion you have to attend. Moreover, another burden off your shoulder is the fact that it is skin-friendly hair clip with no threats of nickel allergy.
 LONG AND SKINNY SHAPE LARGE HAIR CLIP IN WHITE AND BLUE
This is a long and skinny hair barrette that is pretty long and is great at imparting a long-lasting impact on your looks as you get to live a sleek look. It is amazingly good at keeping women decorated as one of the hair accessories for women working from home. So, if you are also doing remote work during this pandemic, make sure you give the zoom call colleagues a beautiful surprise by wearing this.
 SIZE OVAL SHAPE LARGE HAIR CLIP IN GOLD GLITTER
There are very few hair accessories that are both fancy and ideal for an interview, and this large hair clip is one of them. It is a great hair accessory for the interview because of its gold glitter. It is ideal for fields of arts and crafts. If you also want to showcase your artistic sense of style, make sure you have this hair clip at your disposal.
 REGULAR SHAPE LARGE HAIR CLIP IN BLACK
Finally, having an all-black large hair clip in your beauty arsenal is only rational because black works where nothing else does. That means you can make use of this black hair clip on a variety of occasions, with almost all outfits, to decorate any type of hairdo. Isn't that what we call a jack of trades? Yup, that's why it got its name.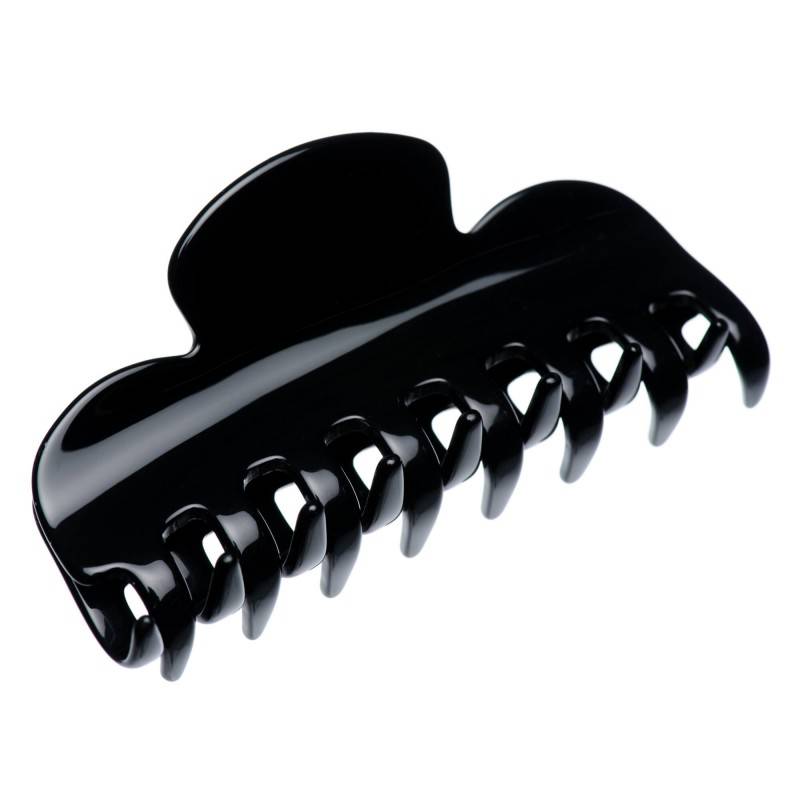 Conclusion
Large hair clips have a unique taste to them, and only those women know who has some high-quality large hair clips at your disposal. You can also be one of them by getting your hands on any of the large hair clips listed above. If decorating your hair is a game, then let the game begin.