15 Ponytail Hair Accessories to Create 15 Ponytail Hairstyles
There is no denying the fact that ponytail is among the most versatile, popular and common hairstyles. The look that involves a ponytail demands a minimally styling, lesser equipment, and no special techniques. This means you can dress up or down easily.
In fact, no matter which face shape and hair texture you have, there is a ponytail for you that suits perfectly. This hairstyle can cater to your hair from the gym to a romantic date to your wedding and that too without compromising your fashion statement.  
Therefore, ponytail can be a perfect hairstyle for women of all ages, tastes and colors. But if you always believed that there is only one type of ponytails and that you tie your hair at the back and becomes a ponytail, you are wrong.
There are numerous ponytails styles that you need to try and some of them are enlisted below. Make them count.
 

1. Short Ponytail
It is normally thought that short hair can't be ponytailed. But the reality is on the contrary side. although you won't be able to make a high ponytail with short hair, yet you can give the low pony a chance to flatter your short haircut to earn a fresh look instantly. To get the best out of this hairstyle, keep the ponytail textured and messy.
2. Long Ponytail
You are lucky if you have long and thick hair because it makes that classic ponytail a piece of cake for you. The best part about a long ponytail is that it's absolutely versatile and that you can wear it almost anywhere like gym, lunch, business meeting and a girls' night out. You can style it in both sleek and wavy ways without sacrificing the style. However, you've got to make sure to get your long locks trimmed regularly for optimum growth. If you have too thin hair to try this ponytail out, extensions offer a great replacement.
3. Cute Ponytail
For women who have a knack for cute hairstyles, this ponytail offers a sleek and sassy look. It can instantly turn your looks into a youthful and playful one. You can either keep it simple or add fancy hair accessories to create a fancy look. for instance, you can employ colorful hair clips, decorative hair accessories, scrunchies, bows, and ribbons to make things even cuter.  
4. Easy Ponytail
Getting late for the workplace and not having enough time for creating hairstyle can be annoying. We have all been there. Thus, to come out of such a nervous situation with flying colors, this easy ponytail will come in handy. You can create this simple ponytail hairstyle by covering the hair elastic around the very base of the ponytail. After that, take a section of your hair and wrap it around the hair elastic in a way that hair elastic hides completely. You can also use some cute clip to add a bit more polished vibe.
5. High Ponytail
This hairstyle has been popular for decades now and women love it because it is hot, bold and confident. A high ponytail also lifts the face and tightens it. To make sure you get the best out of this hairstyle, then you might want to ensure that your hair have some grit and texture. You can spritz in a little quantity of dry shampoo if your hair are too slippery. As this type of ponytail needs t look tousled, do not worry about too sleek hair.  
6. Medium Ponytail
Medium ponytail, as the term suggests, is referred to hair that are around shoulder length. Such a length means that these hairs are long enough to create a mid-height stylish ponytail. If you have fine hair are intending to grow your locks, it might be a fantastic choice for you to make them look thicker and longer. You can also try long bangs to pretend that you have more hair.
7. Low Ponytail
Fashion models love this ponytail thanks to its chicness. Especially if you have a knack of classic hairstyles like that of the 90s, it can help you're a great deal. Moreover, unlike general impression about ponytails, this one is ideal for working women who have to attends meetings and give presentations.  This ponytail works wonders for oval and round-faced women. you can be creative with low ponytail by a deep side part instead of center parting.
8. Side Ponytail
The first rule of thumb for rocking the side ponytail is that never go too high. It is because the side ponytail looks at its best when it starts from the mid-height of your neck. It is very easy to create this hairstyle by employing loose waves and accessories that complement your facial structure. You can also take some help from salt spray to get a wavy texture. This hairstyle does better when made with thick hair. All you need to do is straighten your hair, create a side parting and attach your ponytail on the opposite side and that's it.
9. Half Ponytail
The half ponytail is making its way back to the world of fashion. It is also referred to as the half-up, half-down hairstyle. The best part about this hairstyle is that it goes well with all lengths and types of hair. You are also free to decide how high or low should the ponytail be. Pro Tip: if you have a round face and you want to make it look longer, go for the high half ponytail.
10. Braided Ponytail
This hairstyle needs a little more time to be created but it is worth it. Combining your ponytail with a loose braid is an out of the box idea that will help you stand out. It is an ideal hairstyle to rock on Sunday brunch or barbecue parties. Since braid require thick and long hair, you can employ clip-on extensions to make this look work for you in a perfect manner.
11. Ponytail with Weave
There are very few hairstyles like Sewn-in weaves which can help your protecting your natural hair. Not only this but also it is amazing way of creating an instantly stand out ponytail look.  you can ensure that all eyes are on your by making a sleek front and a textured back version of style. Experts suggest that you should avoid gluing in a weave as it can be harmful for your hair. To give this ponytail a bold touch, you can opt for more bundles of hair or a deeper weave.
12. Black Ponytail
Since black ponytail is such an easy-to-make hairstyle, some women might mistake it for a boring hairstyle. However, the reality is the other way round. This ponytail is your sure shot to turn some heads in awe. It is because black ponytail hairstyle amalgamates fresh, youthful and sporty vibes like a high ponytail with an added taste of long flowing curls. If you are proud of your natural hair texture and love showcasing them, this hairstyle might be ideal for you.
13. Prom Ponytail
Unlike its name, prom ponytail is known as an everyday hair style with a casual vibe. However, that doesn't mean you cannot try it for formal events. when it comes to prom, bigger is better. To ensure that your hair look smooth and elegant at the top, you may tease the roots. After creating the ponytail, employs tongs to create subtle waves. Lastly, twist a section of hair to wrap around the hair elastic, this will make your hair look smooth and seamless.  
14. Braided Ponytail for Black Hair
If you have Afro hair, do not think that you cannot make a ponytail out of them. A braided ponytail is ideal for Afro textured hair as it makes them more striking. It involves combining the braiding technique with a rope of hair. You can also either make a braid or leave them loose. and protective style for Afro-textured hair is the braided ponytail. It combines braiding techniques with a long rope of hair, which you can either braid or leave loose.
15. Two Ponytails
Is there anything cuter than a ponytail? Yup, two ponytails. However, this is a tricky hairstyle that if you don't do it right, you might end up looking like a teenage school girl. To make sure you look youthful and playful on a night out, add plenty of volume to your hair locks and pair it with beachy waves to add body and momentum. You are also supposed to hide your hair elastic by wrapping a section of hair around it.
15 Hair Accessories to Create Ponytail Hairstyles
Now that you know 15 different ways of creating unique ponytail hairstyles, let us help you with the hair accessories as well that will make things a lot easier for you. Below, you can find 15 ideal hair accessories to create eye-catching ponytails.
Here we go.
It is only rational to start with this hair elastic. It is one of the best hair accessories for work due to its elegant design and yet catchy look. the hair elastic is hypoallergenic and the elastic is hair-friendly. If you want to start shopping your hair accessories for ponytail holders, this can be the first one to try.
If you are a house wife or just want to ensure that your ponytail doesn't look dull even at home then you must take advantage of this one of the ideal hair accessories for everyday wear. It can be helpful in trying out any of the above-mentioned ponytails.
If you are a party girl and love hair accessories ideal for cocktail parties then this should be your pick. This skin friendly hair elastic is embellished with 3 dimensional engravings and topped with original Swarovski crystals. So, whenever you decide to decorate your hair for the next cocktail party, this hair elastic will go with you.
Evening functions can become a headache for ladies if they do not find a suitable hair accessory. However, when you have this hair elastic in your beauty box, you will never have to go through that misery again. A huge Swarovski crystal that looks fantastic in the center of round hair elastic will ensure that you also become center of attention.
Attention ladies with Afro hair, this hair elastic is here to handle your hair in a friendly and graceful way. In fact, it is one of the best hair accessories for Afro hair. The elastic that comes with it ensures a firm grip to keep your ponytail in your desired shape. The plastic part in transparent comes decorated with original Swarovski crystals that are perfectly in line with Afro hair.
Whether you want to try black ponytail or are looking for ideal hair accessories for successful business meetings, this might be your best bet. The sleek shape and glossy finish set table for an absolutely graceful look that working women crave for. Not only this, it is also a metal free hair accessory that means no danger of nickel allergy at all.
For ladies who love showcasing their love for animals this hair elastic is a gem. The beautifully crafted cat shaped hair elastic is also decorated with original Swarovski crystals and 3D engravings. It also belongs to the best hair accessories for family get together and barbecue. And the best part is that it is an economical hair accessory that doesn't put a lot of burden on your purse.
If you think you already have a lot of hair elastics for ponytails then perhaps it is time to go after a plastic ponytail holder. And when you have this ponytail holder at your disposal, the decision becomes even more easy. This is a skin friendly ponytail holder that expands your options manifold and you can finally decorate your ponytail in a different way.
When you see a hair jaw clip holding a ponytail, you better observe how amazing it looks. However, not every hair jaw clip can do this job smoothly. This hair jaw clip is all about versatility and it takes the ponytail hairstyle to the next level. Being one of the best hair accessories for a job interview, it can help you win your next job as well.
Alligator hair clips are known for their unique way of doing thing and holding a ponytail is no exception. This is one of the incredible yet inexpensive alligator hair clip that offers a whole lot new set of options to decorate and secure your ponytail. Plus, it is completely safe for the skin as well as hair.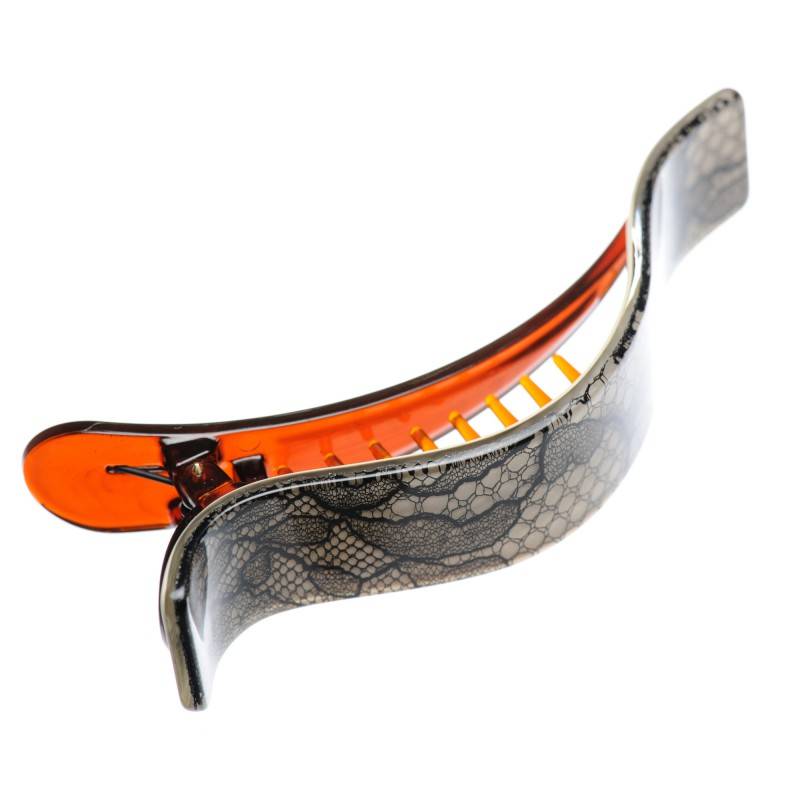 And if you want to be a bit more expressive with your alligator hair clip and want to boast your unique fashion choices then opt for this one, the color and the texture of this hair clip enhances the look of ponytail instantly and attracts glances. You can also complement or contrast this hair accessory with your outfit to enjoy a glamorous look.
Banana hair clips have made their back into the business and one of the biggest reasons of this successful and impactful comeback is their adaptability and versatility. This banana clip can add a new dimension to your otherwise boring look by securing your ponytail in a never-before way.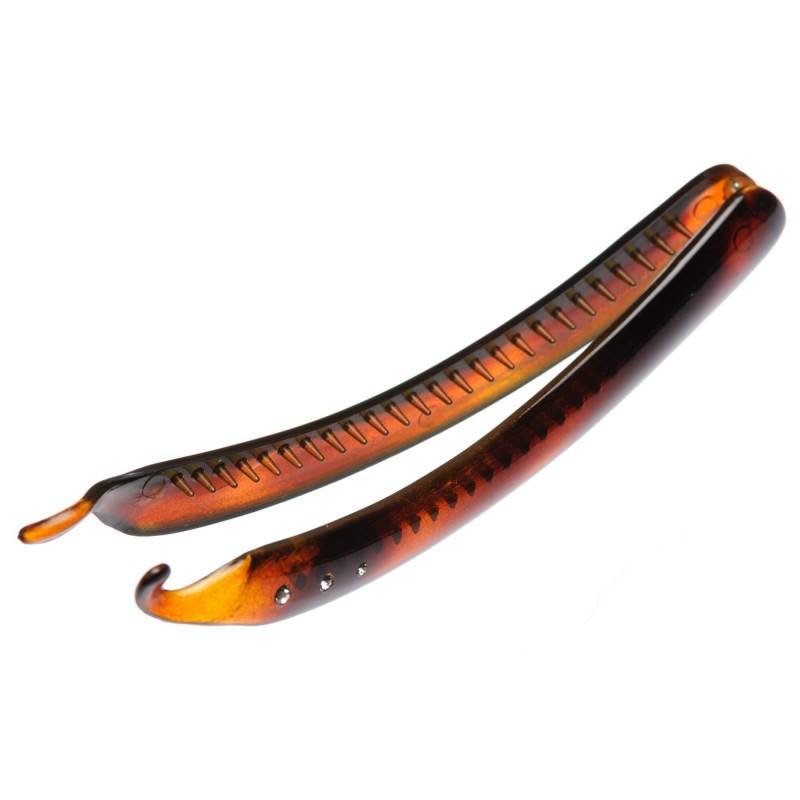 Another perfect banana hair clip that can cater to your ponytail brilliantly is this one in mixed color texture. Its jaws are finely polished to avoid damaging the hair without compromising on the grip. Make use of this banana clip is you think you have run of unique hair accessories for your ponytail passion.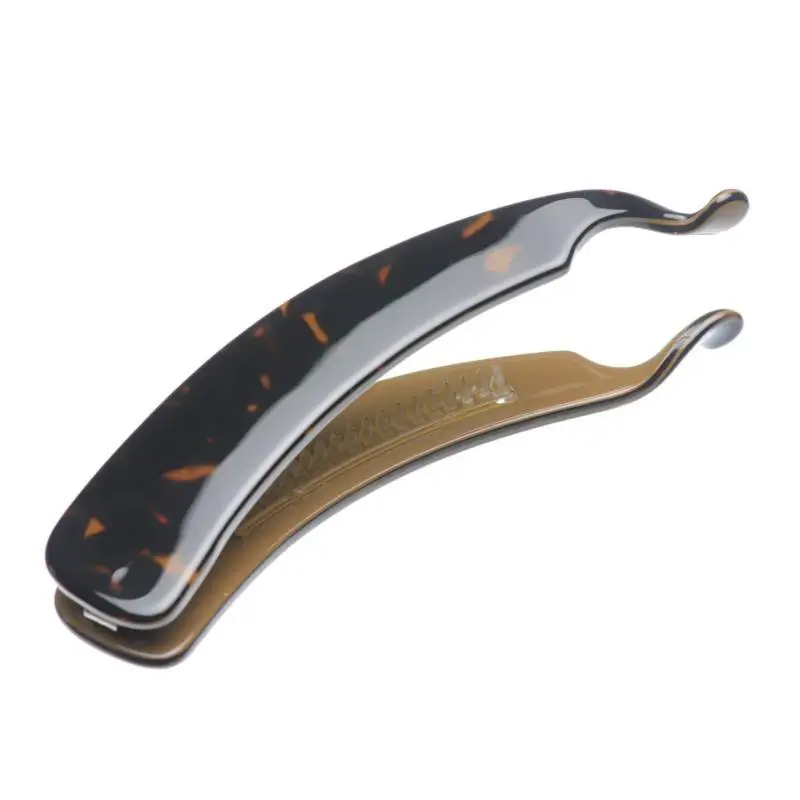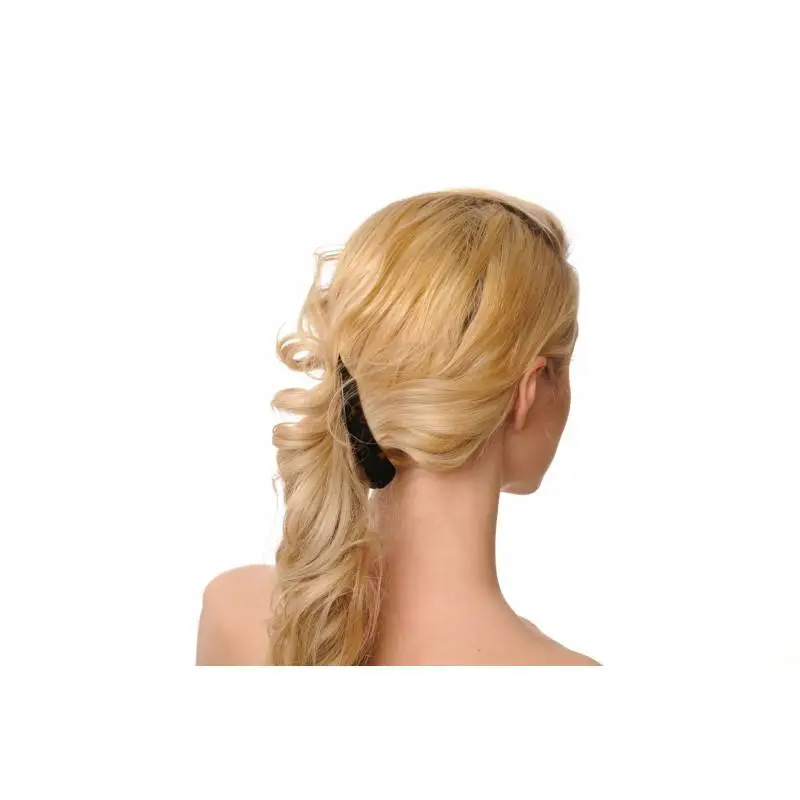 This is one of the most affordable hair accessories you can decorate your ponytail with. The design and shape of this ponytail holder suggests no matter how thick hair you might be having, it can hold them with firmness and in style. So, when you want to try any of the ponytail hairstyles mentioned above for a formal event, make it count.
Last but not least, this ponytail holder is for those girls who like the idea of expressing their selves through their hair accessories. It is also one of the best hair accessories for kids because it handles delicate and fine hair with care. If you are also into fun and vibrancy, having this ponytail holder in your closet will help you out living your beauty goals.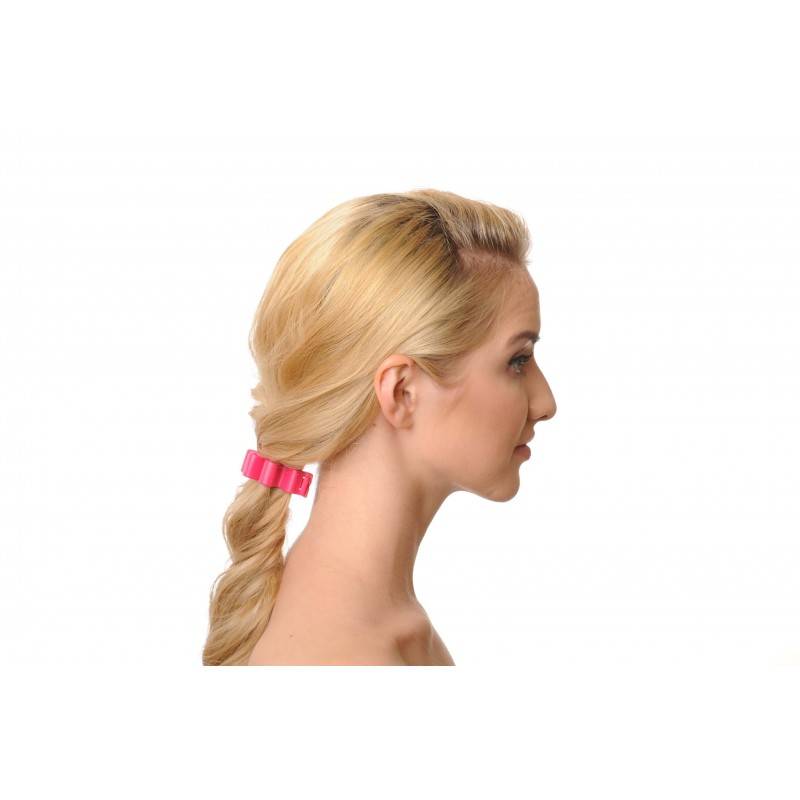 Final Words
Ponytails are synonymous with cuteness but are also one of the formal hairstyles as well. However, many ladies miss out on making their favorite ponytail hairstyles because they lack requisite hair accessories. However, the hair accessories for ponytails mentioned above and the unique ponytail hairstyles might help you out in ways even you do not know yet. Pair any of these hair styles with any of these hair accessories and see the magic for yourself. No kidding.