10 Banana Hair Clips You Desperately Need to Try
Banana hair clips are one of the most versatile hair accessories. They are loved and used by women of all ages equally. Banana hair clips offer many advantages to women, and that is the reason why they is gradually becoming a must-have hair accessory.
However, that doesn't mean banana hair clips are the product of recent years. In fact, banana hair clips are one of the oldest hair accessories. Due to their simple structure and high utility, banana clips have been catering to the hairdos of women for ages.
Also Read: 15 Ideal Hair Accessories for Women Working from Home
Thanks to the recent spike in their popularity, it is pertinent to discuss them in detail.
What are banana hair clips?
A banana clip, as the name suggests, is a hair clip that looks like a banana in shape. It is usually made of plastic and helps women pull their hair back and secure it in one place. Women use banana clips to create a wide variety of hairstyles, including ponytails, curly updos, and 3D braids. Typically, banana clips work best on shoulder length or longer hair.
Are banana clips bad for your hair?
There is a big misconception about banana hair clips that they damage your hair. Banana hair clips are as safe as any other high-quality hair accessory. The only thing that you should take care of is the quality of your banana clip. If it is of good quality, you do not need to worry about any damage. The construction of banana clips is evident that it cannot damage hair at all.
How do you use banana hair clips?
There are many ways you can put a banana clip to use. Some of them are as follows.
1.      Classic Banana Hair Clip Ponytail
Using a banana hair clip as a ponytail holder is a classic idea, yet it is pretty exciting for modern women as well. Choose a banana clip. All you have to do is combing your hair backward and make a ponytail with your hand at the back of your head.  Open the banana clip jaws by pressing the ends and place it at the base, in the proximity of your scalp. Gather all those hairs at the center of your clip a bit towards the top of your head. Close the clip, and that's it.
2.      Modern Updo Using Banana Hair clip
To make this hairdo, curl your hair first. In fact, you have to gather a pile of curls on the top of your head. This hairstyle gives you a Rihanna style fauxhawk, and the banana clip remains invisible.  Follow these steps: pile up your curled hair at the top tightly where you will place a topknot. Once done, place your hand on the collection so that it stays in place. Open the banana hair clip wide and insert it from bac to front deep inside. The clip curve should be along with your head. Snap it shut, and there you go. You may curl the hair endings around the clip to hide it.
3.      3D French Braid using Banana Hair Clips
Another fabulous hairdo that you can create using banana hair clips is a 3D banana braid. To start, you need to do a loose French braid down your neck. Leave the ends of your hair unbraided for a moment, and hold it using one hand. It can also work with a fishtail braid. Wide-open the jaws of the banana clip and insert around the braid. Place the clips against your scalp so that the braid is between the jaws. The end of the braid should fall just over the hinge. The tail should stick out. Close the clip and loosen your braid to cover the clip. Finally, tuck in the tail under the clip and pin it. You can take help from a hairspray as well.
Alternately, you could finish braiding the tail and secure it with a rubber band.
Are banana clips back in style?
Although they have a reputation for vintage hair clips, banana hair clips are back. There are a couple of reasons for their comeback. One, many renowned hair accessories makers have started creating high-quality banana clips, and two; women want to try something new every day. These factors ensured the comeback of banana clips in style. Many celebrities can also be seen securing their hair with banana hair clips these days.
10 Banana Hair Clips You Desperately Need to Try
Below, we have listed ten banana hair clips that are handpicked by our hair experts. Have a look.
MEDIUM SIZE REGULAR SHAPE BANANA HAIR CLIP IN BLACK
This is a simple banana hair clip that is an ideal hair accessory for barbecue and family get-togethers. You can cater to your hair, no matter which hair type you have, and it will do the job pretty seamlessly. However, it is primarily for fine hair. It might become one of the go-to hair accessories for everyday wear.
MEDIUM SIZE FISH SHAPE BANANA HAIR CLIP IN BLACK
This banana hair clip is one of the most affordable hair accessories you can get your hands on. It is made in France by expert hands and is one of the best hair accessories for thin hair. No matter you want to go outside or stay at home, this banana hair clip will come handy in many ways and will take care of your preferred hairdo without compromising your fashion statement and safety standards.
MEDIUM SIZE FISH SHAPE BANANA HAIR CLIP IN PINK
Ever imagined yourself attending a cocktail party by securing and decorating your hair with a banana hair clip? Well, you don't have to just imagine anymore because this banana clip is here to turn your imagination into reality. Its color is perfectly in line with the themes of cocktail parties and its fish shape is ideal to secure your hair in place.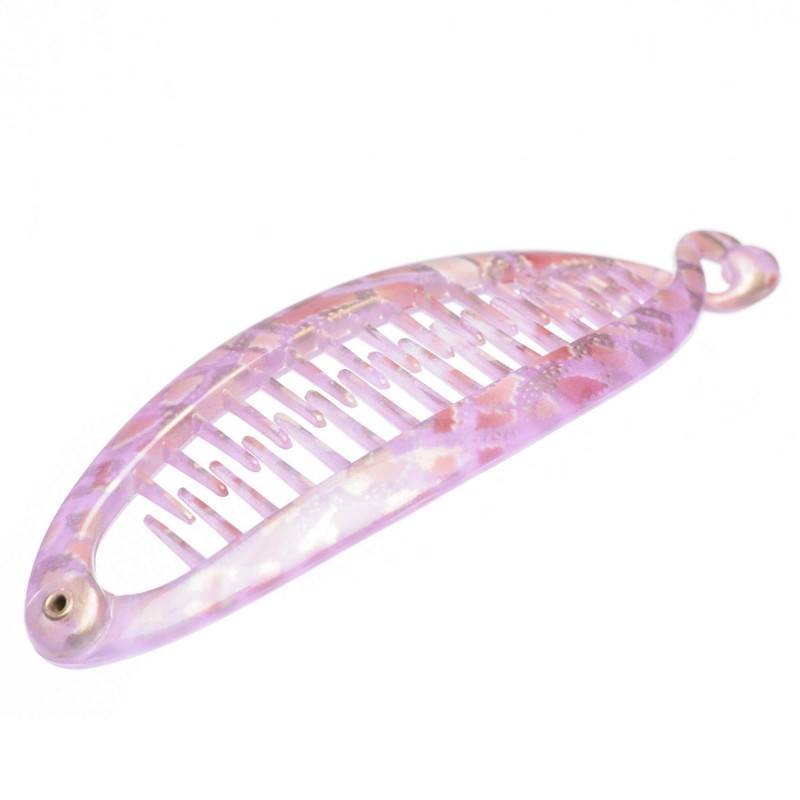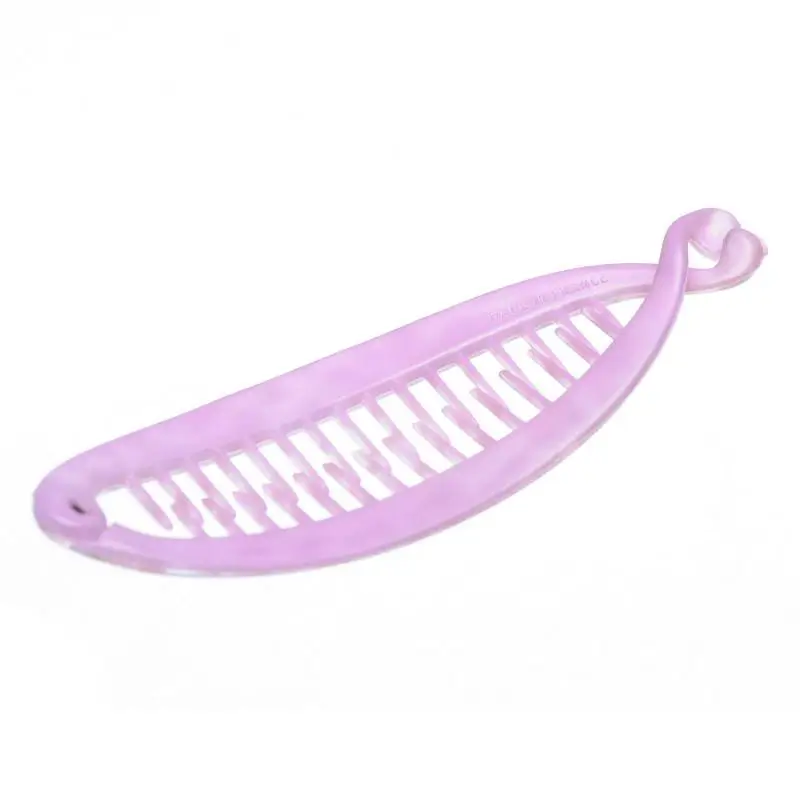 MEDIUM SIZE REGULAR SHAPE BANANA HAIR CLIP IN MIXED COLOUR TEXTURE
And here is the king of banana hair clips. This Deluxe banana clip is handmade in France with skin-friendly materials. It is ideally suitable for fine hair, yet women with medium to thick hair find it equally impressive. If you are a working woman and lack hair accessories for a business meeting, this banana hair clip should do the trick for you.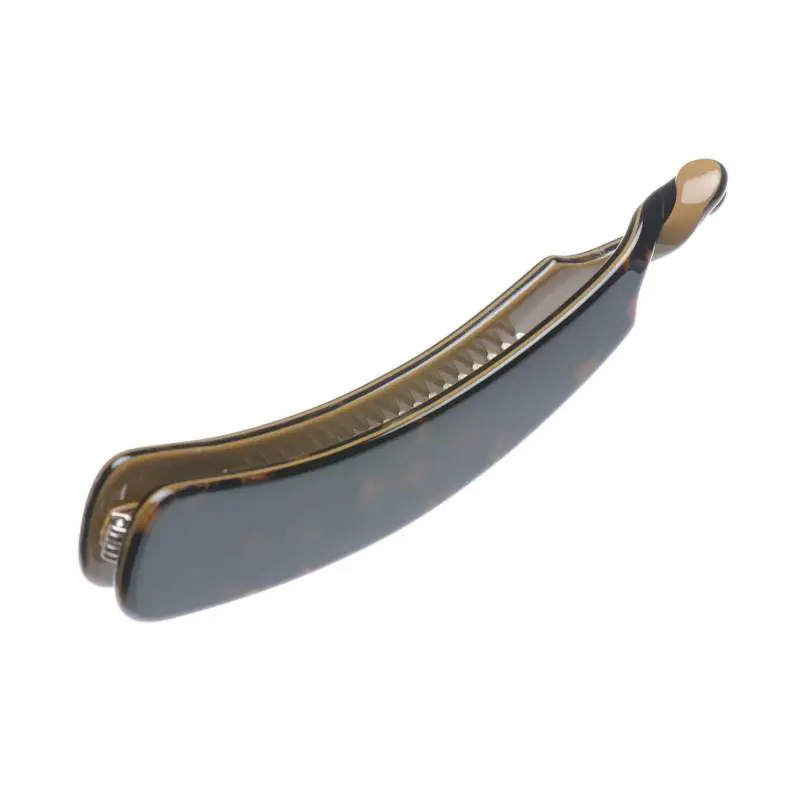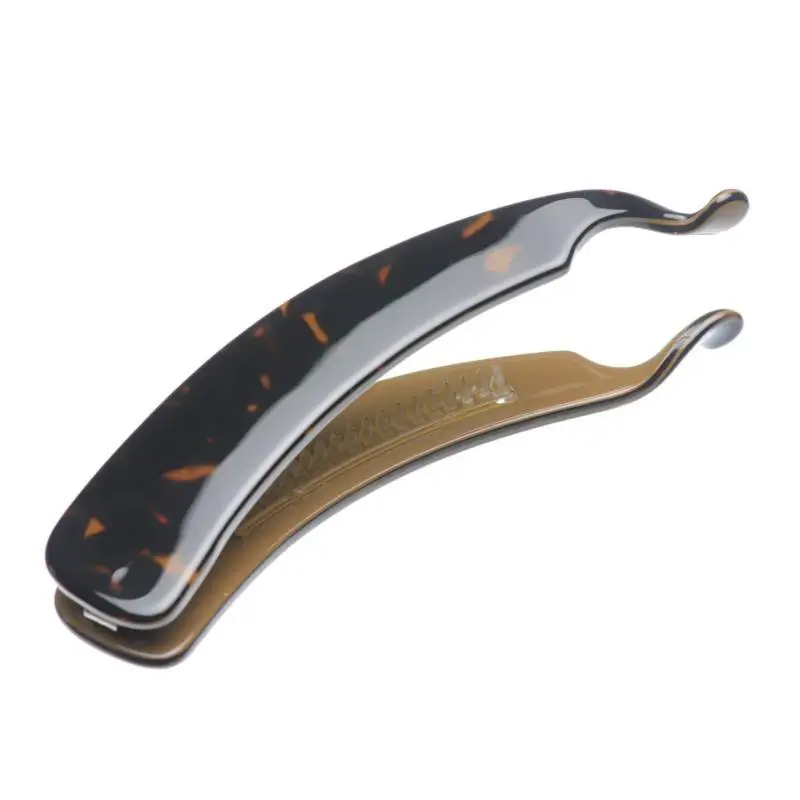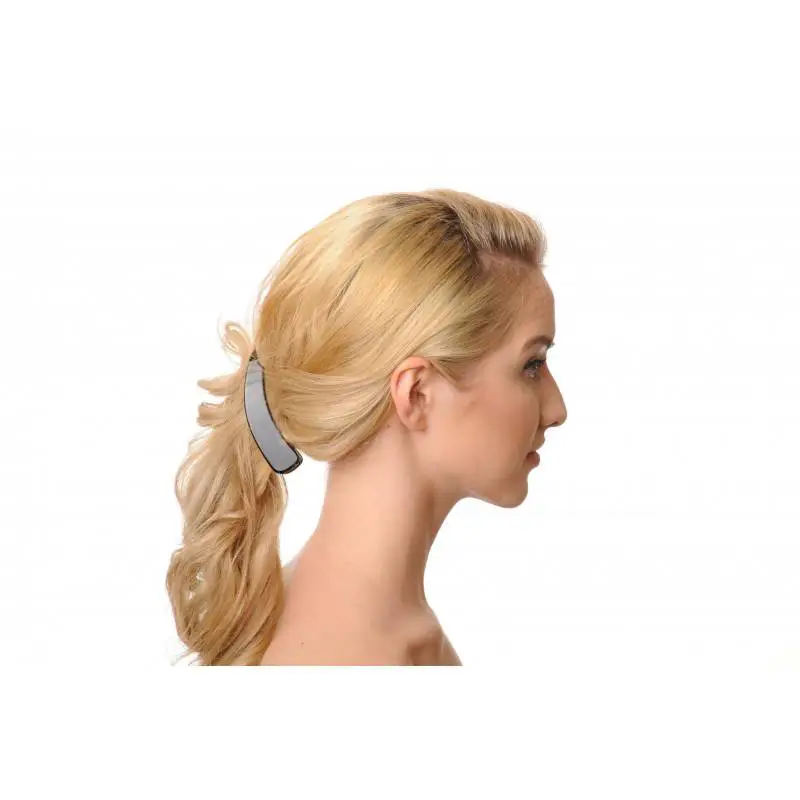 MEDIUM SIZE REGULAR SHAPE BANANA HAIR CLIP IN RED
Playing around with colors is never a bad idea, especially when you are interested in showcasing your unique sense of style. This banana clip is also about vibrancy. For women who love parties, this banana clip will be a blessing. It can work both as a primary as well as a secondary hair accessory—no need to worry about your party hairdos anymore.
MEDIUM SIZE REGULAR SHAPE BANANA HAIR CLIP IN RED
Another masterpiece, this banana clip, is so aesthetically pretty that you can't take your eyes off for a while. It is made with bioplastic so that you stay away from nickel allergy. Moreover, the teeth of this banana clip are designed in a way that they do not harm the hair without compromising the grip. Perfect addition for your hair accessories collection if you have a knack for unique hair accessories.
MEDIUM SIZE REGULAR SHAPE BANANA HAIR CLIP IN MIXED COLOUR TEXTURE
Have you seen a banana clip so delicately decorated like this one? It is because it is made in France by the experts and is suitable for any outfit. It is an all-weather, all-season hair accessory that will be by your side when other hair accessories won't work. So, introducing this banana hair clip to your beauty box is the only rational option you have. Make it count.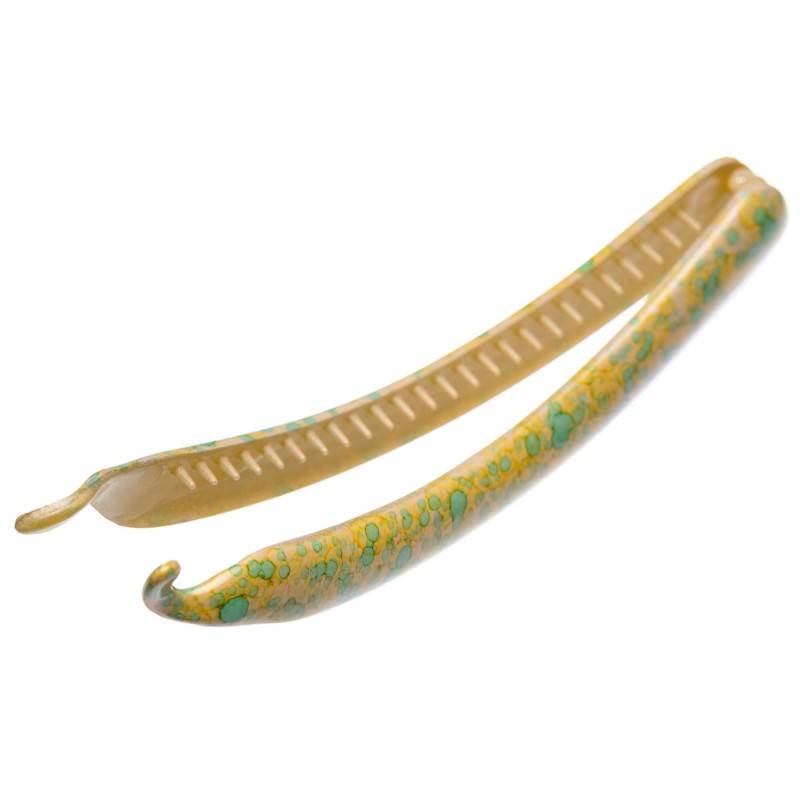 MEDIUM SIZE FISH SHAPE BANANA HAIR CLIP IN BLACK
This banana hair clip comes decorated with an original Swarovski crystal that enhances its black glossy finish even more. The gap between its teeth suggests that it can cater to all hair types. It is one of the latest hair accessories for 2020 that you shouldn't miss out on. Make sure that when you rejoin office, your colleagues cannot help noticing a change in your looks, by employing this cool hair accessory.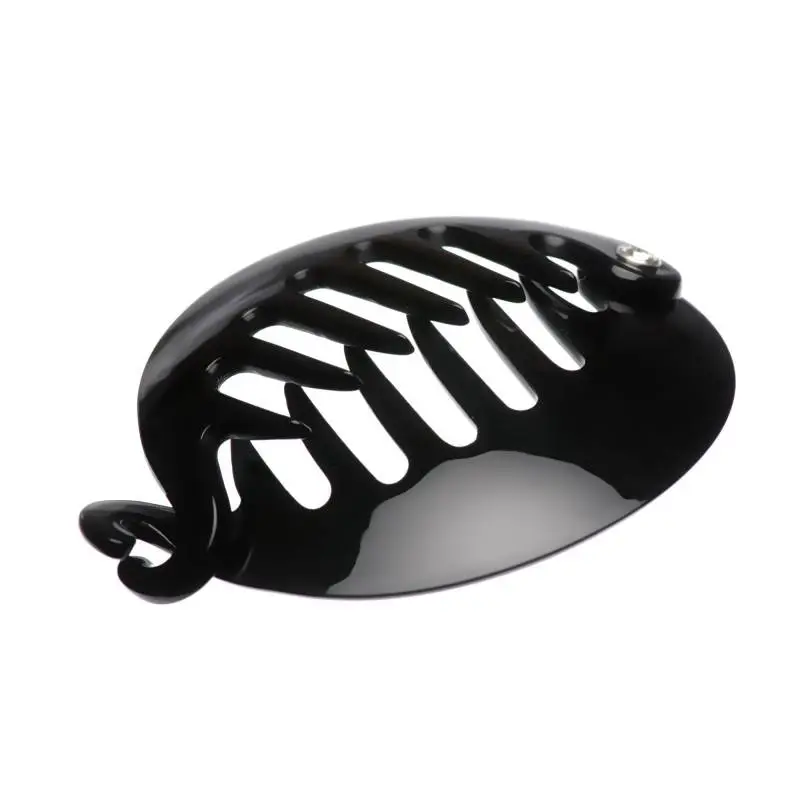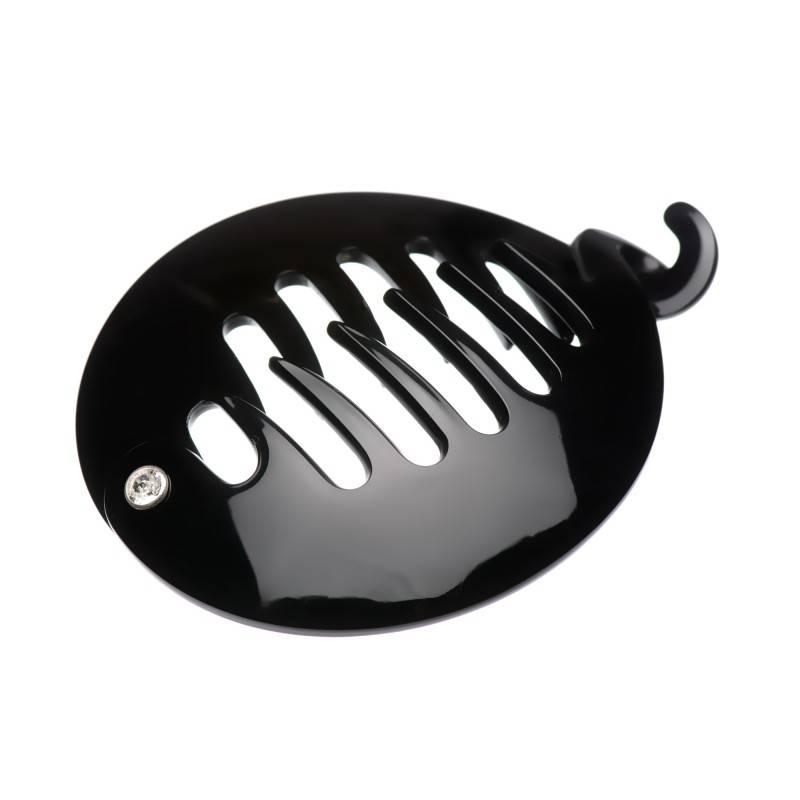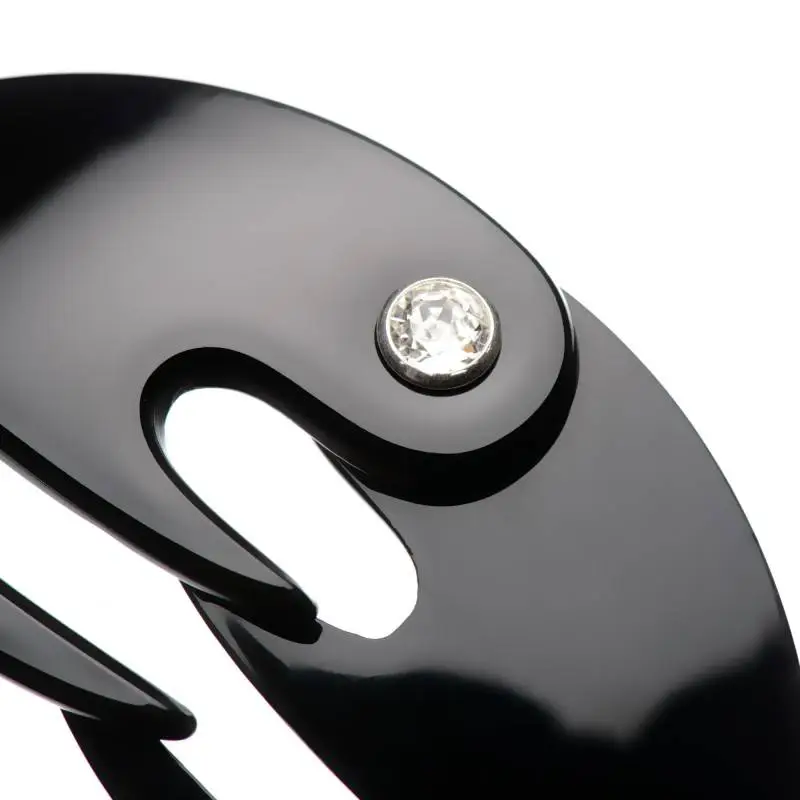 MEDIUM SIZE FISH SHAPE BANANA HAIR CLIP IN BROWN
Look at this banana hair clip, what comes to your mind? A catch, probably? A fish? Well, you are not at fault, because this clip is the combination of both. A fish-shaped banana hair clip that is designed to hold your hair pretty tightly so that it doesn't slip down, and your hairdo doesn't get ruined. It is totally safe for your skin and hair. Adding this to your beauty arsenal shouldn't be a problem because it belongs to budget hair accessories under$5.
MEDIUM SIZE REGULAR SHAPE BANANA HAIR CLIP IN BROWN
Last but not least, this banana clip comes decorated with original Swarovski crystals to add a unique flair to your looks. It is ideal for women who love classic style with just a bit of glitter. Add a luxurious touch to your everyday looks by using this banana clips and secure your hair for making a perfect ponytail.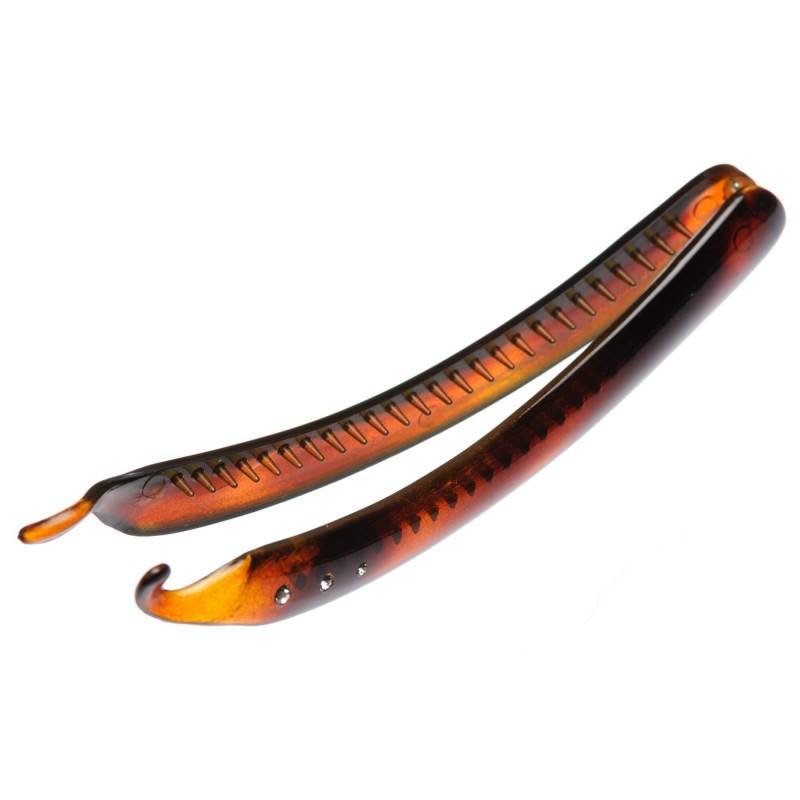 Conclusion
Banana hair clips staged a comeback to ensure our hairdos remain perfectly styled, and we never run out of options. Make sure you get the best out of this classic hair accessory by trying out different hairstyles on different occasions. After all, you are bound by the walls you build yourself.