Everything You Need to Know About Hair Clip Claws
If you start counting the number of hair accessories, it can take an eternity to do so. Ever since the fashion industry started evolving, there has been a lot of emphasis on hair products. And why won't there be? Hair, hairdos, and hairstyles are some of the most critical styling elements in the fashion industry. 
However, in spite of a wide variety of hair accessories, some are doing better than the others, such as hair barrettes,hair claw clips, and hairpins ,etc. There are many reasons why people love these hair accessories more than others.
Also, do not miss out on this Guide to hair barrettes
In this blog, we will discuss hair claw clips, why hair claw clips are favorite accessories of women, some top trending hair claw clips, and also useful tips about hair claws. We will also reveal some elegant and unique hairstyles that you can make using hair clip claws.
Eager to know? Here we go!
What Exactly Are Hair Clip Claws?
Claw clips, as the term suggests, are hair clips that are shaped like claws. Basically, two claws are joint together by means of a spring, which helps to open and close the claw clip while also holding the hair firmly. Due to their shapes, hair claw clips enjoy a considerable reputation when it comes to following trendy fashion and hairdos. Hair claw clips are also known as hair jaws.
Claw clips are ideal for on-the-go and easy hairstyles. This hair accessory is pretty classy yet straightforward. It offers you an excellent alternative to don a formal updo or casually holding the hair at one place for carrying out home chores. Their versatility is the reason why women drool over them.
Owing to their widespread popularity, millions of hair claw clips are embellishing the hairstyles of women across the globe. Although it seems pretty simple to put on a hair claw since all you need to do is pressing the rear end of the claw clip to open its jaws and attach them to the hair. Yet, it is very crucial to master the art of wearing claw clips if you want to take advantage of this accessory to the fullest. 
So, How to Wear Hair Claws?
As a matter of fact, due to the lack of creative ideas, hair claw clips saw a dip in their popularity a couple of decades ago. However, ever since the 21st century dawned, claw clips made an astonishing comeback. And that means the whole range of hair claws, including mini claw clips, medium claw clips, and large claw clips, are back to the spotlight, and this time with a bang.
Part of this comeback was made possible by the evolution of hairstyles. The designers look more and more ways to cater to the unique needs of the fashionistas. This gave birth to the need for a whole new range of exclusive claw clips.
If you also have a knack for hair claw clip and do not have an idea of how to use them uniquely, below, we have listed some types of claw clips and how you should use them. 
Mini Claw Clips:
These miniature claw clips are some of the cutest hair accessories you can come across. Tiny hairclips are reminiscent of the 90s, but their utility has never seen a decline. From hair accessories for kids to adults, mini claw clips find their place almost everywhere. Even when granny wants to hold her thin hair in one place, these clips come handy. 
Therefore, when you want to look cute but modern at the same time, grab some mini hair claw clips to get an accented bun, a simple side twist style, a full hairline, or even a ponytail. You can always try your creative abilities to come up with some unique short hairstyles for yourself or your kids using these mini hair claw clips.
Medium Hair Claw Clips:
These are perhaps the most used hair claws as they belong to the range of one-size-fits-all. Medium hair claw clips are perfect for a variety of occasions and hairstyles. Since it is moderate in size, it is the ideal hair accessory for short hair as well as long hair. And if you are searching hair claws for thick hair, medium hair claw clips can end your quest in style. 
Although they are bigger in size than mini hair clips, it doesn't mean that you cannot use more than one at a time. Hence, when you want to hold a bun or twist, medium hair claw should make the cut for you. They make sure that your ideal hairdo does not scatter due to their firm grip. 
Due to their popularity, you can find almost any color to match or contrast your dress. There are specific medium-sized hair claw clips for professional occasions such as meetings, presentations, or office lunches, for formal occasions such as weddings, interviews, and parties, for informal events such as theatres, operas, and garden parties, etc. Therefore, make sure you grab the claw clip in accordance with their use. 
Large Sized Hair Claw Clips:
When it comes to taking things to a whole new level, large size hair claw clips come into play. They are ideal for making a vast variety of hairstyles ranging from cute styles to formal ones. When you are on a mission to don a messy bun or a half updo or a French twist, large claw clips do the trick seamlessly. 
Their large size does not mean that there is any compromise on look or grip. In fact, large hair claws offer more room for creativity for the designers to make them look hotter than the others. You can never run out of styling ideas while you have some decent large-sized hair claws at your disposal. Just twist your hair the way you want and attach the claw, and that's it.
So, the next time you are going on a date, catching up with your friends, styling for a party or just want to tie your messy hair without compromising on style, you know exactly what to use, don't you?
Now that you know different types of hair claw clips that you can purchase to solve the equation of your messy hair once and for all, let us lead you to some of the trendiest hairstyles that you can make with hair claw clips and stand out anywhere you go.
5 Trendy Hairstyles You Can Make with Hair Clip Claws
We won't blame you if you can't stop wondering about all the hairstyles that you can wear using hair claw clips. Lucky for you, hair claw clips can be incorporated for a number of unique and trendy hairstyles. So, if you thought you have run out of hairstyle ideas, it is time to prove you wrong. Below we have handpicked some easy-to-make yet fashionable hairstyles for you. Let's get started. 
The French twist
Time to bid adios to the old ways of styling your hair of the same old boring and invisible bobby pins. Instead, let your hair claw clips run the show for you. Claw clips are great when it comes to holding your French twist firmly and in style. It is especially for those women who are fed up of neat French twists and want their twist to appear a bit messier. Your claw clip won't disappoint you both in terms of firmness and complement. That's a given!
Half-up hairdo
And if the case is opposite and you are more interested in a neat and put together hairdo rather than a messy one, claw clips still got your back. All you need to do is make your favorite half updo and grab your hair claw clip and put it up. You can also double up the hairdo no matter how messy hair you got to get a cute hairstyle. Have fun!
Messy Low Bun
And what about a bun tied with a hair claw clip? Even the description of it sounds incredible. Many women tend to tie their messy bun together without using a hair accessory. Less do they realize that claw clips make their job really easy while also ushering the styling element. Therefore, the next time you want to go for a messy low bun, make sure you take it a notch up using the claw clip. Just make a low bun out of your hair and attach a claw clip at the side. Bingo!
Messy Updo
You can also opt for a messy updo to put on the display the artistic side of your personality by creating a tousled, messy updo. Just take care of paying on the texture to bring about something really out of the box. Nothing complicated here, you just need to create a messy updo and let the claw clip of your choice hold it together. It was never this easy.
Double claw clip
 Is there anything better than a claw clip? Yes, you guessed it – two claw clips. And why they are better is when you are on a mission to surprise people by your updo, double claw clips will come to the rescue. You can acquire a brand-new look by parting your hair into two halves and brushing them both backward. Then simply secure this hairstyle using two mini or medium claw clips on both sides. This hairstyle is perfect for attending festivals, carnivals, and other adventurous cum fun activities. 
Tips to Wear Hair Claw Clips 
Although it is a widely-used hair accessory, yet there are a few things that you should keep in mind before putting them on. These tips by our fashion experts will help you decide which claw clips are made for you and how you should use them.
It all depends on the position of hair claw clip on your head. Do not restrict your claw clip for back only. Be creative with them and use them at multiple positions instead of a fixed one. Even you can put your clip on the different locations for the same hairdo to make a difference every time. 
The color of the claw clip does matter, but that doesn't mean you cannot wear certain colors at all. Do not be a coward while purchasing your claw clips. Instead, make bold decisions and buy colors that you never wore before. If you are not going to transform your hair accessories, they are not going to transform your look. Simple as that. 
Before going ahead with a purchase, make sure you observe the teeth of the jaw clip carefully. It is because the lesser the space between the teeth, the finer hair it supports. So, if you have thick hair, your choice should be a hair claw clip whose teeth have a significant distance in between. 
Claw clips are usually considered a hair accessory for a casual look. But that is a misconception, and you should not fall for it. It all depends on the type of claw clips. If you have a claw clip of decent color and regular shape, you can confidently wear it to your office without giving a second thought. Do not let your favorite clips just waste in the closet because of some stupid suggestions. 
If your skin has a tendency to catch allergy, never buy nickel-based claw clips. Even if you do not have any skin allergy problem, you should still take precautionary measures and purchase only hypoallergenic claw clips that are perfect for any skin.
Aren't hair claw clips amazing? And what is more surprising is how they can help you wear your favorite hairdos. So, why shouldn't we do you another favor? Let us lead you to some of the best yet affordable hair claw clips that you will fall in love with instantly. 
Trendy Hair Claw Clips for 2020 
The new year is around the corner, and it is time to say goodbye to your old hair claw clips and get your hands on the latest ones. We understand that you are really eager, and we won't make you wait anymore. Below you can find 10 of the most incredible hair claw clips for the new year. Make sure you do not miss out on them if you want to kick off the new year in style. 
Large Sized Multi-colored Hair Claw Clip
This one is a really decent hair claw clip that is specially crafted while keeping in view the fashion trends of 2020. Its sleek design with highly detailed finishing ensures that this sizeable clip can go well on several occasions. Moreover, it is a multicolor clip that allows you to wear a range of dresses without worrying about fashion. It is handcrafted using skin-friendly material to ensure that your skin doesn't suffer from nickel allergy. The claws of this clip are firm enough to keep hold of your hair whichever style you chose to make. So, do not let your hair feel neglected in 2020 by giving them this gracious gift.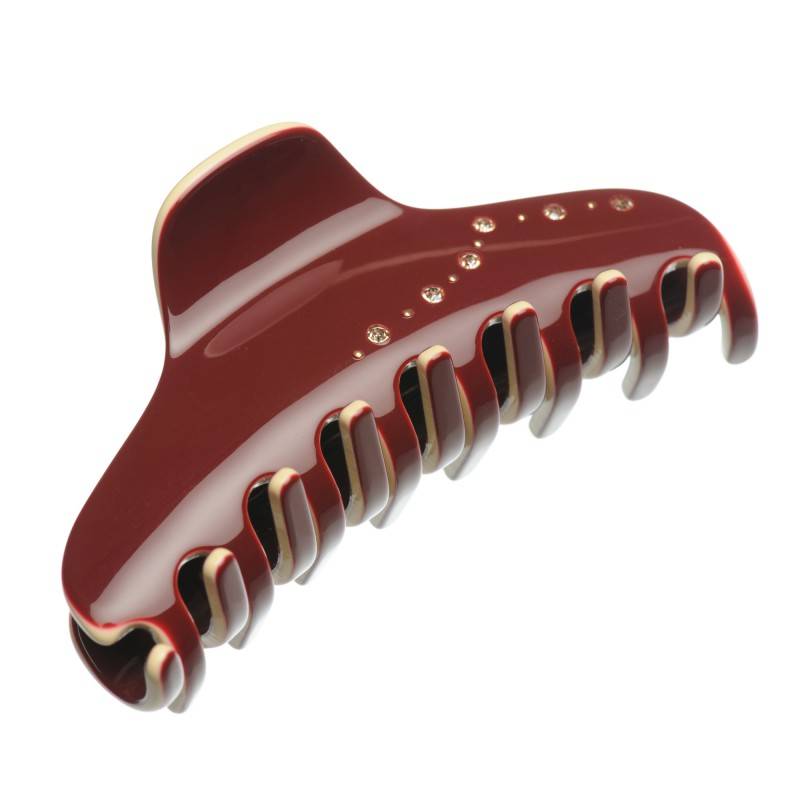 Unique Shape Hair Jaw Clip with A Colored Lining
When you cast a glance at this hair claw clip, it becomes challenging to take your eyes off of it. It is because this unique shaped clip is a treat to the eyes. But not only eyes, but you can also make your hair look absolutely embellished as well. The shape is further complemented by certified Swarovski crystals. You will not be able to find any flaw in the craftsmanship of this clip. The color of this clip is also something cherry-picked as you can wear it on all sorts of professional and formal occasions. Therefore, if you want to surprise your friends in 2020, make sure you have this claw clip in your beauty arsenal before it goes out of stock.
You can also go for an ideal trio by getting your hands on the medium and small hair clips in this range as well. These clips are different in design, but the same in color, quality, and appeal. 
Large Sized Regular Black and White Hair Claw Clip 
Is there any combo that is more appealing than that of black and white? This large-sized black and white clip is your opportunity to kick off the new year in style. The contrast in this hair clip is not the only attractive feature, it is made of skin-friendly material known as bioplastic. Due to its size and unique color, you can use it with almost every hairstyle. It is ideal for thick hair, and it holds them in style really well. Therefore, if you have a knack for simplicity, make sure you don't miss out on it while shopping for 2020. 
Medium Sized Luxurious Hair Claw Clip in Glittering silver
This is where things take an interesting turn because this is a game-changer clip.Ideal for a playful, festive look, this made-in-France claw clip adds that long lost glossy look to your hairstyle. The shape of this clip is like, which makes it entirely novel. You can employ this hairclip for a number of hairdos such as buns, updos, and French Braids, and you will not be disappointed. It is perfect for evenings where you want to showcase the trendy aide of your personality. And the best part is that it is made with hypoallergenic material that means you are least likely to get any allergy from this. Make your 2020 even more fascinating by adding this luxurious hair clip in your hair accessories. 
Medium Sized Jet-Black Shiny Hair Claw Clip
If you are bored of the same old shapes of hair claw clips jet black shiny hair clip says Hi! It is an awe-inspiring brand-new shape hair claw clip decorated with Swarovski crystals. It can be your hair's best buddy when it comes to putting on display your unique sense of style. Its shiny black color doesn't mean that you have to wear it on night functions only. Just go for it whenever you feel outdated, and it will change your look instantaneously. This hair claw clip is your chance to let your hair know that you care about them. No ifs, ands, and buts about it. 
Final Thoughts
It is evident that claw clips are taking over the fashion industry gradually. Therefore, it is crucial to gear up your collection of hair accessories with some fantastic hair claw clips so that you do not get left behind in the race to look chic. It is not the old age anymore where you could use a single hair accessory for all sorts of occasions and dresses. Therefore, acquiring affordable hair accessories such as these claw clips should be your top priority.
Don't forget to let us know your favorite claw clips in the comment section below.