15 Hair Barrettes for Adults
with 10 Hair Tips
Let's just agree that being an adult is not as easy as we all imagined in our childhood. Adulthood comes with many responsibilities, prospects and problems. One of the biggest issues that modern day ladies face is how to keep their hair healthy and the pursuit of high-quality barrettes for adults.
Although it might seem a pretty trivial thing. However, it is NOT. Getting the right hair barrettes for adults is of great importance because they decide the future of hair.
Yup, low quality hair barrettes or those made with nickel can cause serious problems. Where low quality barrettes can damage hair and render them weak, those with nickel can make you suffer from very annoying nickel allergy.
In fact, a whopping 20 percent of women in the US only suffer from nickel allergy. And the worst part is that once your skin falls victim to this allergy, there is no going back. Therefore, the best shot for adults is to avoid using such hair accessories whether you have nickel allergy or not.
Related: Hair Accessories and Hair Care; How to Make Them Go Hand in Hand
In this blog, we have handpicked 15 high quality hypoallergenic barrettes for adults. But before we introduce you to them, let us reveal 5 best hair tips for adults to keep their hair in top-top shape.
10 Must-Know Hair Tips for Adults
It goes without saying that when judging someone's age, people take into consideration their hair as well. For example, grey hair symbolize old age and black hair generally represent youth. Therefore, since your hair can give off your age, it is important to keep them in check.
Here are some tips for adult hair that can make a big a difference if you follow them in true letter and spirit. Let's go through them one by one.
1.

     
See Your Doctor Regularly
Being an adult, ever increasing responsibilities leave us with almost no time for ourselves. This results in irregular or no visits to our doctor. Plus, we think that if we are not facing any unusual symptoms, we are all good. That is not a healthy practice. To ensure your hair remain healthy, visit your doctor regularly. Especially if you notice hair thinning, get an appointment with your doctor immediately. Doctors have latest treatments for hair like minoxidil and Propecia to help hair regrow.  Doctor may also rule out other bad causes like iron deficiency, anemia, side-effects of some medication and immune disorders etc.
2.

     
Get the Right Hair Cut
Being an aging adult, cutting your hair shorter can help you overcome the thinning problem. But it shouldn't serve as a general rule. You can also try out different hairstyles that look longer and fuller yet they are shorter. This way you can keep both health and good looks of your hair easily.
3.

     
Invest in Your Diet
If you want to keep your hair healthy and attractive all life long, you need to ensure sufficient supply of protein and iron through your diet as these two are the most important nutrients for hair growth. Many times, hair loss is a result of an unhealthy diet. You can also go for a blood test to measure any deficiency of proteins, vitamin, iron and other minerals. Therefore, invest in a healthy diet and you'll observe the results for yourself.
4.

     
Make use of Moisturize
Mousses and gels that majority of adults use to keep their hair in shape on different occasions end up drying out their hair and make the shine fade away. This can result in adverse effects like hair loss. The best trick to avoid this situation is the usage of moisturizer. Moisturizer ensure that the aging strands stay properly hydrated and thus avoiding hair loss and supporting hair growth.  
5.

     
Use Quality hair accessories
You can be using high quality shampoos, conditioners, moisturizers and paying high fees to medical professionals, yet your hair can continue getting damaged if you do not choose your hair accessories with caution. Low quality hair accessories might save you some bucks but they will cost you a lot more in the longer run. So, always choose quality of quantity and only get your hands-on high-quality hypoallergenic hair accessories. You will be proud of your choice your entire life.
6.

     
Gentle Brushing
If you often comb or brush your hair in a hurry because your getting late for the office, you have been damaging your hair by your hands. There is a famous saying that you should brush at least 100 strokes every day. But that's exaggeration. If you do it right, only a few strokes will do the trick. In fact, gently brushing or combing you're your hair increases the blood flow to your scalp which results I better growth and thickness of hair. Thus, use a soft bristle brush and run it gently through your hair instead of ruining your hair by combing using force.
7.

     
Use the right shampoo
Shampoos can make or break your hair goals. therefore, it can't be stressed more to choose a shampoo in accordance with standards and your hair type. If you do not know your hair type, know it here. For adult hair, experts suggest that you should look for zinc pyrithione in the ingredients before giving green signal to any shampoo. This ingredient is not only hydrating but soothing as well.  It will also help you eliminate the dandruff, if any. Therefore, the next time you go shopping your hair products, keep this tip in mind.  
8.

     
Avoid heat styling
Using hair dryer might look cool, but the air is pretty hot and your hair really don't like it. As a matter of fact, heat styling hurt hair to a point of no return if your keep doing it for a long time. It also causes thinning in the hair fibers rendering them weaker and prone to damage. It also causes less production of natural oils. Therefore, hair health experts suggest maximum restraint from using blow driers and flat irons. If you have been doing that in teenage, that's understandable.  But since now you are adult, you must turn the wrongs into rights.
9.

     
No spraying
If you thought hair sprays are less damaging to the hair than you were wrong.  In fact, hair sprays are pretty damaging for the hair as they cause loss of hydration and brittles in the hair. As a result, even healthy hair start falling. These sprays come loaded with drying alcohols that leave a devastating effect on the hair. Therefore, if you have become an adult already, make sure you stay away from hair sprays.
10.

 
Do not wash hair everyday
Contrary to the common belief, washing your hairy is not healthy for the. It is not about hygiene routine, instead it is about taking care of your hair. As we age, our hair requires more and more attention. Hair expert are of the view that washing your hair on a daily basis can strip them off of essential oils. Therefore, they suggest that there must be at least a day gap between two consecutive washes. This would ensure that essential oils do not go below optimal levels.  
15 Hair Barrettes for Adults
As we mentioned earlier, hair accessories that you use can be crucial in deciding the fate of your hair. Therefore, we decided to introduce you to 15 hair barrettes for adults that are a best shot to keep your hair healthy happy. Let's find out.
A hair barrette for adults that no adult can ever forget, thus hair barrette is one of the most aesthetically pleasing hair barrettes. It comes decorated with three massive crystals, shiny look and the amazing snit-slip innovation. One of the must-have accessories for working women.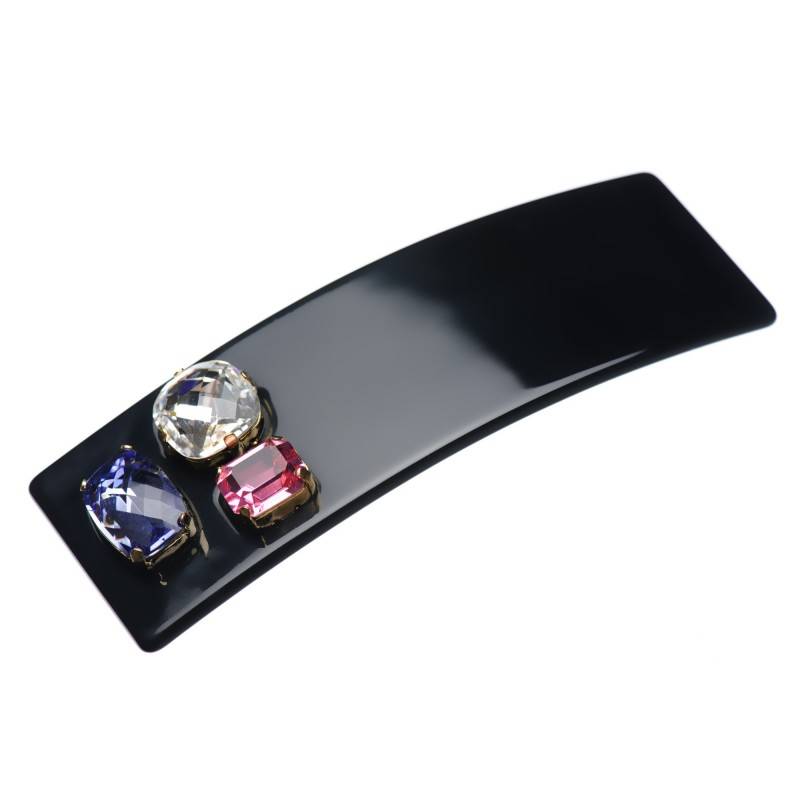 Colors can define one's personality and this hair barrette for adults does exactly the same. Its unique geometrical design coupled with tiny Swarovski crystals. If you want to take care of your hair without sacrificing your statement then this hair barrette is for you. Make it count.
During this quarantine, if you are remote working and want to decorate your hair for zoom meetings without compromising your hair's health then get your hands on this one of the ideal hair accessories for women working from home. This barrette for adults is both hair-friendly and skin-friendly.
Since majority of adult ladies love partying, this hair barrette will come handy for all those women including you. As you can judge from its 3D engraved, Swarovski encrusted look, it is perfectly in line with the taste of cocktail parties. It holds hair pretty well and is hypoallergenic. Zero hair damage is a guaranteed gift that comes with this barrette for adults.
This hair barrette is one of the ideal hair accessories for all hair types. That means doesn't matter you have long, short, think, thick, silky or dry hair. Besides, thanks to the high standards that have been kept in view while manufacturing it. And rest assured, this hair barrettes treats hair with politeness keeping the damage and nickel allergy away.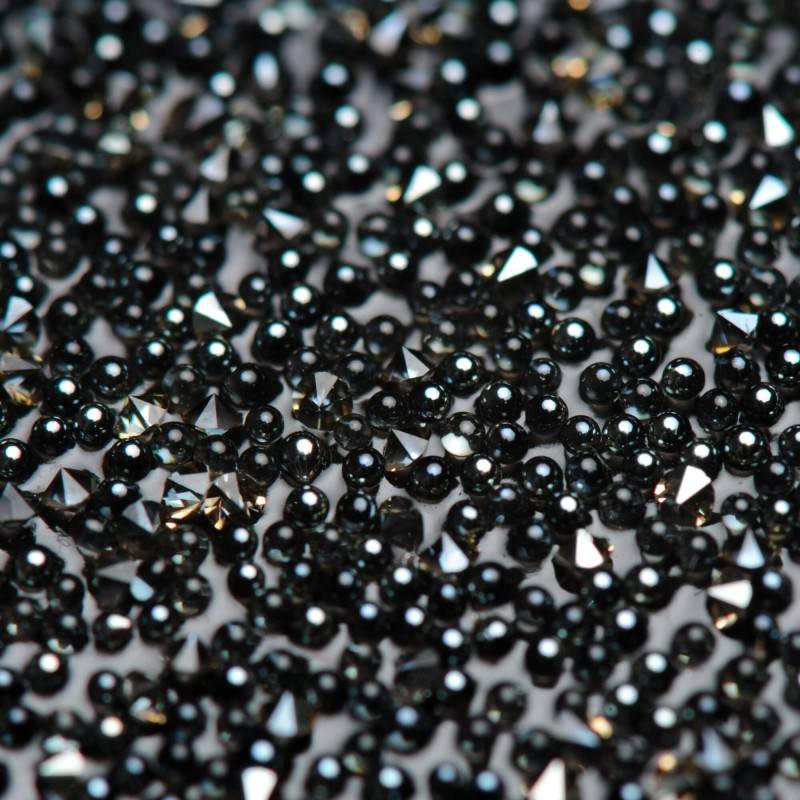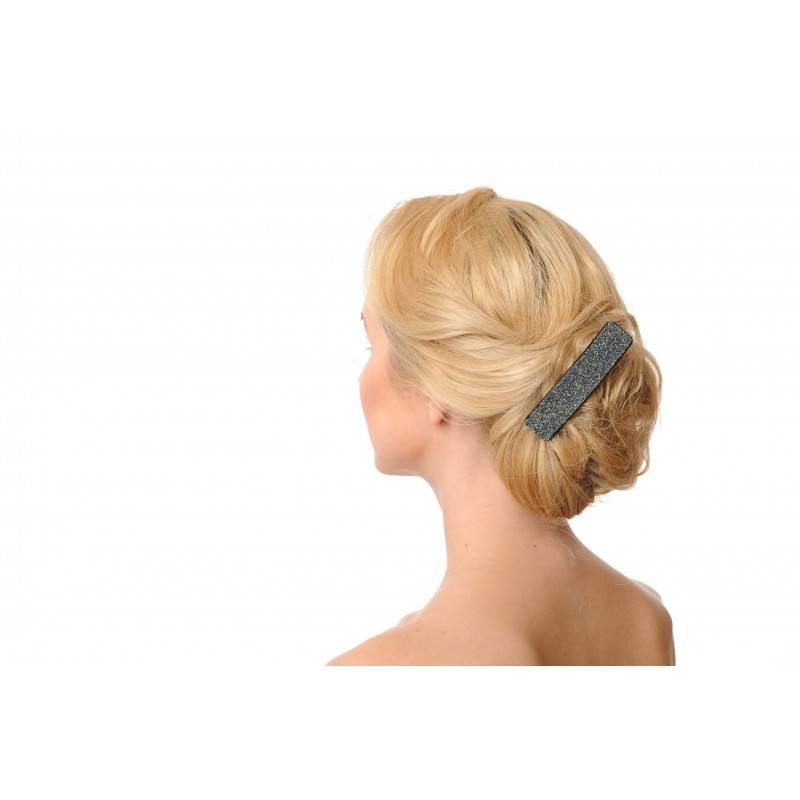 This hair barrette is no less than a gift for working women as it is one of the best hair accessories for business meetings. Its unique design that is complemented by Swarovski crystals. If you also want to bring uniqueness to your hair for workplace, this hair barrette can help you a great deal.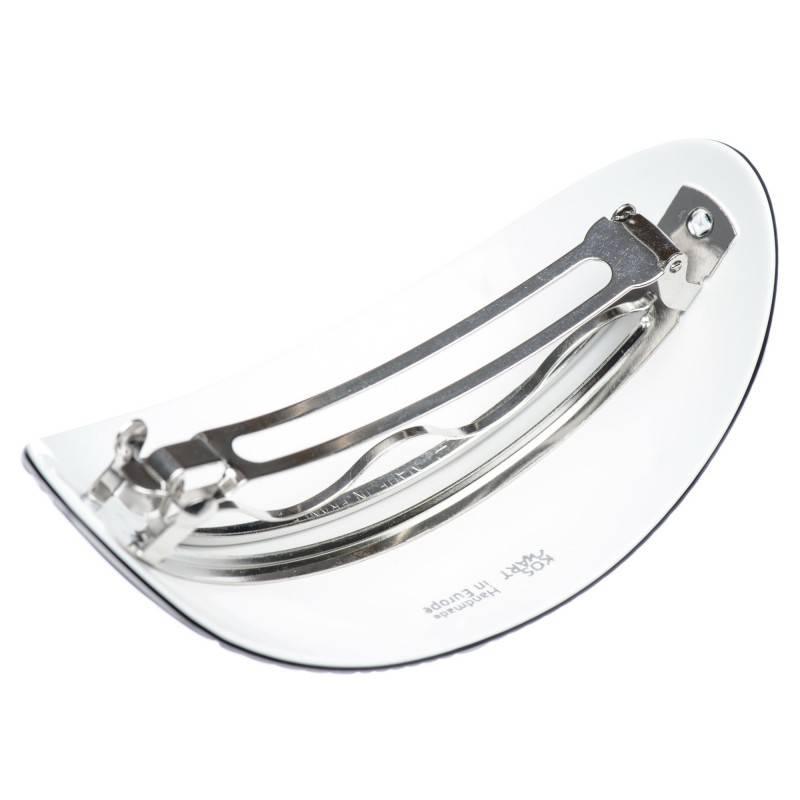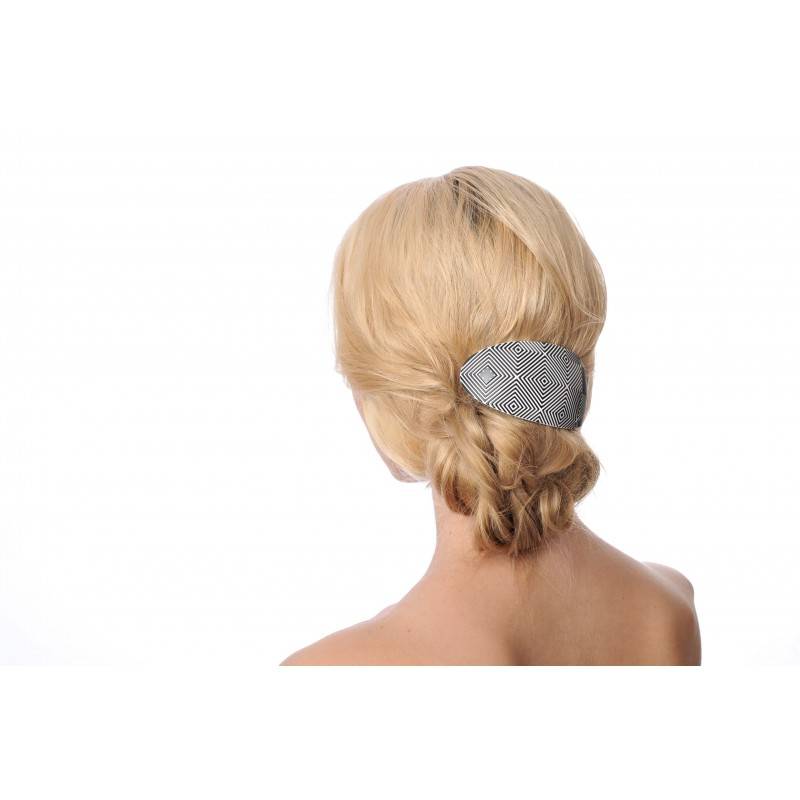 If you decide to rock an all-black look the you ought to have one of the best black hair accessories at your disposal and this hair barrette is exactly that. Decorated with original Swarovski crystals, it is ideal for securing and decorating hair without damaging hair. A perfect addition for you collection of hair accessories for evening occasions.
If you like the idea of creating unique hairstyles with unique hair accessories then here comes your chance. This round hair barrette allows you to do that while taking care of your hair. It is a hypoallergenic hair barrette for adults is a guarantee that there is no skin allergy as well as hair damage. A must-have for fashion-conscious women.
Want to enjoy an eye-catching accessory for attending special occasions? If yes then get your hands on this Lithuanian handmade hair clip which works both as a barrette as well as ponytail holder. Being one of the best decorative hair accessories, this hair barrette is a chic blend of functionality and fashion.  And the pink Swarovski crystals takes the game to the next level.
Pink hair accessories are ideal for mature women who want to recall the days of their youth and this hair barrette belongs to that category. Its beautiful look coupled with 3D decoration allows you stand out instantly. The clasp is gold plated and finely shaped so that there is no hair damage.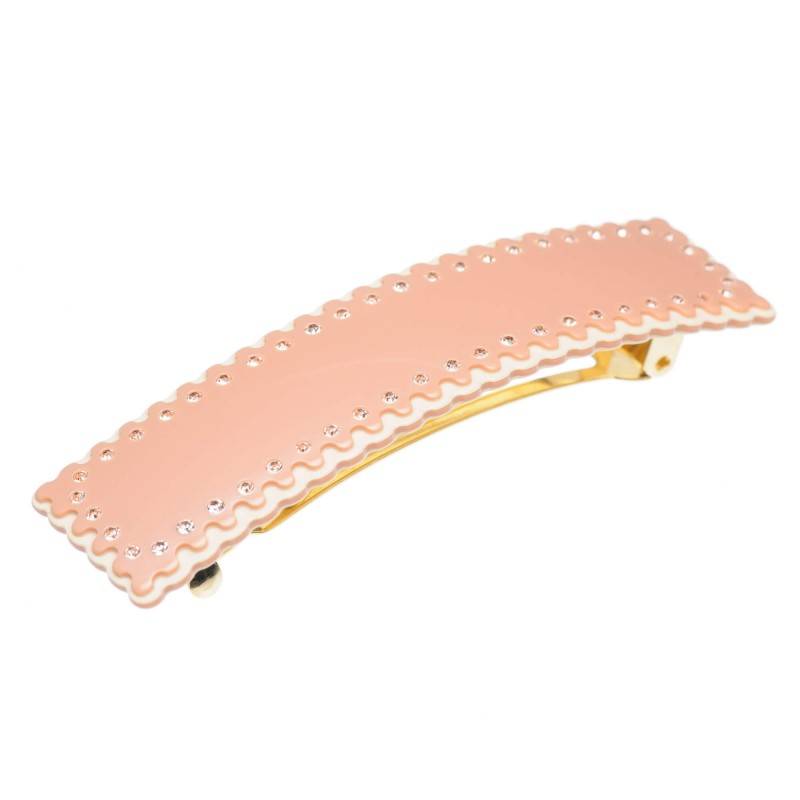 If you have thick hair and you are worried about their deteriorating health than it is time to grab this one of the best hair accessories for thick hair. Its highly curved design and anti-slip rubber ensures maximum hair catching ability without slipping down or hair damage. If you want to great your thick hair with care, make sure you have this hair barrette by your side.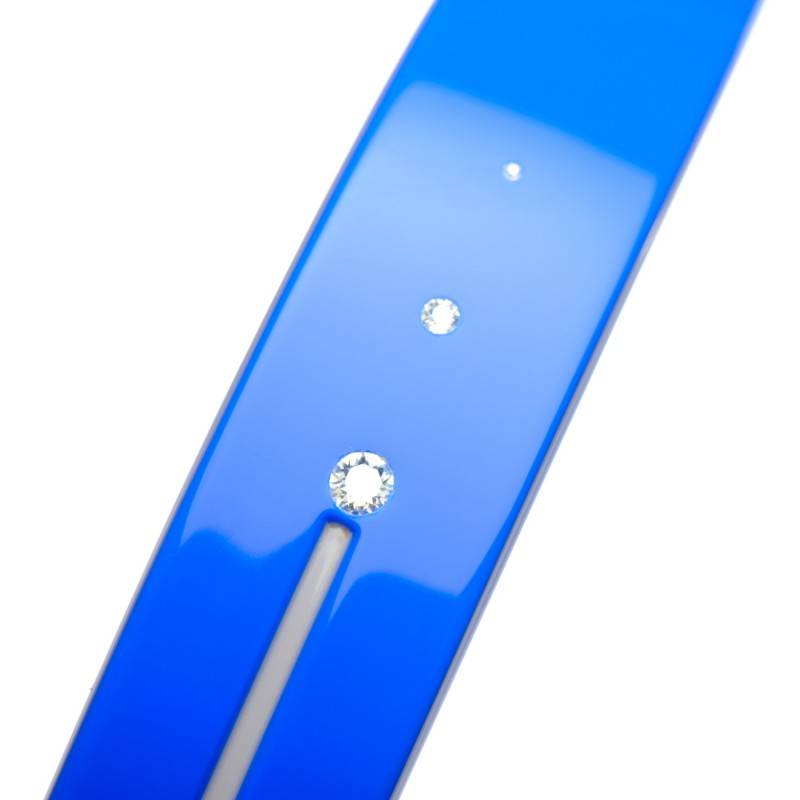 Red is the color of liveliness, romance and love. And that is exactly why you should make use of this red hair barrette for adults. The additional decoration with Swarovski crystals and white outline makes things even more interesting. Therefore, for your part looks or adventurous endeavors, this hair barrette can be a go-to hair accessory so that you can secure, decorate and protect your hair at a time.
Finding a dream job can be an uphill task but finding a good hair accessory for interview is even difficult. However, if you have this one of the ideal hair accessories for interviews attached to your hair, your chances of winning the job increase manifold. The beautiful 3D wavy design that is further made attractive by intelligent use of Swarovski crystals can turn any ordinary hairdo into something extraordinary.
It doesn't make sense you take care of your hair the whole week but neglect them on weekends, right? Thus, get this one of the ideal hair accessories for everyday wear to make sure your hair remain as stylish and healthy on pajama days too. And rest assured, it is skin friendly thanks to its construction with hypoallergenic materials.
 White is the color of tranquility and peace and this white hair barrette exhibit the same vibes. However, not every lady chooses to wear white because it takes a lot of confidence. However, that also means wearing a white hair barrette like this one offers a chance to look different than the others. Moreover, thanks to its color, you can use it to secure and decorate your hair on a vast variety of occasions.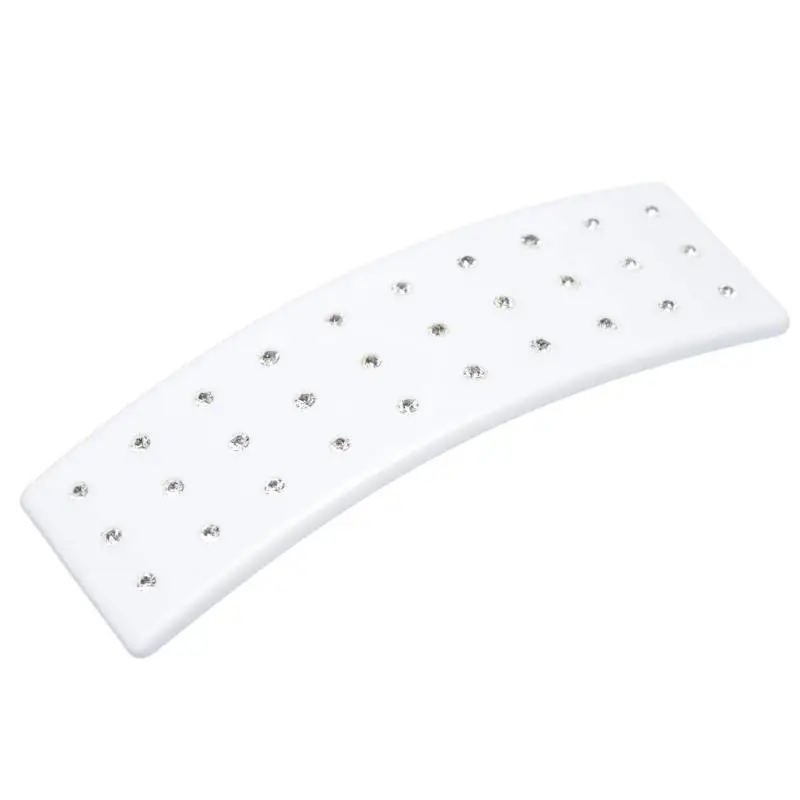 Final Words
 Being an adult, having no hair barrettes for adults in your closet means you are not treating your hair well. However, they say it is never too late. All the hair tips and hair barrettes for adults listed above are very beneficial for all those women who are worried about their hair's health. If you follow these tips and use these hair barrettes, you will notice an improvement almost instantly. What are you waiting for?