10 Professional Headbands to Wear at Work
Headbands are a fun hair accessory that is usually considered to laid-back to be worn by professional women at work. But what if we told you that this is a lie? Yup, a right headband can be worn to any office in the world without compromising on your professional looks.
However, here the word 'right' is important. Because choosing an unprofessional or casual headband for work can be embarrassing. Thus, wearing the right headband is crucial.
Nevertheless, headbands are loved by ladies for many reasons. They allow women to have many options when it comes to securing and decorating their hair. And the best part is that headbands have made a dramatic comeback after being ignored for a while. Nowadays, many fashion models, showbiz celebrities and corporate women use headbands to rock their desired looks.
Headbands are particularly great at hiding a bad hair day or giving you an additional day before you wash your hair. Also, no matter what your style and statement is, you can rock a headband and it will adapt instantly. and they are versatile enough to be worn at anywhere, including your workplace.
How should a headband for work look like?
Before you go out and about to grab some headbands for your work, you need to read the points below. Because these are the features that you should find in a headband for work. Have a look.
1-

     
Headband for work should be graceful
There can be a ton of headbands in stores, but not all of them are graceful. Since your headband should adapt to the office atmosphere and decorum, you cannot compromise on the grace of the headband.
2-      Headband for work shouldn't be of a shocking color
Headbands for parties do exist, but they do not need to be mixed with headbands for work. And one of the best ways to avoid that is by avoiding shocking colors. Come to think of it, you wearing a very nice and decent office outfit with a shocking pink headband. Doesn't make sense, right? So, avoid it.
3-

     
Headband for work shouldn't be metallic
Metallic headbands might be great for weddings but they are not in line with the requirement of office look. moreover, you would not want the sparkle of your metallic headband making your boss uncomfortable, would you? This will also save you from the threat of catching nickel allergy.
4-

     
Choose your headband for work a day earlier
It is never a good idea to leave things hanging for the eleventh hour. Running late from office and matching a headband with your outfit in a hurry can end up rendering you nervous. Thus, make sure you decide everything the night before your office day to make things run seamlessly.
5-

     
Headband for work should not be very hard
By that we mean that your headband shouldn't be holding your hair in a rash manner. This can make you feel uncomfortable and also damage your hair as well as skin. Thus, do not just go for the looks, also keep your comfort in the equation.
10 professional headbands to wear at work
Now that you have an idea about what kind of headbands you should be fixing your gaze on, let us introduce you to our pick of professional headbands for work. These headbands are not only ideal to wear at work but are also skin friendly and will ensure that nickel allergy stays at bay.
MEDIUM SIZE REGULAR SHAPE HEADBAND TO WEAR AT WORK IN BLACK
This headband is one of those high-quality hair accessories that are made in France. the color, the design and the hypoallergenic properties of this headband make it as one of the ideal hair accessories to wear at work. It is particularly suitable to secure, decorate and cater to fine hair. Get your hand on this headband if you want to upgrade your office looks without spending much.  
MEDIUM SIZE BOW SHAPE HEADBAND TO WEAR AT WORK IN MULTICOLOR
Having this headband for work in your closet will mean you will never run out of hair-styling options for office. It is one of the cutest headbands to create cute hairstyles. Also, it is skin friendly as metal isn't used in its construction thus allowing every working woman to try out new looks with confidence.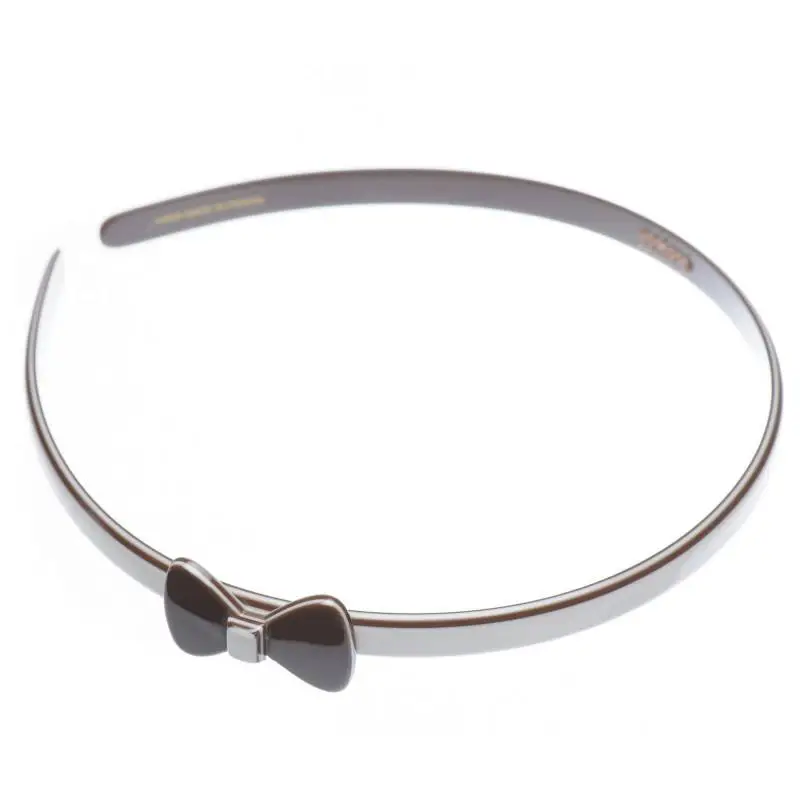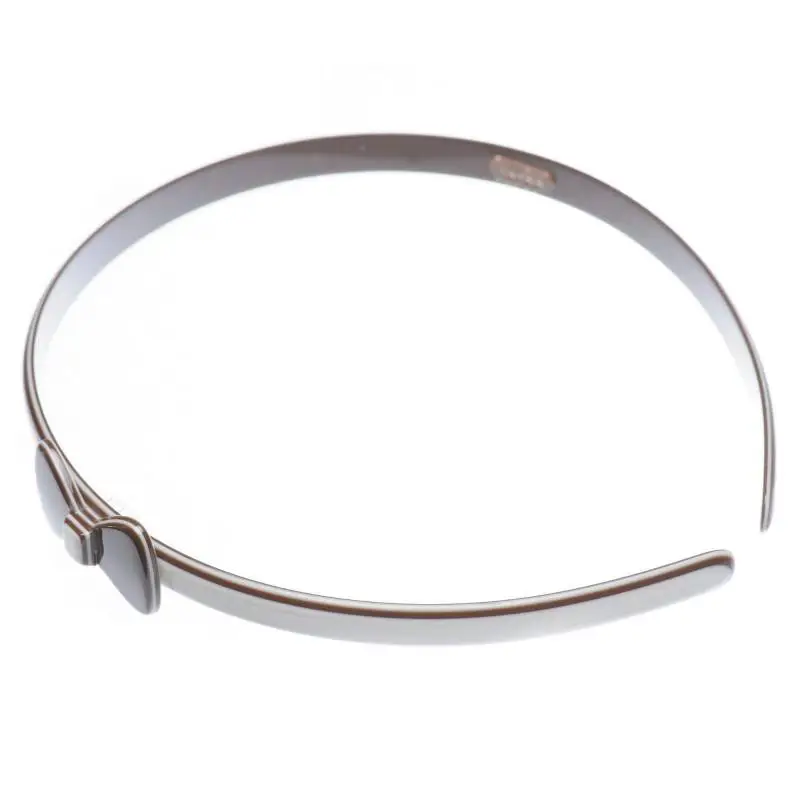 MEDIUM SIZE REGULAR SHAPE HEADBAND TO WEAR AT WORK IN TORTOISE SHELL
Coming with a subtle elegance paired with the amber color touch, this headband is destined to win your heart, along with your colleagues'. It is made with bio plastic that is ideal for hair care. The tortoise shell texture makes room for pairing it with a number of outfits thus expanding the options. It might be perfect for women who love showcasing their sense of style through their collection of hair accessories.
MEDIUM SIZE SPECIAL ORNAMENT HEADBAND TO WEAR AT WORK IN BLUE AND WHITE
If you are charged with the responsibilities of giving presentations and attending meetings on a regular basis, it is only rational to get your hands on a headband that can live up to the decorum of such occasion, just like this headband. The beauty in details, the finishing, the design and the elegant look, this headband for work is going to make life easier for you. That's a given.
MEDIUM SIZE SPECIAL ORNAMENT HEADBAND TO WEAR AT WORK IN BLACK AND WHITE
Here is one of the ideal hair accessories for a successful business meeting. Its elegant looks that combines black and white ensures a great versatility. You can wear this headband with a number of outfits. Thus, to add a charismatic detail to your office look, this headband might help a great deal.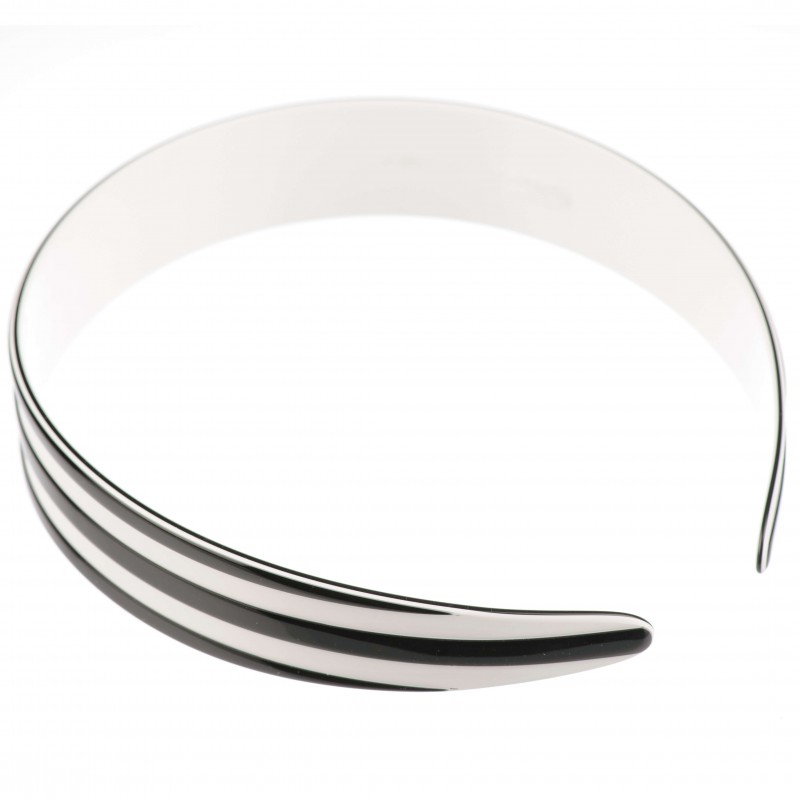 MEDIUM SIZE REGULAR SHAPE HEADBAND TO WEAR AT WORK IN MIXED COLOUR TEXTURE
No one said that it is banned to wear a formal yet romantic headband for work. That's is exactly why you should capitalize on this headband. The fascinating decoration with flowery pattern makes its one of the best flower hair accessories that you can lay your hands on. So, when you decide to play with colors in your outfit, you can always complement that by decorating your hair with this headband and a magical romantic look will follow.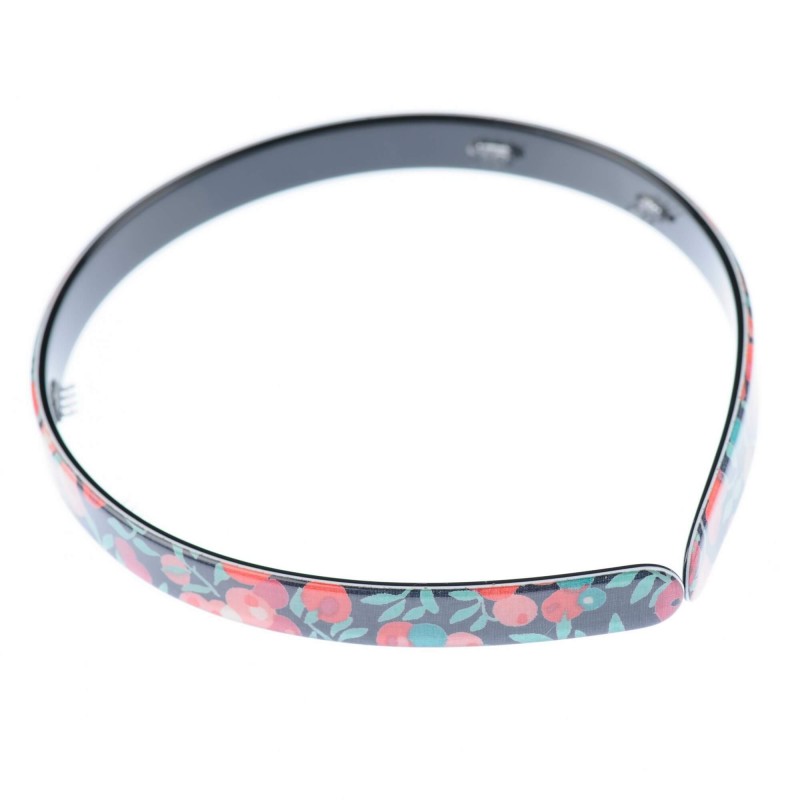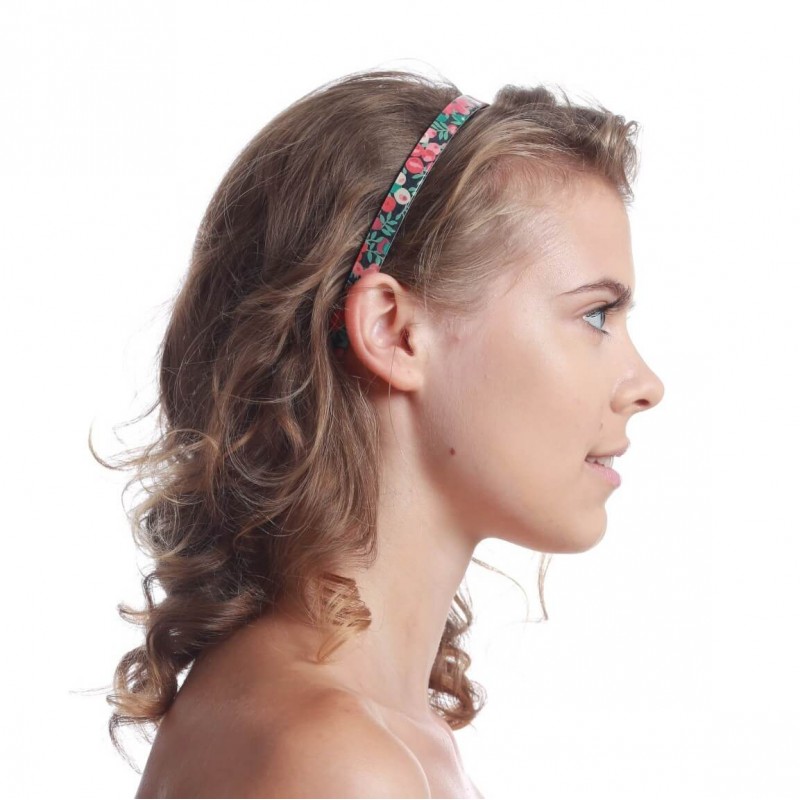 MEDIUM SIZE REGULAR SHAPE HEADBAND TO WEAR AT WORK IN BLACK
This headband might serve as a perfect choice for those ladies who have a knack for simplicity without compromising their statement. The glossy finish and decoration with original Swarovski crystals set table for an amazing look. no matter which hairstyle you choose, you can accentuate the look by simply attaching this headband. It is safe for the skin as well.
MEDIUM SIZE BOW SHAPE HEADBAND TO WEAR AT WORK IN BLACK AND WHITE
This headband might appear a bit too much for an office look, but trust us it can help your stand out among your colleagues instantly. the headband is in line with the office looks as it is simple and elegant. An ideal choice for young ladies who have a taste for a minimalist look.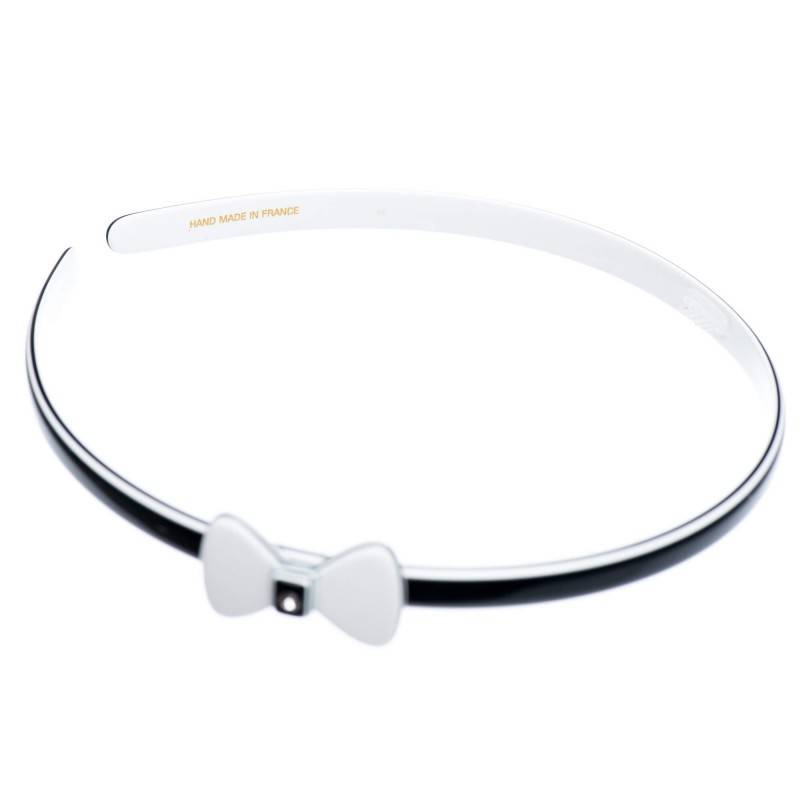 MEDIUM SIZE BOW SHAPE HEADBAND TO WEAR AT WORK IN MULTICOLOR
This headband comes directly from our list of ideal hair accessories for a job interview. So, either you want to secure a job for you or turn some heads in your workplace after securing it, this headband would help. Although it is pretty lightweight yet it holds on to the hair pretty well without slipping. Also, it is one of the best hair accessories for fine hair.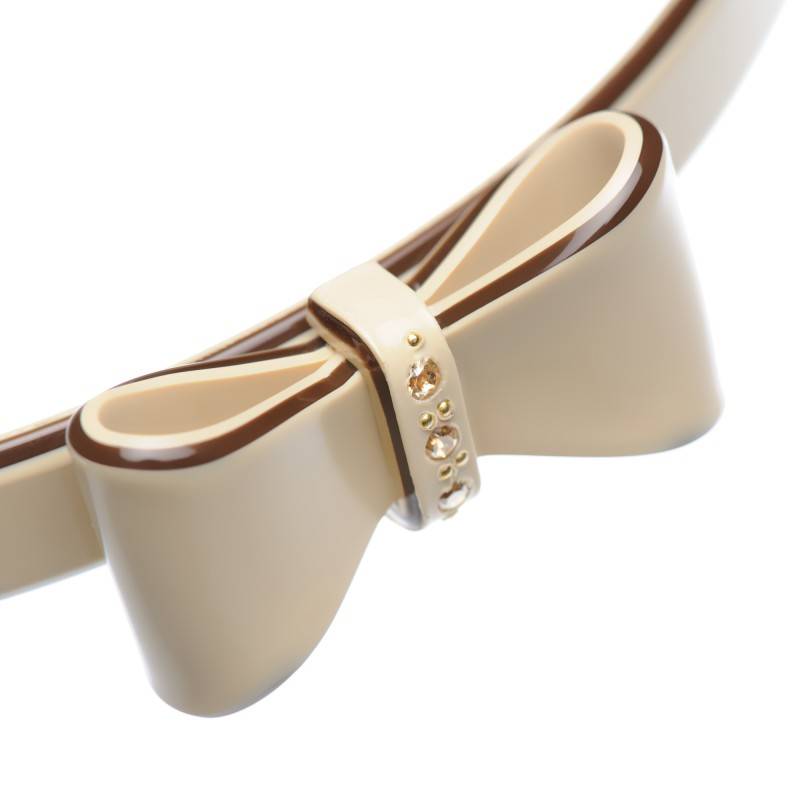 MEDIUM SIZE REGULAR SHAPE HEADBAND TO WEAR AT WORK IN WHITE PEARL
Having a white headband will save you from many problems as white comes in handy when no other color seems to work. Especially when you wear a light colored or white shirt, this headband will complement your fresh look effectively. Moreover, it comes with a guarantee that it poses no threat of nickel allergy. That means you can rest assured that you, your hair and your skin are safe and looking great at the same time.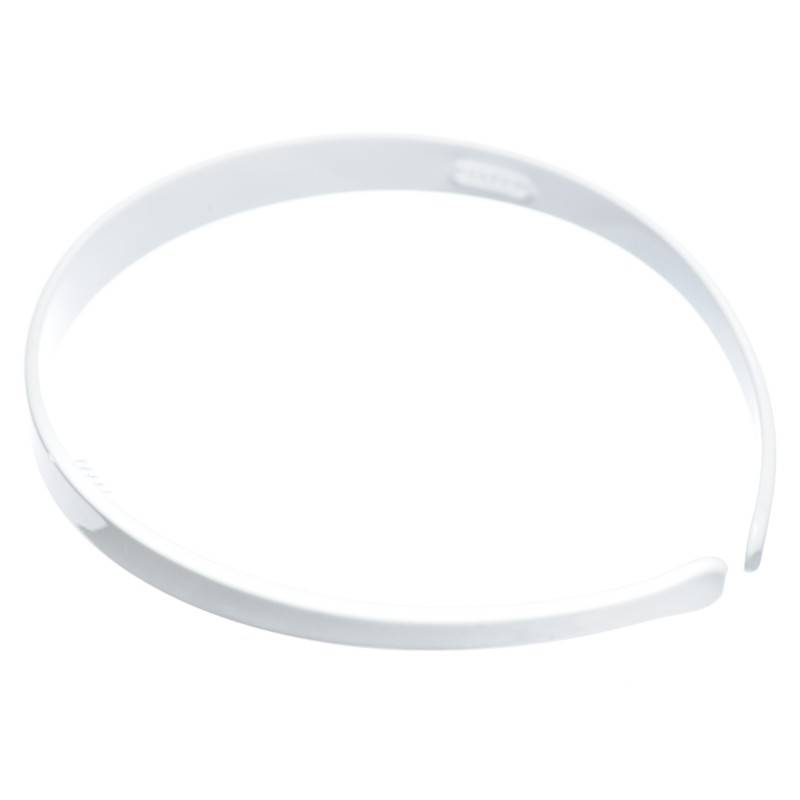 Conclusion
Office-going women have to face many challenges daily and if they are not well equipped for them, things can go wrong. The first thing that they need to be equipped with is a flawless office look. Therefore, these headbands for work can take a big burden off your shoulders as you will be more confident and equipped to face any challenge with a smile on your face. You go girl!