Natural Remedies and Hair Accessories to Grow Your Hair Fast
It is very rare for a girl not to be inspired by long, shiny, thick and healthy hair of the famous cartoon character; Barbie Rapunzel! Certainly, you also dreamt of that eye-catching long hair when you were a child, didn't you?
In fact, you are not alone. To have appealing and healthy hair is a dream of women of all ages. Yeah, you can't have hair exactly like Rapunzel you can get your hair improved and nourished that match your personality.
 In order to help you out in this regard, here we have enlisted an effective collection of potent natural remedies that have effective results for hair growth and regrowth. Their confirmed perks can assist the encouragement of hair growth and enhance your hair quality. We have also listed some high-quality hair accessories that will aid the process of hair growth and ensure you steer clear from hair damage and skin allergy.
First, let us reveal some tips you can try to encourage the hair growth.
Natural Remedies to Grow Your Hair Fast
The following remedies enjoy a proven track record of helping and encouraging the growth of hair. Make them count.
1.

     
Massage
Massaging the scalp is not only helpful for natural hair development but also for mental health. You can massage your scalp by particular natural hair oils and also some hair masks. It provokes the scalp to enhance the hair thickness and maintain your hair health. Every day massaging of the scalp can assist in getting a relief from depression as well. Experts believe that during the massage, the stretching forces stimulate the hair growth and also robustness in the dermal papilla cells. So, to see your hair growing really fast, adopt the habit of massaging your scalp daily!
2.

     

 

Aloe Vera
Aloe Vera is one of the best ingredients to treat any kind of hair disease. In fact, it has been used for the treatment of hair loss since ancient times. It nourishes the hair and conditions to make them soft and silky. Mainly, hair loss occurs due to dandruff and aloe vera helps diminishing the dandruff. It can also cleanse the hair follicles that maybe blocked due to surplus oil. You can apply pure aloe vera gel to your hair and scalp one or two times a week. Furthermore, you can also try shampoo and conditioner with aloe vera in it.
3.

     
Coconut Oil
In your quest to achieve perfectly healthy and growing hair, coconut oil can be your best buddy.  Coconut oil is a premium way to invest protein to your hair. It has fatty acids that sink into the hair shaft and reduce protein deficiency. Depending upon your hair type, you can use coconut oil either before or after the hair wash. For example, if you have oily hair, you can make a leave-in treatment for a night or a few hours before the wash. Gently massage the oil into scalp and the hair. You can also apply it as a leave-in treatment if your hair tends to be dry. Although research is still being conducted to conform the link of hair growth with coconut oil, but it has been confirmed to stimulate hair wellness and shine of the hair.
4.

     
Viviscal
If you have long hair but still there is the problem of thinness, no need to worry because Viviscal is here for you. It is a natural supplement for hair growth that improves thickness of the hair. The major ingredient in it is AminoMar C that contains vitamins, mollusk powder, shark and minerals. These things can reconstruct new cells and empower the existing cells. For excellent results, all you have to do is to take the tablets two times a day for no more than six months and the results will surprise you! Moreover, Viviscal synthesizes shampoo and conditioner too.
5.

     
Fish Oil
Omega fatty acids are considered as very effective and favorable for the natural hair growth. Omega fatty acids contain very effective sources of nutrients like proteins. Consuming these fatty acids can enhance your hair quality from deep inside the scalp. You can enhance your hair thickness and wideness by consuming an omega supplement while pairing with antioxidants. Omega fatty acids nurture your cells to work at optimum rate and amplifies the immunity that triggers wellness and growth of hair.
6.

     
Ginseng
Ginseng supplements are considered to be one of the most productive supplements for better hair growth and luster. Ginseng focuses hair follicles as these follicles are known for the regulation of hair growth. This results in to improvement of overall health of your hair. Ginseng contains Ginsenosides as the major ingredients that are widely appreciated by hair experts for excellent results. All you have to do is consume ginseng supplements as suggested. However, make sure you discuss with your doctor first to avoid any side effects.
7.

     
Onion Juice
Majority of the women do not like heavily irritating smell of onion. However, only if you know the benefits it comes filled with for your hair, you'd start loving it. At least to get healthy hair you can definitely bear the smell. And once you do, the wonderful benefits of onion juice will amaze you. It is thought to soothe the patchy alopecia areata by being the promoter of hair growth. Moreover, it also enhances circulation. Animal studies presents upgraded growth factor for keratin- as keratin is the most important material making up hairs- and blood flow directly to the cuticles. It's very simple to apply onion juice to your hairs. Just crush the onion and squeeze it to attain juice. Apply that juice to the scalp and all of your hairs. Leave for 15-20 minutes and wash the hairs with any effective shampoo and that's it.
8.

     
Rosemary Oil
Rosemary oil is an essential oil that many women used to apply for natural healthy hair and to control the hair fall in the past. However, modern day hair products made women believe in chemicals and they left using rosemary oil. The oil is basically for enhanced hair development, for the improvement of hair density and can be used to cure androgenetic alopecia as well. Fuse some drops of rosemary oil into a carrier oil and make a mixture. Apply that mixture into the scalp and all of your hairs and massage gently, them wash with shampoo. Execute this two time a week and stay consistent. Additionally, you can also add few drops of rosemary oil into shampoo and conditioner before use for daily application. One of the precautions before using essential oils is; always mix few drops of any essential oil to a carrier oil. Never apply the essential oils directly on the skin. This can result into a harmed scalp.
9.

     
Geranium Oil
There are certain hair masks, shampoos and conditioners available for improved hair growth. Geranium oil is very beneficial when used with a good hair mask. It helps in the promotion of hair development and enhances blood circulation. Geranium oil empowers, moisturizes and regenerates your hair like never before. You have to mix some drops of geranium oil with any carrier oil and apply it into the hair with any hair mask. In addition to this, you can also use this oil with some kind of shampoo or conditioner. It might be particularly helpful for those ladies that have lost hope of regrowth of their hair.
10.

 
Lemon
Last but not least, this effective natural remedy for the promotion of health, luster of your hair is underrated. However, lemon juice as well as lemon oil has proved to improve hair development and quality. Lemon oil trustfully assists your scalp to maintain health, improve hair growth and also adds to the shine of the hair. Only you need the application of fresh lemon juice to your scalp for just 15 minutes. Then shampoo the hair. You can also apply the lemon oil amalgamated with a carrier oil to you scalp as a hair mask. The choice is all yours and the results will never be disappointing.
The must-follow Tip
If you really want to have gorgeous and healthy hair, you need come up with a plan and follow it rigorously. Consistency is very important factor to get effective results. Remember, these treatments are not like a magic wand that only one-time application will turn you into Rapunzel. No! That is not going to happen. You need to be patient and follow a plan by showing steadfastness. After that you can definitely have magical effects. Be innovative with your remedies and blend them well in accordance with your needs.
Hair Accessories to Aid the Hair Growth
You might be wondering how can hair accessories aid in the growth of hair. Well, it is simple. If your hair accessories are high quality and do not damage your hair, scalp and skin, then they aid in hair growth. Did you get the point?
Yup, if you do your hair a favor by getting them hair accessories that do not damage them, you are helping them grow. And to help you out in this regard, we have listed below some high-quality hair accessories that will make sure your hair remains safe and grow at the optimum rate.
Let's get into this.
Barrettes for Optimum Hair Growth
Right hair barrette can make things easier for you. Following are our favorite three hair barrettes that can help you regain control of your hair growth.
The glossy surface of this hair barrette, the hair friendly grip, the hypoallergenic nature, all these features combine to make this hair barrette a high-quality hair accessory that you can use to encourage your hair growth.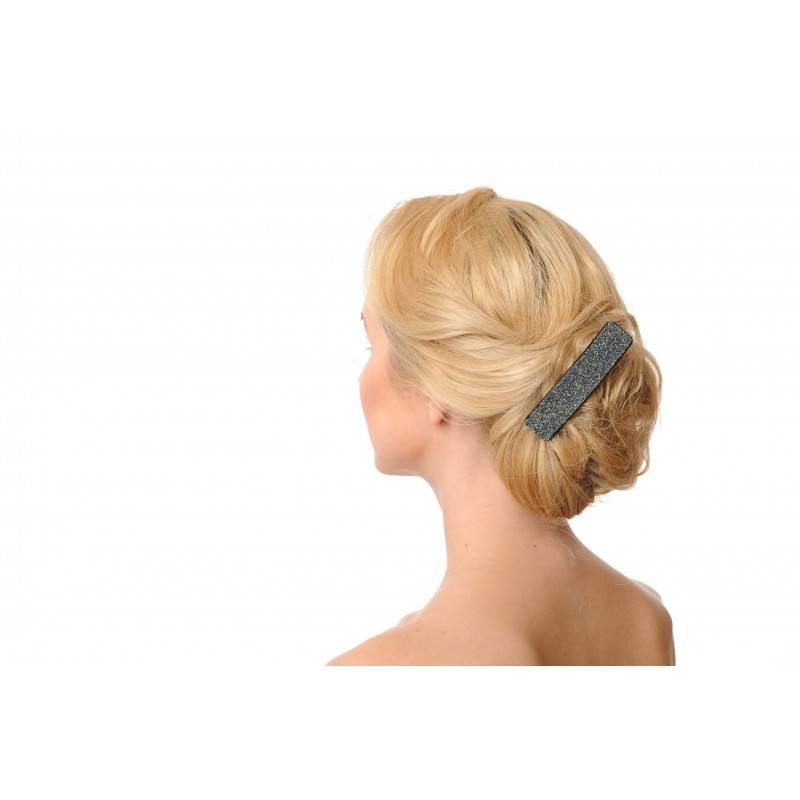 This hair barrette comes in to play when you want to rock a casual look for a party or any other occasion without compromising on your style and elegance. Also, the 3D engravings and original Swarovski crystals that come with the innovative anti-slip technology take things to the next level both in terms of beauty and hair health.
If you are a working woman and have an office to attend on a daily basis then you might not wanna miss out on this hair barrette. Two giant Swarovski crystals that add to the unmatched beauty of this hair barrette. The clasp makes sure no hair gets damaged as it holds them in a very sublime yet firm manner. Make use of this hair barrette if you want to take your hair game to the next level.
Headbands For Optimum Hair Growth
Headbands are ideal for a laid-back yet elegant look. the following three headbands are chosen by our hair experts to make sure your hair remain healthy and growing.
Having this headband in your closet means you have one of the best headbands that is perfect to be worn on almost all the occasions from formal to casual. That is the reason why it was placed in the list of best flower hair accessories because of the decoration in flower which is full of original Swarovski crystals. A healthy addition to your hair accessories collection.
If you are a remote worker and your responsibilities also include having video calls the you gotta have some ideal hair accessories for women working from home like this headband. It is a very elegant headband that makes sure that your hair are at much ease at possible without compromising on the grip. If you are looking for a headband that lights up your looks every time you wear it, here ends your search.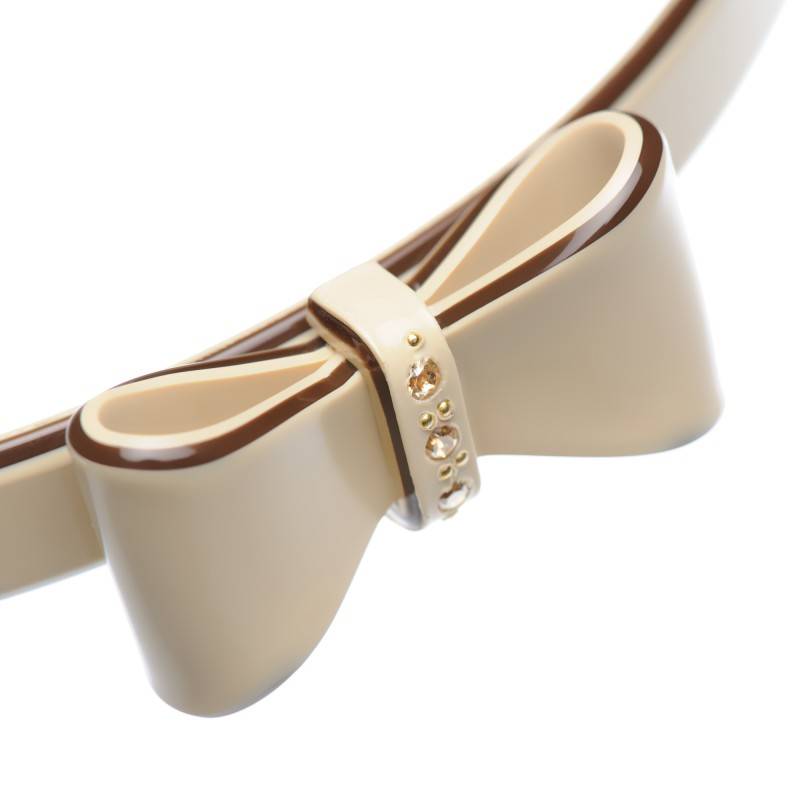 And if you have a knack for more fancy headbands that are still safe for hair health then this headband is for you. The zigzag pattern that comes with an intriguing texture captures the attention instantly. It is a hypoallergenic headband and is made without any use of metal. If you want to make cute hairstyles with headbands, give this one a try.
Hair Jaw clips for optimum hair growth
Hair clips are usually considered safe for hair. However, it all depends on the quality of hair jaw clip. A low-quality hair jaw clip can ruin the day for you and your hair. Here are some hair jaw clips that you can trust with your eyes closed.
This hair jaw clip's teeth suggest that they are perfectly gaped to cater to thin to mid-thick hair. It can not only hold your hair but also make them look adorable thanks to its catchy color and hand encrusted decoration. To keep your hair in a top top health, this hair jaw clip might be a great help.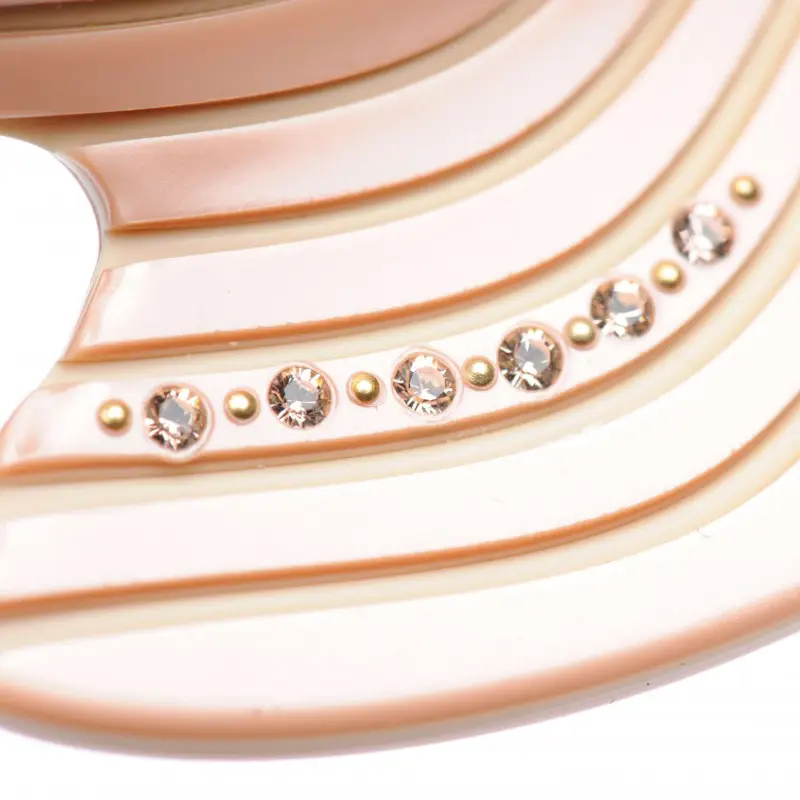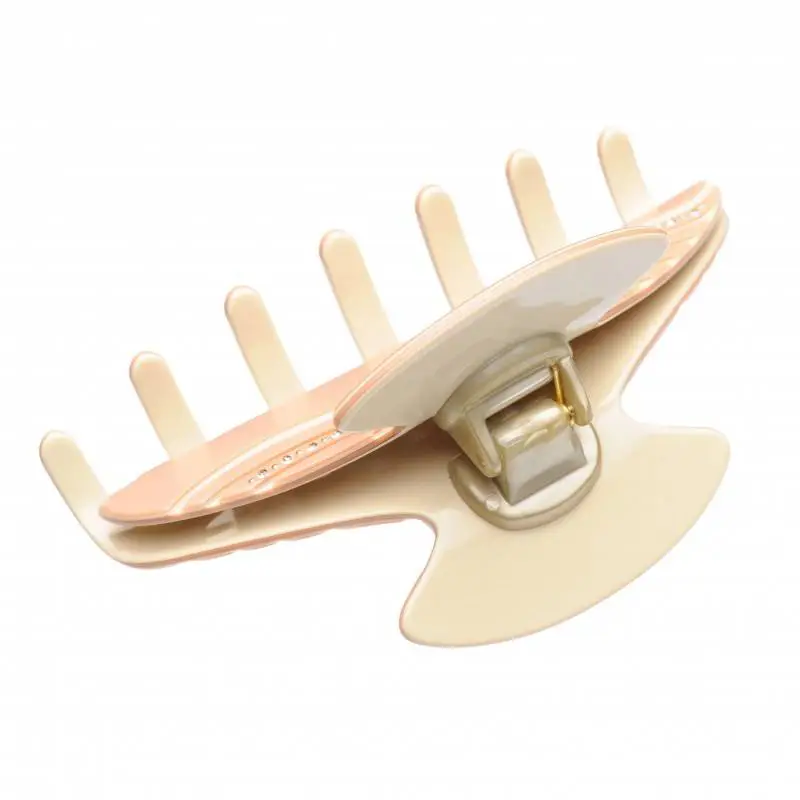 If you have a wedding coming up to attend and you feel stuck as to which hair accessory you should go for, this hair clip offers it services. It is one of the best wedding hair accessories to decorate your hair with. The finely polished and rounded ands of its teeth suggest that it can never damage hair. Isn't that exactly what we want?
Having a couple of small jaw clips is never a bad idea especially if you know their worth. There are some events that do not want you to go overboard with hair decoration. When you have to attend such event, you will need this small jaw clip. The design and decoration is amazing and the nature is completely hair and skin-friendly.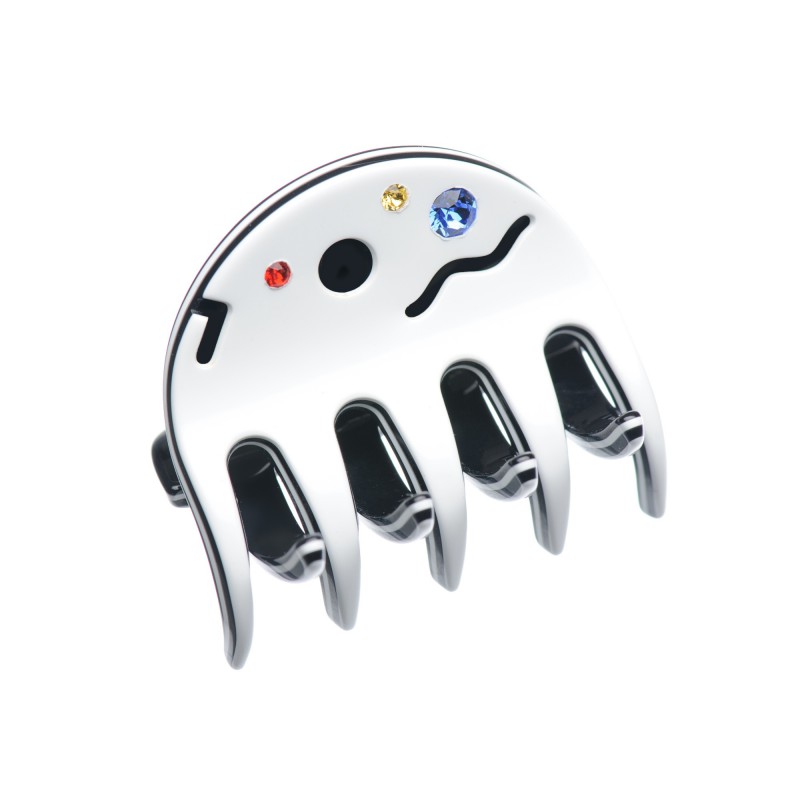 Hair Elastics for Optimum Hair Growth
Women love hair elastics for their ease of use. If you are also among those women who love making a ponytail, get your hands on this high-quality hair elastics to ensure your hair remain in safe hands.
The best part about black color is that it complements all the outfits and that is precisely what the giant Swarovski crystal in this hair elastic does. Whenever you want to tie your hair into a cute ponytail and do not find something to match with the dress, use this hair elastic to do the trick without sacrificing your style.
Not all hair accessories are worth wearing because not all hair accessories are like this one. Representing the elegant hair accessories, this hair elastic makes sure that your pony looks out of the world. Also, it is metal-free which means you stay safe from any threats of catching a nickel allergy.
Since ponytails are usually made for comfort, they are one of the most common hairstyles for everyday life. And when it comes to everyday looks, having one of the ideal hair accessories for everyday wear is not a bad idea. This hypoallergenic hair elastic ensures that even your weekend hairdo doesn't look boring.
Hair Sticks and Pins for Optimum Hair Growth
When nothing seems to be working, hair pins come to the rescue. But of course, they need to be of good quality. So, here are three quality hair pins that you can embellish your hair with sans worrying about hair safety.
This is one of those hair accessories that are made in France keeping the highest standards. Since it is metal free, you can assume that it is safe for the skin and hair and is also light weight. Thanks to its design, you can create unique hair styles as well as looks. And the best part is that it takes only a couple of seconds to insert this into your hair and you're all set to rock.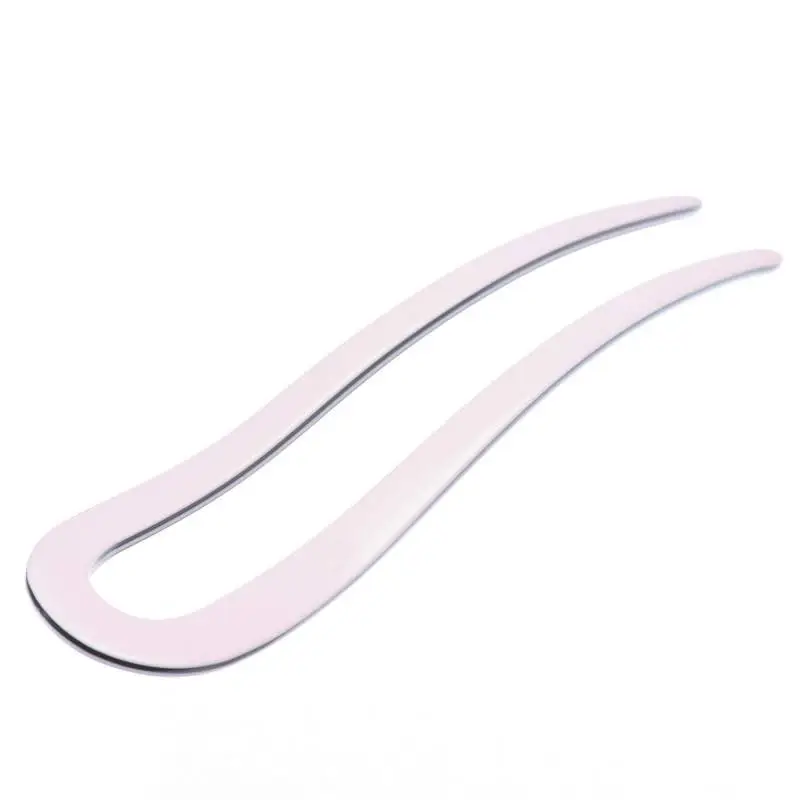 This knot shaped hair stick offers two benefits, one it looks amazing and two it stays in the hair due to the know and doesn't slip. Moreover, since hair sticks operate close to the scalp, the need to be skin friendly and that this hair stick surely is because it is made of bioplastic. You can greatly improve your hairdo for weddings by just inserting this hair stick in your hair. Simple.
Finally, this hair stick is all about luxury as it is one of the most luxurious hair accessories that you will come across. It is ideal for evening events as the two Swarovski crystals will sparkle their way to people's hearts through their eyes. If you want ladies come asking about where you get your hair accessory from, use this hair stick and let the magic happen.
Conclusion
Taking good care of your hair is a matter of great importance. If you are careless about your hair today, you might be regretting tomorrow. Therefore, the natural tips above mentioned can ensure glowing and growing hair for you. But all these efforts can go in vein if you keep using harmful hair accessories. Thus, get your hands on these high-quality hair accessories to ensure that your hair care, hair growth and looks, all go hand in hand.